Today more than 150 curious students came to the art room to peer though the microscope to see…
…Insert drum roll here…
"The world's smallest monster drawing!"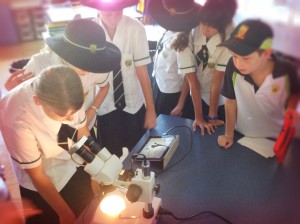 This little monster, created by the incredible Stefan Bucher, proves that good things come in small packages. Travelling all the way from the USA on a slide from our friends at
Exo Labs
, it was such a surprise to see his huge eye peering back at us when we looked through the lens! Our students were so fortunate to work with Stefan on a workshop last year after using his beautiful
Daily Monsters
app – check out their adventures together
here
and
here
. What a fabulous way to view his work in a new and fascinating way and tap into the curiosity of our creative students.
The images in the gallery above give you an idea of the size. On the far left a student has placed one of their hairs beside the image, and as you can see, some of the lines on the monster are far more delicate.


So how was this image made? It's complicated.
Here's what Exo Labs company founder Jeff Stewart told us about the idea, collaboration and process behind the creation of a 1.5 mm monster…
"We had the idea for the micro-monster as a giveaway for our Kickstarter campaign. Stefan Bucher told us that he gets a ton of requests to do drawings for Kickstarters and that he as a rule didn't do that. . . but he also said that if we could do something microscopic, he would be interested. On a whim, I contacted the people at Microscope Depot, who make custom reticles and stage micrometers, tools for measuring under microscopes. They use photo-lithography to etch patterns of chrome onto the glass blanks.. . .a decent description is here. I made a crazy request and showed them the type of artwork that we wanted. They told us that they had never heard of anything like that, but they were interested in trying it out. Our test samples were really cool, and then we sent one to Stefan as a 'proof-of-concept' to see if we could entice him, and we did! He made the Daily Monster that you can see in the video below, and sent us the artwork for it, which he converted to a pure black and white image. Because it is metal on glass, shading doesn't really work. The end result is what you see there, with features in the 10s of microns.
Photolithography is the same process that is used to make the 'masks' for creating integrated circuits (which I used to make), and that are their own kind of engineering miracle, and they look pretty cool too!
We loved tying together some awesome engineering and an amazing artist. I think that it was one of my favorite moments of creativity mixed with engineering."


Here's the clip of Stefan Bucher creating his monster. Usually he improvises when he draws, but in this case he wanted the creature to "stare back at you through the eye of a microscope", so it was completed in a few takes.
Thank you Stefan! Once again your work has inspired our students.


UPDATE
I sent a tweet to Exo Labs and Stefan to share in the excitement. Stefan was really pleased to see his monster generate such curiosity and interest, and Jeff sent the students a package with this note…
"I have been so impressed and inspired by the images of your exploration. We made the Focus Camera because we just wanted to make microscopes a little bit better, but we never expected that it would unlock the kind of creativity and curiosity that you are showing us. A mentor of mine gave me some advice about being an entrepreneur. . .he said "never fall in love WITH your product. . .fall in love with what people DO with you product".. . and he was right. We are having so much fun seeing what everyone is "doing" with this and after seeing your excitement, I thought that you needed to see the original Monster drawings. The thing that I love about the Monster drawings is that he starts with a spill. . .a smudge. . .what people would usually think of as an accident or mistake. But he uses the unexpected form as a challenge and an inspiration to create the little creatures that give the rest of us joy to see, and watching the process of creation allows us to participate with him and join him briefly on that path as he discovers what form will emerge. So I hope that our product and these picture will be YOUR unexpected starting point, and I very much look forward to participating with you on your path as you discover things that we can't even imagine."
Here is one of the two spectacular prints of the micro monster by Stefan Bucher that will live in our classroom! We have decided to hang one in the Science Lab and one in the Art Studio to remind us of this cool collaboration. We will use our special new mascot in future projects as a symbol of our aim to connect creativity of all kinds and inspire curiosity across our school. Thank you so much, Jeff!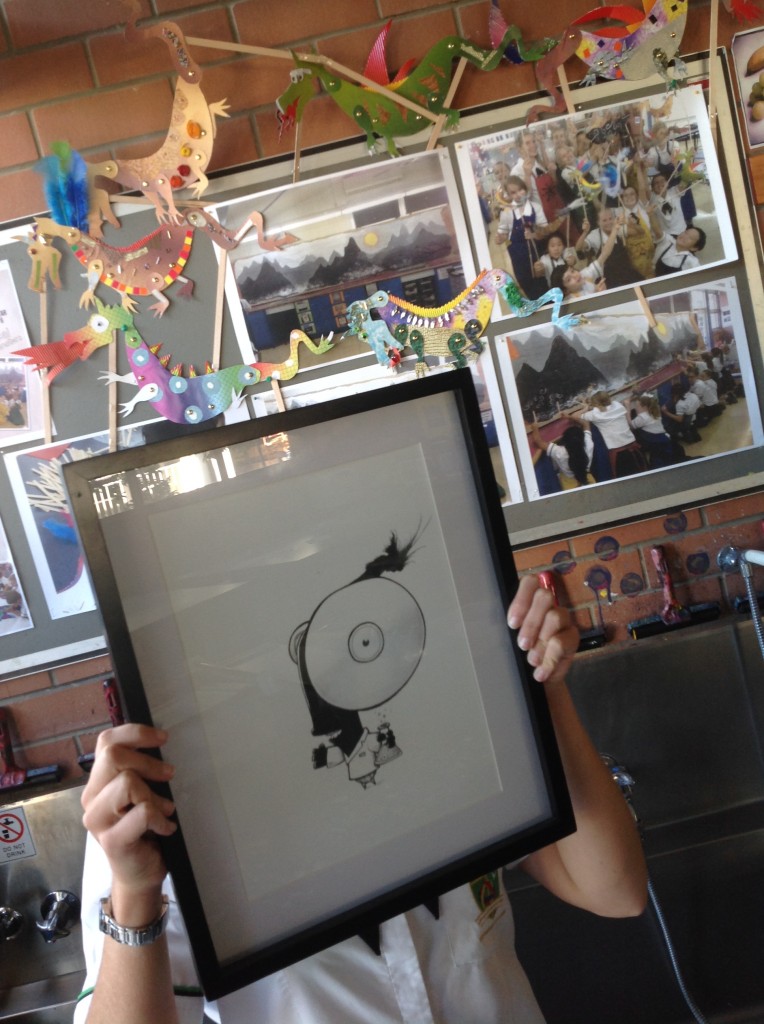 Social Share