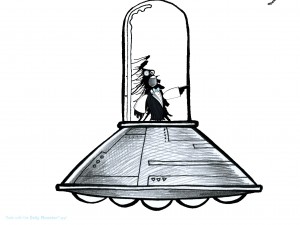 In a sequence of activities that blended hands-on tasks and digital media, students created little monsters that combined and/or interacted with an environment.
To start with, coloured ink drops were blown on paper using straws to create abstract shapes. These shapes were then turned into monsters with google eyes and pen drawing to add features. This task is 'an oldie but a goodie'. Students love playing with the random marks they generate, and the permanent nature of the ink presents some real challenges during the creature design.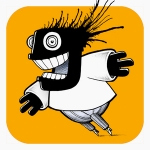 Using 'Daily Monster' was the next step.  Students engaged with the process of producing an ink blot creature digitally and grappled with a new medium.  The gamification of the process allowed students to trial a variety of options during the design process and explore a variety of elements and effects in combination. The abstract shapes they generated came alive as cartoons as crazy body parts, clothing and additional objects were added.
Students grappled with character construction, exploring ways to convey personality, emotion, action, etc. Daily Monster is a really useful tool for students to engage with art-making and an introduction to cartooning without being limited their drawing technique. Once they are hooked, there's no looking back! There are valuable links between abstraction and representational work here too.


An Online Skillshare Class by Stefan G. Bucher
Here's the creatures our students created… 
The next part of the task was to create backdrops as environments for the monsters to interact with using digital or photographic work.
Key learning concepts included:
Foreground and background
Depth and space
Storytelling in imagery
Juxtaposition and combination
Some students imagined their monsters were in the classroom…
Others added their monsters to the natural environment, creating a 'home or habitat' for them considering their features, personality, shape, etc…
And some used their drawings, paintings and other images to produce 'Monster Masterpieces'.
App Extension idea…
Use the monsters in a comic book or as a character in a digital story book to create a longer adventure or narrative tale. And don't forget you can add text to the monsters in the app by using speech bubbles, captions and titles. You can also import the finished pictures into other apps to create ned overlays, effects, etc.
YOU HAVE TO SEE WHAT HAPPENED NEXT!
Stefan Bucher, the artist behind this amazing app, saw our work and came along to our make art with us…all the way from the USA! Check it out, here!
And, if you liked this post, check out 'Art Goes Wild' where WordFoto and iPhoneography come together on location.

Social Share