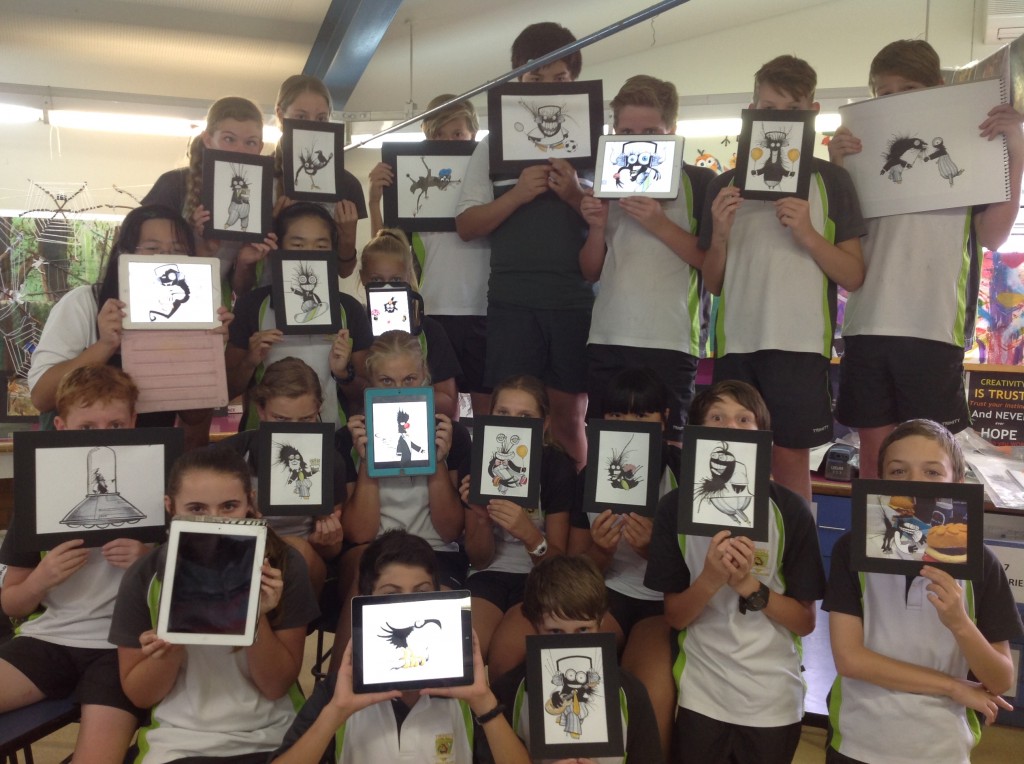 Our Year 7 students created some many amazing monsters using the Daily Monster app I blogged about some of the work and the learning happening in the classroom – check out the post here if you missed it.  I was so excited when Stefan Bucher, the 'Monster Maker' as we now call him, was so enthusiastic about what the kids had produced that he offered to Skype our classroom.
Here's some pictures of the class tasks that got Stefan's attention… Using the app Stefan designed, we created Daily Monsters in 2D, then we went 3D using magic clay…
We were so fortunate to be able to learn from a talented artist, app designer and industry practitioner in the workshop he created for us.  Meeting Stefan via twitter and sharing his words with the students was great, but to have him join us live from California gave the students a real sense of accomplishment.  They ran the event by creating questions to ask Stefan, leaders facilitated discussions and students took on various roles and responsibilities to ensure everything ran smoothly.  Year 7 had an opportunity to step up, and they did.
Stefan certainly inspired us during the hands-on activities, but I am sure that the more lasting learning relates to the connections he helped to foster between the student's work and the world beyond their studio walls.  By taking an interest in the children as creators, Stefan has helped them to see, explore and value their creative gifts and talents.
There were also moments when the value of the arts in education were truly visible to the students and the possibilities of employment in creative industries were highlighted.  Importantly, Stefan embodies the idea that following your dreams and passions is a pathway to success.  He emphasised the need to work hard to achieve success and the importance of perseverance.  I'm sure the concept of pursuing a vocation, rather than a job will also be an on-going discussion.
Some of our favourite ideas, insights and moments from Stefan's Skype, recorded by our class scribes:
Stefan is proud of his monsters, having worked on them in various forms for more than 7 years
Stefan works hard and has become successful by persevering and has volunteered for jobs to learn
Inspiration comes from many places but then develops
Stefan often uses other people's ideas to come up with parts on daily monsters
Seeing how others use your work and ideas can inspire you and help you generate more ideas
When you live in California and Year 7s in Australia are making your monsters it is pretty cool
Ideas rarely just happen, you have to keep working, thinking, trying again…
Follow your dreams and find out what your passions in life are to be successful
'Makin' Monsters Workshop' – An idea for teachers
Our class was really fortunate to have Stefan run a workshop during his Skype time with us. Here's what we got up to…
By creating worksheets with Monster parts from the app, students were able to piece together their own creations and make changes with ease.  Stefan asked students to consider the effect small changes had on their images, reflecting on the kind of characters they could create by sliding pieces – swapping eyes, using eyebrows, etc.  The kids were then encouraged to build on their ideas, creating creatures that interacted with their friend's monsters – a great introduction to narrative cartooning.  As a final activity, using screen shots of the monsters we began to create impromptu stories, collaboratively developing them in response to each student's unique characters.  It was a lot of fun and a whole lot of learning.
Last words…
The most exciting part of the workshop?  Stefan has asked us for ideas for some ideas for an addition to his collection of 'bits and pieces' in the app!   The students are keen to think up some uniquely 'Australian Year 7' items so the whole world knows just where the pieces came from!  What a cool moment for these creative kids! Once again, thank you Stefan for inspiring our students.
Check out this page to see more about using the Daily Monsters app in your class and a link to download it.
Or use this free skillshare create some monsters with Stefan!
An Online Skillshare Class by Stefan G. Bucher
And watch Stefan's TEDx talk to see his mind in action – there are some fantastic take-aways for students in this clip. Stefan explores his practice and creative process, sharing some exciting stories from a journey that inspires.
Social Share