The art of Andy Goldsworthy inspires countless opportunities for students to engage with the environment in art-making, but here we present a lesson seed for creating art that merges nature and digital production.
Lesson Content:
Andy Goldsworthy and the work of land artists
Mixala and other apps to create imagery
The elements of art and art making concepts such as radial symmetry, balance, layering, etc.
Art making outside the gallery and the environment as stimulus for art-making
Creative processes using an inquiry model
Animation for film-making to documenting processes, reflecting upon learning and exhibiting work 
An introduction to this series of lessons with a trailer you can use to hook students…

The materials used in Andy Goldsworthy's art often include brightly coloured flowers, icicles, leaves, mud, pinecones, snow, stone, twigs, and thorns. He has been quoted as saying, "I think it's incredibly brave to be working with flowers and leaves and petals. But I have to: I can't edit the materials I work with. My remit is to work with nature as a whole." Goldsworthy is generally considered the founder of modern rock balancing. For his ephemeral works, Goldsworthy often uses only his bare hands, teeth, and found tools to prepare and arrange the materials; however…he has also employed the use of machine tools. (source)
"I want an intimate physical involvement with the earth. I must touch. I take nothing out with me in the way of tools, glue or rope, preferring to explore the natural bonds and tensions that exist within the earth. The season and weather conditions determine to a large extent what I make. I enjoy relying on the seasons to provide new materials."
Andy Goldsworthy
Here is a small collection of inspirational work from Andy Goldsworthy – we have focused on mandalas and circular shapes and you'll see why when you start using Mixala.
Lesson Seed 1. Mixala for creating starting points to create digital imagery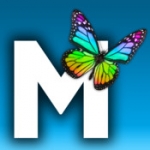 Mixala is a great app to introduce a variety of art-making concepts to younger students as they create Andy Goldsworthy inspired images with digital photographs of images from nature.  We love using it to explore layering – with simple swipes and touches imagery from the collection can be dropped into mandalas and then those elements can be brought forward and back to construct simple compositions.  Students can also use their own photographs to add to their work.  Even very young students can use this app to consider the effect of colour, focal points, repetition, compositions, patterns, mandalas, rotational symmetry and more.
The imagery created in Mixala can become the starting points for other works.  The works in the following gallery were created using workflows that incorporated a number of apps.  The creative process is enhanced as students move between techniques and ideas seamlessly.  There may be no prescribed ending points when you can layer techniques, save imagery to the photo gallery whenever an interesting picture emerges, return to and manipulate previous versions, as well as undo 'mistakes' easily.  Students are limited only by their imagination.
Lesson Seed 2. Create work in the environment
Get into the great outdoor for inspiration, and take a look at the environment as a source for art making.  Have students look, really look, around them and explore their resources.  Collect natural materials that have visual appeal.  This idea may need some unpacking – check out different textures, colours, shapes and  sizes in a variety of organic materials such as leaves, rocks, sticks, dirt, etc.
Create an assemblage of these objects and you have…
a beautiful photographic opportunity
the starting point for a digitally manipulated/app-ed image
inspiration for a drawing, painting or sculpture
the beginning of a time-lapse film that watches the elements erode the work
…ideas!
Andy Goldsworthy inspired photographic works.
These were created by artists and students from around the world.
iPad Art Room Best Idea:
By producing a stop-frame animation of their assemblage as it is constructed, students can engage with a variety of art-making processes at one time.  They will also have produced a visual record of a rather ephemeral work and a documentation of the creative process that can be used for reflection, review or exhibition.
This clip presents a brief showcase of imagery created using the iPad and an assembly created on site.  Created with iMovie, the collection begins with the stop frame animation, moves into some mandalas and animated wreaths and finishes with some abstract compositions.   This is the kind of medium that students use to produce a thorough record of their investigations, demonstrate understanding and reflect upon their learning.  It's also a good way to record, review or exhibit ephemeral work.



More Mandalas made using nature as inspiration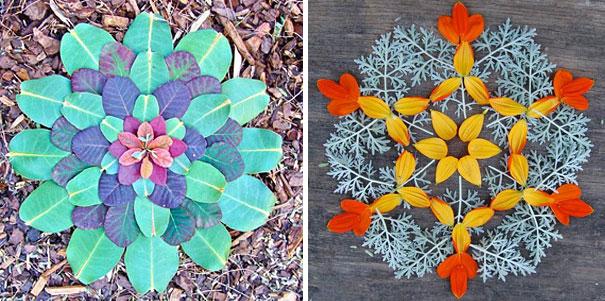 BORED PANDA "Kathy Klein, an artist and "lover of plants, animals, people and the divine presence within all," creates beautiful flower mandalas, which she calls "danmalas," out of intricate arrangements of natural plant parts.
Klein, who is based in Arizona in the U.S., has a deeply spiritual process to creating the mandalas, centering herself in a meditative devotional space as part of the creative process and drawing inspiration from "the golden sound residing within perfect silence." She often leaves the works where she made them, to be found by lucky passers-by.
The traditional Buddhist mandala, off of which her works are loosely based, is a deeply spiritual and also impermanent art form with its roots in Buddhist beliefs. For more examples of this diverse and intricate art form, check out the work of Joe Mangrum." Read the full article and see more of Kathy's work on Bored Panda.
A collection of Andy Goldsworthy resources
Great clip – patterns in nature

Land Art images

Andy Goldsworthy montages…

Lastly, listen to Andy Goldsworthy talk about land art as he creates it.

If you enjoyed this post, you might like to see more app-stractions, created on the iPad.  Or, check out our Mandala activities here.
Social Share