Creating mandalas can be an engaging way for students to explore radial designs, symmetry and patterns in visual art.  The effect of colour on design and the influence of line are made explicit.  Connections can be made to the process of abstraction – this is an easy way to introduce students to non-representational work.  Often students really enjoy creating mandalas as a starting point for larger works created by using workflows that repeat the circular shapes, add them to tessellations…the possibilities are endless!
This fantastic moving mandala was created on the DoInk app…

Check out the gallery of mandalas and be inspired!  We'd love to see what you can do, so don't forget to send your student work to images@ipadartroom.com.
And if you want some more lesson ideas, check out this site for some great mandala activities and information.
Mandalas
This is a great basic app to allow students to simply explore the creation of mandalas, and the concept of layering, with a swipe.  You can choose between a variety of lines and colours, as well as various spiralling techniques to create your design, which can be the starting point for larger works or printed in vivid colour for display.
Click to download MANDELAS from the apps store.
Kaleido Free
Vibrant colours, patterned line and glowing marks allow students to produce stunning work.  The best bit is that they can also create a video of the mandala coming to life as the in-app recording documents every stroke.  This is a great record of the process – use it to reflect on decisions and designs or import it into iMovie to create incredible effects.
Click here to download KALEIDO FREE.
My Flake
After something different?  This app isn't exactly for creating mandalas, but we love the way students produce these gorgeous snowflakes – cut away the negative space with swipes along the 'folded paper 'and watch the effect of these decisions on the unfolded snowflake.  This is a great activity to allow students to grapple with  skills associated with predicting outcomes and abstract spacial modelling as they visualise evolving shapes and patterns.  Get app-ing with these snowflakes in workflows for exciting results.
Click here to download MY FLAKE.
TumbleVision
This app transforms your iPad into an incredible kaleidoscope.  See objects, colours and patterns moving as you swipe across the screen and create patterns with depth and complexity.  Again, these works lend themselves to further manipulation, backgrounds for new works or starting points for abstraction units.
Download TUMBLEVISION here.
Mandalas made using nature as inspiration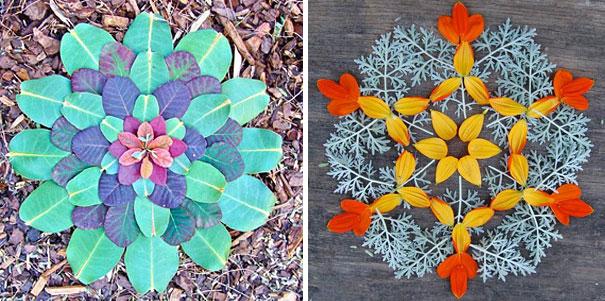 BORED PANDA "Kathy Klein, an artist and "lover of plants, animals, people and the divine presence within all," creates beautiful flower mandalas, which she calls "danmalas," out of intricate arrangements of natural plant parts.
Klein, who is based in Arizona in the U.S., has a deeply spiritual process to creating the mandalas, centering herself in a meditative devotional space as part of the creative process and drawing inspiration from "the golden sound residing within perfect silence." She often leaves the works where she made them, to be found by lucky passers-by.
The traditional Buddhist mandala, off of which her works are loosely based, is a deeply spiritual and also impermanent art form with its roots in Buddhist beliefs. For more examples of this diverse and intricate art form, check out the work of Joe Mangrum." Read the full article and see more of Kathy's work on Bored Panda.
And lastly, a great Prezi on Tibetan Sand Mandalas…



Social Share