As an Apple Distinguished Educator I am often asked, 'Why do you love using the iPad in the classroom?', and 'How do iPads enhance Art education?'.
To begin to answer these questions I must first point out that I use Visual Art to teach creativity and divergent thinking.  Far from just creating a 'pretty picture', student use their studio time to engage deeply with complex problem solving, visual literacy and semiotics.  The value of teaching creativity for 21st century learners is well understood.   As an indication of the interest surrounding an education revolution, more than 10 million viewers have tuned into Ken Robinson's insightful TED Talks.  While the art room is certainly not the only creative space in a school, art teachers are well placed to support students to engage with skills that are crucial for their unpredictable future.  Eisner's inspiring '10 Lesson's the Arts Teach' presents these opportunities for learning as compelling arguments for Visual Art in schools.
But before I go any further, I should say that I also believe that there is nothing wrong with teaching the age old practices of oil painting, exploring the genius of Picasso and grappling with contemporary compositions – in fact there are wonderful reasons for doing so, but planning to maximise student outcomes is the place to start.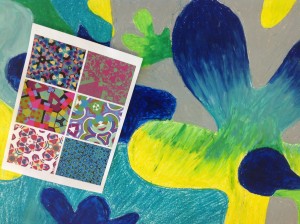 In the innovative art room, teachers are used to classes filled with students working on diverse projects.  Often they are assisting 30 individuals at a time, all following their unique interests and visions, working at their own pace.  While many subjects have been, and continue to be, taught with 'chalk and talk' to kids sitting in rows, the art room is often filled with groups collaborating, many tasks running simultaneously and active students learning by 'doing' – at its best, our pedagogy should be the envy of other subject areas!  However, too many studio spaces are still filled with colouring book pages, cut-out pictures collected from magazines stuck on paper, etc as 'art activities'.  It simply isn't enough to have students enjoying their art classes – this can and will happen at the same time as meaningful learning.  It also isn't enough to deliver activities for fine motor development or to perfect a particular technique.  These same skills can be effectively developed through rich tasks that encompass higher order thinking, etc. In conjunction with rich tasks and considered instructional design the iPad can be an invaluable tool for teachers.
Although the cupboards will always be stocked with charcoal and paper (at least, I hope so!), students now carry their iPads everywhere on our campus.  That means they are always armed with a gallery, a paintbrush, a library, and much more, all within one device.  Schools without a 1:1 program also have considerable resources that can be used in similar ways, as most students are now carrying smart phones and other devices.  It makes sense to encourage them to engage with these real world tools as a way of making their learning tangible and valuable to them.  Students can access resources and create content anywhere and anytime, if we make opportunities available for them to do so.  If fact, they already do it without us…all the time.  Our classrooms are filled with prolific photographers, feverous bloggers and multimedia experts.  What we really need to do is to tap into what they are already doing and enhance the skills and interests they already have (check out Marc Prensky if you haven't already).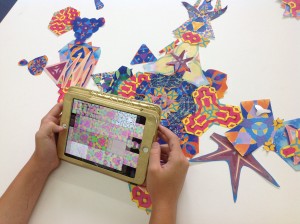 Students in our courses use the iPad to create art, manipulate images, trial new techniques virtually and explore new ways of working.  iPad apps make the creative process come alive, as the 'hands-on' work combines seamlessly with technology.  It's exciting to watch – one minute students can be drawing figures with pencil, then photographing their work and producing an animation.  They use the iPad camera to document progress and reflect on their decision-making to gain insight into the way the use creative processes.  Social media allows students to share their work through on-line galleries and access feedback from students and collaborators world-wide.  Traditional mediums step into the future as they are reinvented in an art classroom with walls that extend beyond the school yard and strengthen links between the 'school stuff' and their journey as a lifelong learner.  Check out the post on 'The Best Bits of the iPad Art Room' if you want to read more.
I, like so many other educators around the world, am keen to ensure that my teaching allows me to respond to the global need for adept problem solvers, creative thinkers and collaborators.  While we do not have a monopoly on creativity in the art room, we are certainly well-placed to deliver exceptional learning opportunities in these areas.  The iPad is a tool like any other, but used in the right way, it is extraordinarily powerful in art education.
Read more about 'teacher app-itudes' and the keys to successful instructional design in the iPad art room here.
Social Share