So what makes the iPad such a valuable device in the hands of students?  Here are some quick reflections on the power of the iPad to transform learning in the art room.
Students are able to trial processes virtually, using apps that explore techniques and skills with scaffolding and prompts, at a pace to suit the individual and with no mess.  As mistakes can be easily erased, confidence to take artistic risks increase. Students are free to explore new ideas and engage with the creative process deeply.
No set-up or cleaning up time is required.  It may seem a minor point, but in many schools, the time allocated to Visual Art (often called an 'experience', 'elective' or 'practical' subject – don't get me started!) is very small.  The iPad allows for the utilisation of every minute as it is instantly on, fast and easy to use.
Students can move from one activity to the next, seamlessly.  The one device can service an endless exploration of techniques, ideas and creativity.  Better yet, students can work at their own pace, moving through tasks as they complete them.
The iPad makes some tasks that were previously difficult and time consuming achievable with one touch.  This means that students can cover more diversity in their explorations and engage more deeply with the curriculum.
Students can document their processes and reflect on their learning.  Visual diaries and process journals are the mainstay of teaching and learning in the art room, but the iPad gives them a whole new dimension.  Apps that allow students to collect, write and photograph research and creation are a wonderful portable and paperless alternative.  In-app or online visual diaries can allow the addition of movies that document creation, animations and interactive mind-maps to explain decision making and direct web-links to resources, etc.  Powerful stuff.
The portability of the iPad allows students access to learning anywhere, anytime.  This 'learning on demand' helps students to extend their knowledge and make stronger links between their experiences at school and their journey beyond the studio as a lifelong learner.
The iPad screen lends itself to art appreciation as imagery comes alive, displayed in vivid colour.  The size and resolution of the screen gives life to the old masters and creating work on the iPad is a visually spectacular process.
Students can 'walk through' galleries world-wide and access their huge collections.  Powerful apps give viewers the ability to zoom in on detail with a simple swipe, enabling them to engage with art in exciting new ways.  The zoom features also assist students to create refined, complex work using precise detail and finish.
Apps are easy to use and are designed with intuitive usability.  Students 'play to learn', navigating features innately.  The ability to use most apps enhances, rather than interferes with the techniques and processes needed to create.  By implementing work flows, students are also engaging with the creative process.
Students can use social media and a variety of apps to become part of exhibitions that can allow their work to be shared with the world.  Peers can give feedback and parents can see their paintings even as they are drying on the rack in the art room.
And just as a side…
I really hesitate when using the term 'hands on' for the making tasks in the art room.  What could be more hands on than using an iPad?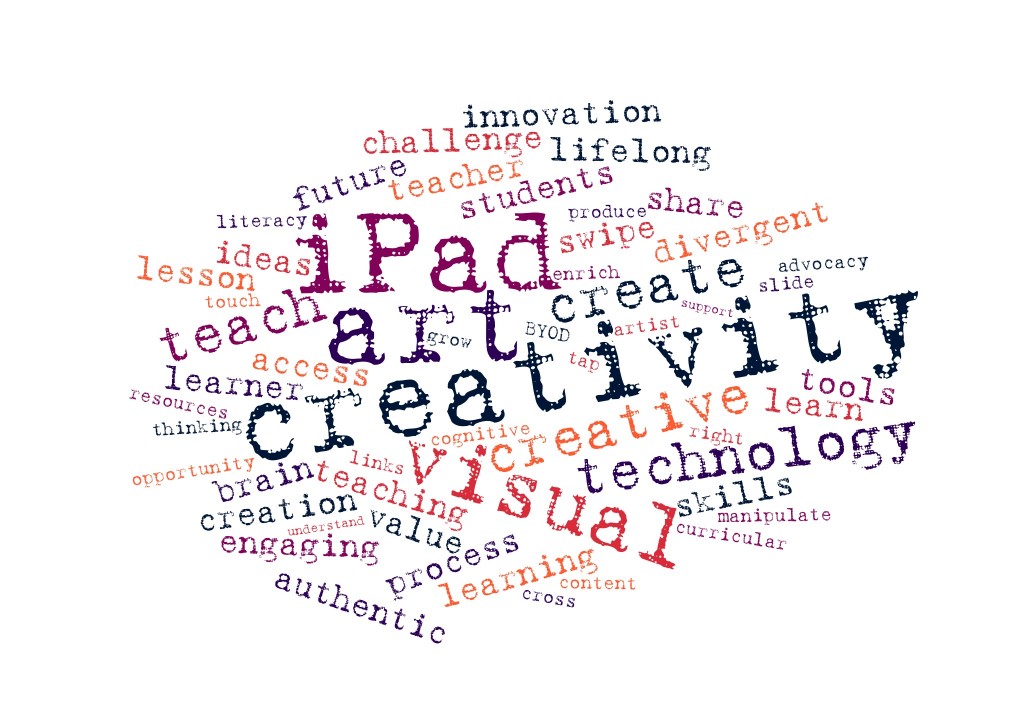 If you liked this post, click here to read more about the iPad Art Room.
Social Share