Should we say NO to 'vertical video'?
It's easy to say yes…
HUFFINGTON POST "How many times have we been promised an adorable video of a cat and dog playing together, only to find a narrow, unwatchable frame size that barely contains the subject? Too many to count.
The people behind these narrow atrocities must be stopped, and outreach is the only way. That's why we applaud this PSA by Glove and Boots. Watch the clip and vow to never shoot a vertical video again."
But there are other perspectives…
Owen Williams points out that while people love to hate on vertical video, it's is no passing fad. With the rise of smart phone filmmaking, the trend is here to stay. Williams explored the reasons behind the move from landscape to portrait mobile movies.
TNW A study conducted by NASA and uncovered by Boing Boing in 2013 looked at human fields of vision. The diagram below, which depicts human vision, crops to around 16:10 aspect ratio which is a common wide-screen format. It's only logical that it was quickly adopted.
Since all screens have been traditionally horizontal by default for decades — until smartphones came along — this made total sense. However, as usage patterns have changed and smartphones have swamped the world, this is being turned upside down almost literally.
The advent of mobile-only apps like Snapchat, Meerkat and Mindie are driving the adoption of portrait video rapidly. It's seemingly everywhere now and it's unstoppable.
The first time I ever watched well-produced video that was entirely filmed in portrait was on Snapchat's new Discover platform.
Granted, the video's content itself was pretty bad, but portrait video that's designed for your entire phone was actually awesome. There's some really interesting new things content creators can do to use the space available to them.
As media consumption trends shift and focus even more heavily on content created on mobile devices, portrait video only becomes increasingly logical.
When I started hearing about Meerkat, the new app that makes it easy to stream live video right to Twitter, at first I thought it was a bit silly, but as I started watching live video on my phone, I realized that portrait-first is actually a great way to consume in a smartphone world.
Often, in the moment it seems natural to film in portrait and even more natural to watch on my phone important. That's exactly what I'm watching play out on Meerkat; it's nearly all in portrait and it's awesome.
YouTube reports that over half of its visitors are now on a mobile phone. Facebook says that 65 percent of people watching a video are using a mobile device.
Ooyala, a video analytics company, said in a report that mobile video growth has increased by 400 percent in just two years. It's unprecedented, but is being aided by increasing data caps and better mobile speeds.
Because of this, portrait is becoming the new way to share and watch video from phones. The way that apps are now being designed is only furthering this trend.
The horizontal, wide-screen experience is becoming secondary, because phones are rapidly outgrowing the desktop for video consumption."
See the entire article from Owen Williams on The New Web.


And, if you need inspiration, check out this collection of film-makers using portrait video. It's inspiring stuff.
THE VERGE: "Portrait videos are a touchy subject. As the logic goes, our eyes are side by side, not stacked on top of one another, making tall and skinny videos something subconsciously unsettling. In a very popular YouTube video two years ago, puppet comedy group Glove and Boots went so far as to call anything shot vertically "crap," while referring to frequent portrait shooters as sufferers of "vertical video syndrome."
But in Europe, a group of filmmakers have rejected that notion, and are using the format as a new medium for art. There's a festival for films made specifically for a tall and lean screen aptly named Vertical Cinema. And to make it all work, the festival's creators have come up with a special projector that stretches from floor to ceiling in locations picked specifically to overwhelm viewers with towering images."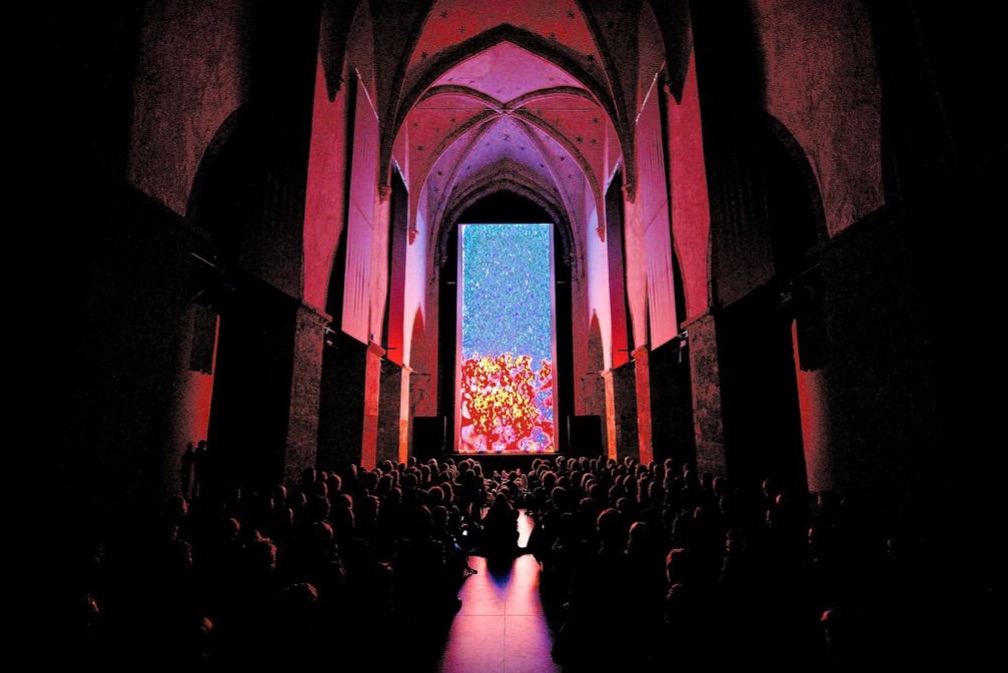 See the whole collection of images and read the entire article from Josh Lowensohn on The Verge.


For teachers, this video from Miriam Ross is a great teaching tool and could be an excellent catalyst for discussion across a range of strands in visual literacy.
Vertical Framing Video Essay from Miriam Ross on Vimeo.


If you liked this post, you may also be interested in 'Is the iPhone a Gimmick?'.
Social Share