They say the best camera is the one you have on you…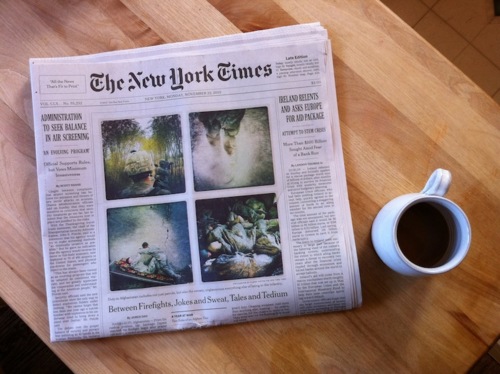 "So my New York Times arrives this morning, I take a look at the front page, and I think, "What!? Those are Hipstamatic photos—four of them!—on the front page of the Times." They're images by Damon Winter from the war in Afghanistan, with a greenish tint, and they're raw and beautiful. Could a New York Times photojournalist really be taking images with an iPhone in Afghanistan?"  Allan Hoffman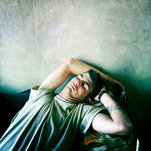 "Does it really matter what camera Damon Winter used to make these beautifully composed images? I don't think so. It's the images that are important.
Whenever possible, I avoid writing about camera gear. The photographer takes the picture, not the equipment. Few people care what kind of typewriter Hemingway used.
But it happens that Mr. Winter quickly realized — after trying a few shots — that his iPhone would be an effective way to capture the day-to-day trials of the First Battalion, 87th Infantry of the 10th Mountain Division in northern Afghanistan.
"Composing with the iPhone is more casual and less deliberate," Mr. Winter said. "And the soldiers often take photos of each other with their phones, so they were more comfortable than if I had my regular camera."
Mr. Winter even found himself taking a few iPhone pictures during firefights while he was shooting video with his single-lens reflex (a Canon EOS 5D Mark II, as long as we're on the subject). The Hipstamatic app forced him to wait about 10 seconds between photos, so each one had to count.
Of course, Mr. Winter's focus was not on equipment. It was on the tedium faced by the battalion's men and women, occasionally punctuated by intense fighting. He said, "These are long grueling days that are not pretty, not sexy, that the soldiers get through as best as they can."  Read more from Jame Estrin in his post, Finding the Right Tool to Tell a War Story.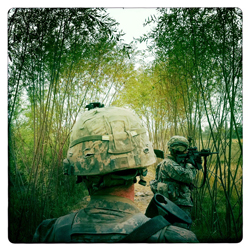 And, in a wonderful article from Steve Meyers, Damon Winter explores the controversy created by his Pulitzer Prize winning images created on the iPhone.
" I think any discussion on the validity of these images comes down to two basic fundamentals: aesthetics and content. At the heart of all of these photos is a moment, or a detail, or an expression that tells the story of these soldiers' day-to-day lives while on a combat mission. Nothing can change that. No content has been added, taken away, obscured, or altered. These are remarkably straightforward and simple images.
What I think has gotten people so worked up falls under the heading of aesthetics. Some consider the use of the phone camera as a gimmick or aestheticizing (Is that a word? I don't think, so but I'm using it anyway) news photos. I think that those are fair arguments to make, but those arguments have nothing to do with the content of the photos. We are being naïve if we think aesthetics do not play an important role in the way we as photojournalists tell a story. We are not walking photocopiers. We are storytellers. We observe, we chose moments, we frame little slices of our world with our viewfinders, we even decide how much or how little light will illuminate our subjects, and yes we choose what equipment to use and through all of these decisions, we shape the way a story is told. "
" I could not have taken these photos using my SLR and that perhaps is the most important point regarding my use of the camera phone for this story. Using the phone is discreet and casual and unintimidating. The soldiers often take pictures of each other with their phones and that was the hope of this essay: to have a set of photos that could almost look like the snapshots that the men take of each other but with a professional eye. It is also the beauty of using a new tool that allows you to see and approach your subjects differently. I am terrible sometimes about paying attention to the little details in storytelling, and using this phone brought me in to those little details that I know I would have missed otherwise.

The image of the men all resting together outside on a rusted bed frame would never have been made with my regular camera. They would have scattered the moment I raised my 5D with a big 24-70 lens attached. The men were very comfortable with the phone, and it always got a laugh from them when they would see me shooting with it, with professional cameras hanging from my shoulders. "
Read Steve Meyers entire article on Poynter, here.
And see Damon Winter's journey through Afghanistan in this great gallery.
Social Share