The PlayArt app allows students to mix and match elements of famous works by well know artists to create new and interesting compositions. Surrealism is an obvious link, as Monet's garden blooms with Miro's mobiles and Van Gogh's sunflowers are picked by Rousseau's monkeys.
When used as part of appraising tasks, the immense value of viewing and reading art is made explicit. Students can make connections between art styles, periods and artists.  By deconstructing and reconstructing these paintings, students are encouraged to engage deeply with the elements of art and the construction of imagery.  Rather than giving the pictures a cursory glance, the viewer is able to connect with the paintings in a new way as the work comes alive with a touch.
The app also lends itself to an analysis of composition as depth can be created, positive and negative space explored, foreground and background manipulated.


iPad Art Room Top 3 Lesson Seeds for PlayArt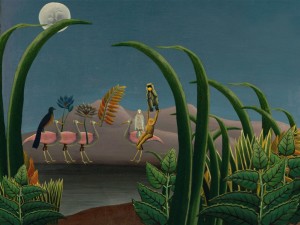 Create tasks that present opportunities for students to demonstrate their understanding of foreground and background.
As part of a surrealism unit, students could mix elements from the PlayArt artists to create compositions.
Create images that can be used as 'backgrounds' for worlds, sets and locations in animations.  The saved compositions are easily taken from the iPad camera roll into other apps like Puppet Pals, DoInk etc.


PlayArt – Trailer from Tapook on Vimeo.
PlayArt – Artists from Tapook on Vimeo.
PlayART – Tutorial from Tapook on Vimeo.
If yu enjoyed this post, check out WordFoto and TypeDrawing in the art classroom.
Social Share