Lately I've been watching my students, fascinated by memes, remixes and mash-ups, repurpose all kinds of imagery in their work.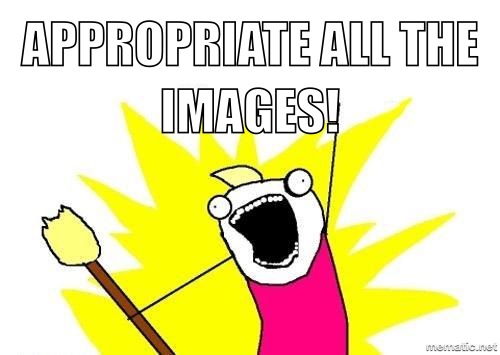 I'm keen to harness this creativity and leverage these starting points to explore changes in visual impact, aesthetics and meaning of objects when images are combined and changed.  
Here's a page of lesson starters, images and ideas that I've been collecting over the past few weeks to stir those creative juices….


DAILY MAIL "Putting your head through a hole in a cardboard cutout can be an amusing photograph opportunity for human beings – but now a new internet trend is letting our feline friends in on the act. This set of images shows how a series of cats have been indulging in cardboard art with hilarious results, with one cat transformed into a beefcake, while another rides a broom like a witch."
See more crazy images on the Daily Mail.
And since we're talking cats…
One of the great things about having mobile devices in the classroom is the ability for students to leverage the camera in their art-making. This image floated past me on twitter and got me thinking about some new ways to introduce characterisation and cartooning in my classroom.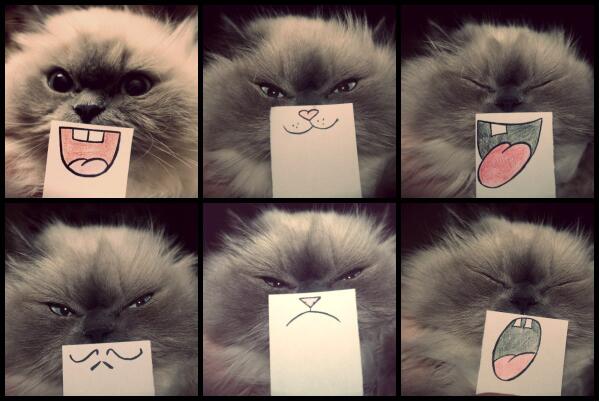 But what if you don't have a cat?
BORED PANDA "During our commute, most of us will resort to listening to music, reading, or staring at the window and pondering the meaning of life. Illustrator and blogger October Jones (real name Joe Butcher) , however, has come up with a creative and somewhat more unusual way to spend his time – he draws new heads for his fellow commuters. Jones, who is also the guy behind the hilarious and popular Texts From Dog Tumblr (and book), draws cartoon faces on sticky notes that he matches up with the bodies of unsuspecting commuters on the train with him. The cartoon faces' expressions, however, take it from good to great – Mickey mouse grinding his teeth and a tired-looking Winnie the Pooh who forgot to shave seem right at home on Jones' Monday-morning commute. He then shares the doodles with his Twitter followers, which he's got about 72,000 of."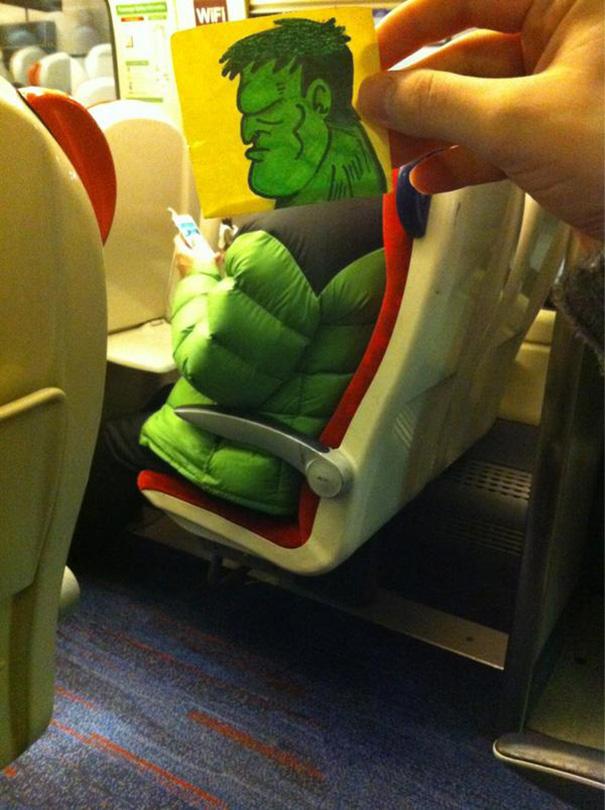 Read the article from Bored Panda in full, and see more from Joe Butcher here.





These gorgeous portraits were shared via twitter by @ARTindistrict96… another interesting way to mix drawing with some photography, and I bet these students loved it!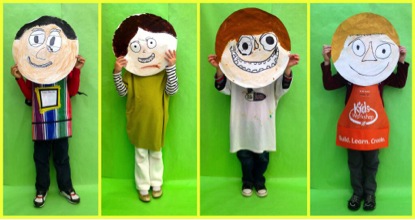 These creatures made from digital ink blots on the Daily Monster app have been layered into a photograph. Students scouted out a location in the school yard for their character to 'live' in and the monsters had to have features and personality traits designed to suit their lifestyle and environment.
Here's another idea… What can you make if you only have a pencil and a paperclip? Or some pencil shavings? These works could give you some lesson seeds for a great task focused on divergent thinking in your classroom.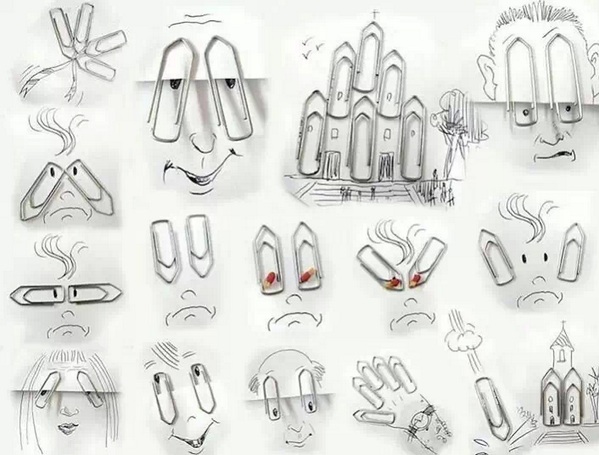 The next series of beautiful sketches are eloquent reminders that there is inspiration in the 'everyday' and 'ordinary'. Click here to see Javier Perez's stunning and ever-changing instagram collection of work using found objects.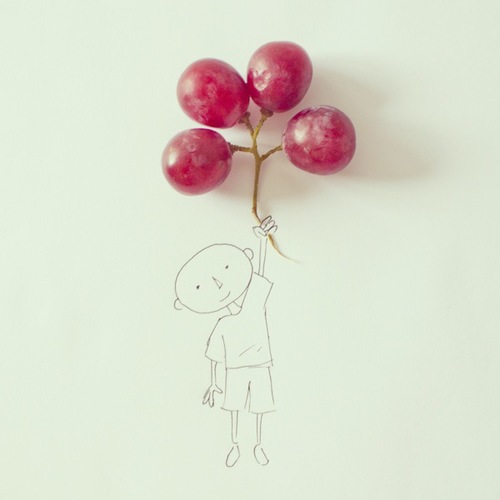 I love the idea of using found objects or linking ideas such as recycling, etc to this type of work. Here's an inspirational 'create project' that taps into the creative potential of one cup and one day.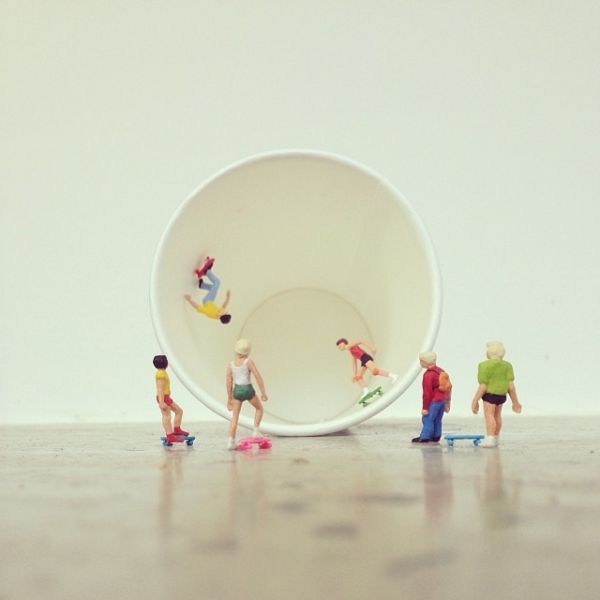 BORED PANDA
"Domenic Bahmann, a clever designer based in Melbourne, Australia, has a wonderfully understated style to his tongue-in-cheek miniature designs that communicates simple ideas tastefully and humorously.
Bahmann's style is diverse, but his clever miniaturized arrangements of easily recognizable symbols are probably his most eye-catching work. Each little miniature item is like a small and self-contained joke or statement, and it only helps that most of them are created out of simple arrangements of every-day objects that we could easily collect at home." Read the full article and see more of Bahmann's work at Bored Panda
BORED PANDA
"Stroyboard artist and self-described "scribbler" Marty Cooper has come up with a fun and clever way to augment and play with his surroundings. By drawing cartoon characters on transparent sheets of plastic paper, he can place them into real-life situations around him and make his characters come to life.
Dogs, birds, monsters, eggs and vampiric oranges are all brought through life using plain old sharpies and white-out. If you've got talent and an imagination as wild as Cooper, you could create drawings like these as well." Read the entire article and see more images at Bored Panda.
Don't ask me why, but someone has created an epic tumblr that features
Beyonce's head on classic paintings
…and it is a lot of fun!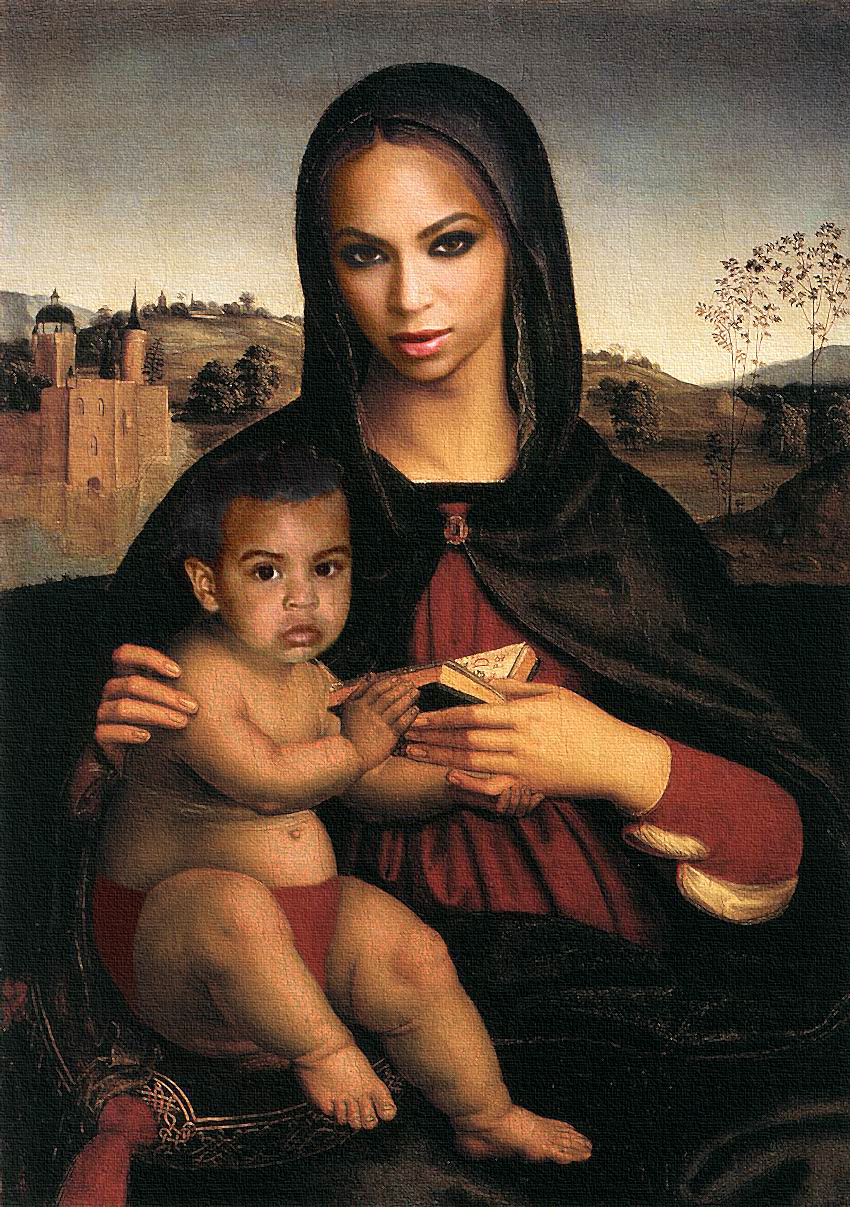 iPad Mash-Ups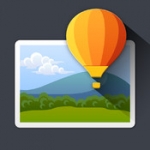 Superimpose is my favourite app to combine bits and pieces to create imagery. It is great for manipulating multiple layers, and you can resize and edit each element.  The process for removing backgrounds and cleaning up edges is really easy and you can also play with the transparency.  Here's some student work created using this app in my classroom.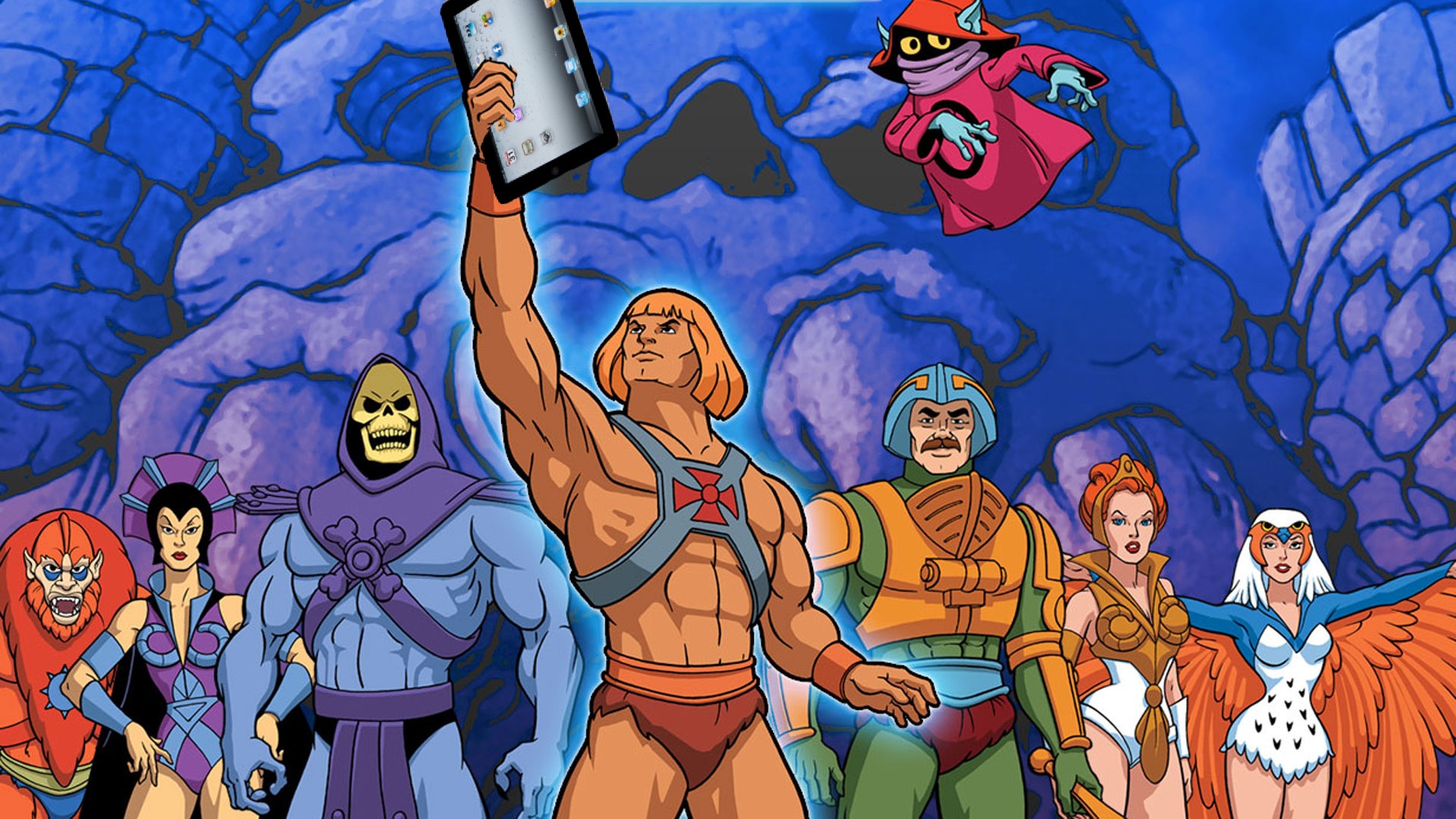 Here's a great tutorial for the Superimpose app from
Tricia Fuglestad
.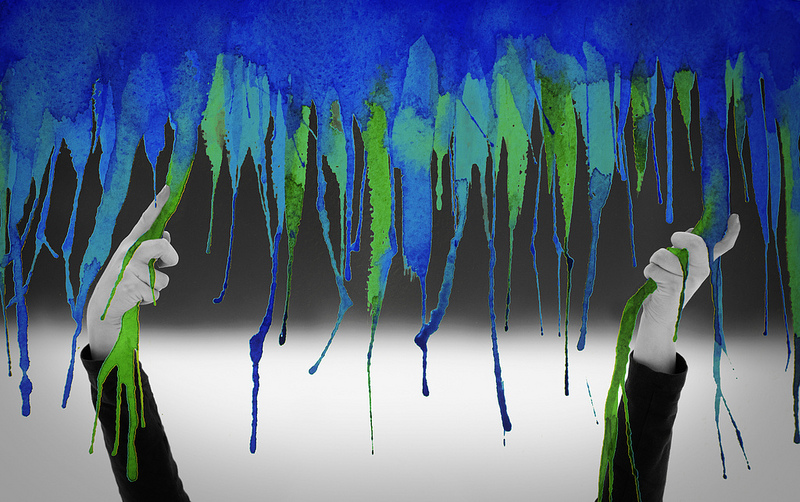 Inspired by these mash-ups? Using self-portrait photographs and water-colour paintings, artist Aliza Razell has merging the two mediums in Photoshop. You could combine paper cuts, paint and photography, and similar works could also be created using Superimpose to combine photographs of work in any media.
See more work from Aliza Razell here on This is Colossal.


Last word…  Googly eyes.
Okay, that was two words.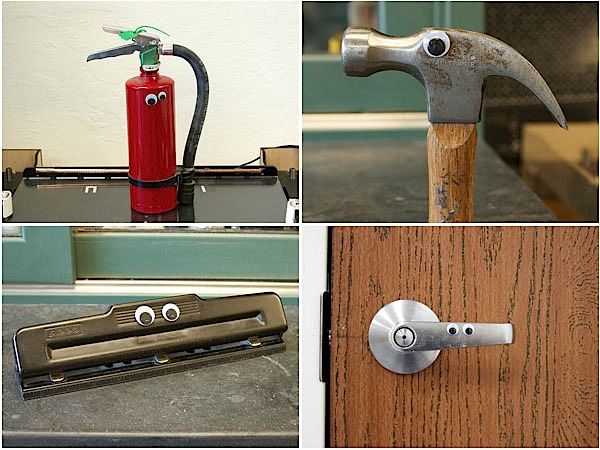 And by the way, if you liked those memes, you might also want to read this post, 'Memes… Funny and actually useful if you are a teacher'. There are lots of laughs, and you'll also find links to the apps I use to create them.
UPDATE
We've had so much feedback about this page on twitter, including some great ideas from @heatherklausa who shared some mash-ups from her students. Click her link in the comments below to see more.
Social Share