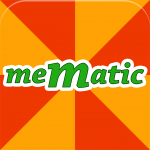 Memes are a great way of communicating an idea with some strong words and a visual.  They are really trending at the moment and 'meme-maker' apps are simple and easy to use if you would like to create your own.  We love using them as classroom posters, short email or twitter messages that actually get read, powerful conversation starters, etc.  And we'd love to know how you use them in education too.
When teachers deliver reminders, teaching points and instruction by creating memes the students often actually reply by using in another meme – it's speaking their language, cutting through and making links between the written word and imagery. Could there be a way to engage with visual literacy that's more fun than this? "Grumpy Cat says no."
There are many similar apps out there, but MEMATIC has most of the templates I need to make a statement in seconds.

And by the way, do you think memes are actually 'art'?  Take a look at this great clip from the PBS Idea Channel – it's a great conversation starter…
Lot's of educators are using memes in their classroom. Check out this post from classtechtips.com and see how Haiku Deck can allow students to document their learning with memes on iPads.
And, if you are REALLy into memes, check out 'Know Your Memes' and find out all about the cultural contexts, historical background and so much more of all your favourites.
Social Share