Pinterest, the social network that allows users to 'pin' content to their own bulletin boards, can be used in a variety of ways in education.  Click here to see 25 of the best pinterest boards in education.
Art teachers seem to love Pinterest for all things art related.  All you need to do is type in a topic and a ridiculous number of boards appear for almost anything.  It's a great resource for art teachers, as we find visual resources and inspiration for art making all over the net.  File those sites, images and articles for later without that 'never see them again in the filing cabinet (digital or otherwise!)' factor.  Better yet, students and other educators can actually use your collections…
Check out how in these two excellent resources.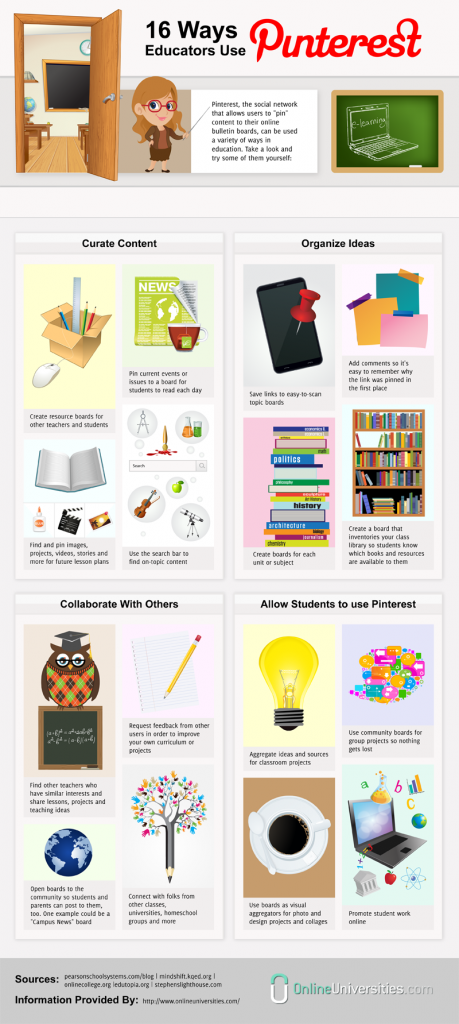 (Source: "How Educators Use Pinterest")
EDUTOPIA " We're big fans of both Pinterest and Bloom's Taxonomy. So you can imagine our excitement when we saw this handy (and printable! Click here for the PDF) guide designed to inform you how to use Pinterest with Bloom's Taxonomy. It showcases a couple dozen (25) ways to integrate Bloom's with Pinning. From building a resource board to defining vocabulary on a board with captions and images, there's a lot of work to be done thanks to this graphic.
The folks at TeachBytes made this wonderful chart and deserve some virtual hand-clapping for coming up with such a clever idea. I'd recommend using this chart over the summer and build out some lesson plans while you have the printed-out chart (see above) on your desk. The printed version will keep you coming back for more and your students will thank you for it.
Just imagine how engaged and active your students will be once you say 'okay everyone, let's all get onto Pinterest for today's lessons."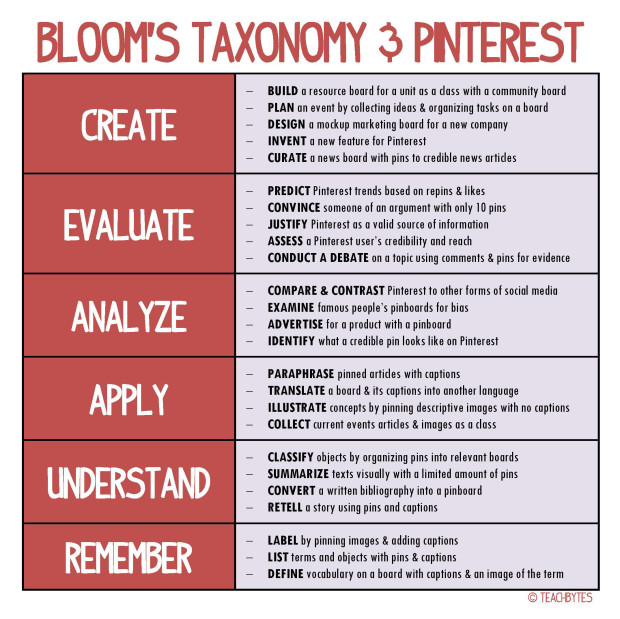 (source: How to use Pinterest with Bloom's Taxonomy)
If you like this post, check out our links page for some other great resources.
Social Share