Where do you begin the search for art apps for the classroom?  Many websites have some excellent lists and we've put some of the best all in once place.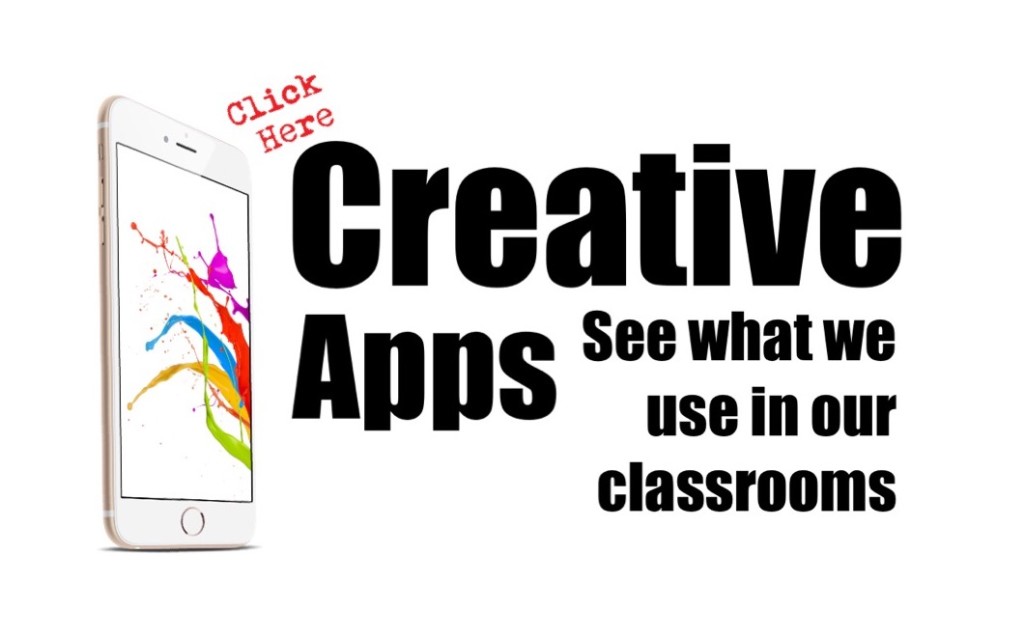 Apps for Art
Creative Bloq's 15 Best iPad apps for sketching and painting
App Advice: Apps for the iPhone artist
Apps in Education: ART
Craig Nansen's huge list of iPadography apps (an excellent place to start your collection)
Art Apps from Pinterest
Apps for Art History
iPad Advice: Apps for artists
Educators Technology: Awesome art apps list
List.ly: The best apps for art
iPads in the art room lessons with apps from Pinterest
Teaching with your iPad: Art and creating collaboratively
Apps for teachers
Educators Technology: All the apps teachers need
Kathy Schrock's Guide to Everything
MacDonald Tech for Teachers: iPad apps and resource
Apps in education
100 Apps for educators
Apple – apps list for education
Teach Thought's 55 Best free apps for education

Want more?
If you're looking for some amazing resources on the web, look no further than this ever-growing list of inspirational art education sites curated by The Teaching Palette.
Chris Parker (@Kreyus) has put together this ultimate guide to arts educators contributing to the teaching community and sharing outstanding resources through twitter and other online spaces.
Here is an excellent list of YouTube Channels for art education, and 197 digital channels for learning.  Don't forget to also check out The Teaching Channel's art clip collection and 100 Awesome Art Lessons on YouTube.
For teachers, this is a great list of really useful YouTube channels for education and the top 10 videos for 21st century education.  TED talks for art is also worth a peek, and these curated lists, 'The artist is in' and 'The creative spark' and Ken Robinson's favourites give you some TED highlights to explore.
iPad Art Room Top Picks – BEST APPS PAGES
1. "This site will provide you with tips, tricks and resources for teaching and learning with the iPad… You can find extensive information about Bloom's and iPads (and more)…this site promotes the use of the iPad to support sound pedagogical practices and provide professional development."
Read more and learn more at Kathy Schrock's wonderful pages.
2. "iPads have exploded throughout schools and classrooms. Their flexibility, versatility, and mobility make them a phenomenal learning tool. As teachers seek ways to integrate these devices, we recommend focusing on specific learning goals that promote critical-thinking, creativity, collaboration, and the creation of student-centric learning environments."  Click here to find a list of objectives, each one connecting to recommended apps and tools.
3. Using Blooms Taxonomy in education is a highly effective teaching tool.  As iOS devices in schools multiply, understanding how to implement Blooms in the classroom using the apps that are available can be very valuable. This list will get you started.
4. Check out this link to see a range of apps organised by Bloom's Taxonomy.  It's a great way of starting to think about teaching and learning in the classroom and how iPads and other technology can help teachers promote higher order thinking.4. Check out 'iPad Educator's' Essential iPad Toolkit, a great list of apps to get you started with that collection every teacher needs to be powerful and productive!
5. Where do you find all those apps for teachers?  Follow this link to find a good list to start your collection.
6. From other Apple Distinguished Educators comes Appitic.  It's a fantastic resource of apps and links for teachers, by educators who know their stuff.
Social Share