Have you thought about creating imagery using accidental or purposefully constructed digital 'glitches' in your classroom?
I've collected some examples from artists producing 'Glitch Art' and you'll find a collection of interesting and diverse work below. Students can create their own glitches to spark an investigation of experimental ways of working photographically, begin an interesting philosophical discussion about new media, or grapple with an exploration of image deconstruction. There are so many entry points for learning here.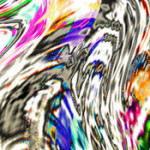 One way to can create Glitch Art is using Glitche, a free iPhone app that allows creatives to explore slitscan, datamoshing, and other glitches. Techniques previously considered 'photo faults' can be used to produce experimental still images and gifs. The app was created by Vladimir Shreyder and developers Boris Golovnev and Ivan Shornikov, who describe it as a tool to "distort your photos into works of digital art." Here's some examples of simple effects, but remember the complexity can be increased by layering effects and using other apps in combination with Glitche in a workflow.
It's not a bug, it's a feature: the rise of glitch art
THE GUARDIAN Artists are using the familiar glow of digital glitches to create work that questions the forms and traditions of art.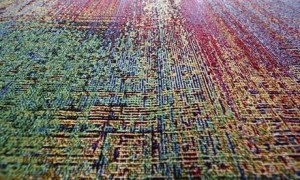 Philip Stearns used patterns sourced from short-circuited cameras and malfunctioning hardware to create textiles. Photograph: Philip Stearns
Glitches. We've all seen them: an unexpected blast of pixelated, hallucinatory jagged lines spreading across our TVs and computer screens. A digital bug fractures the image we're looking at and, for a frustrating moment, interrupts the film, game or photograph before it returns to normal.
Glitch art takes temporary pixelations, interruptions and glitches and turns them into visually arresting pieces, questioning the forms and traditions of art using digital techniques.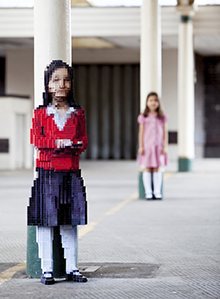 Luke Jerram's sculpture at Bristol Temple Meads station, with his daughter Maya in the background. Photograph: Toby Farrow/Farrows Creative
Since July, puzzled commuters on platform one at Bristol Temple Meads train station have been able to see a lone figure of a young school girl in the distance. On closer inspection, the girl fractures and turns into blocks. She is the work of Luke Jerram, a colour-blind artist who creates work on and researches optical illusions and visual perception. The young girl is based on a scan of Jerram's daughter, Maya, which is also the name of the sculpture.
Maya was scanned using an X-box Kinect and equipment at Machine Vision Laboratory in Bristol. The scan was then pixelated into squares called voxels. Precision-cut aluminium formed the bulk of the sculpture, with more than 5,000 square stickers, measuring 12mm each, carefully applied to the aluminium to create the finished piece.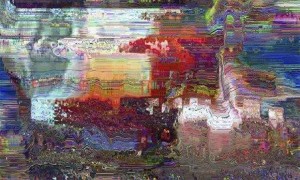 Mathieu St-Pierre, a Canadian artist, uses computer programmes and analogue video signals to create his images, drawing on electronic malfunctions as a creative element. His "abstraction" pieces created in 2012 are kaleidoscopic colour-scapes with the familiar glow of digital glitches. However, St-Pierre has used the digital faults to create saturated pieces with wavering, repetitive lines like brushstrokes in a reflective sea of colour.
Taking this concept further, Phillip Stearns of Glitch Textiles brings together fabrics with digital art, launching his crowd-sourced project in 2011. Patterns sourced from short-circuited cameras and malfunctioning hardware are transformed into tactile wool weaves and soft fabrics with bright algorithmic patterns.
Another artist, the London-based Quayola, used video installation at Palais de Beaux Arts in Lille in October 2011, to pixelate the classic paintings of Rubens and Van Dyck in the Flemish collection. A precise computerised process splits up sections of the painting and turns them into blocks and 3D shapes. Smooth canvas is broken up and interrupted into various shapes like folds of origami paper, creating a fresh new interpretation of traditional works using new technologies.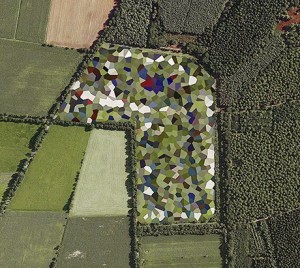 Manchester based photographer-artist Mishka Henner has become known for appropriating publicly available images and blurring the lines of image ownership. The Dutch Landscapes series from 2011, which were exhibited in May to September 2012, comprises Henner's curated set of Google maps from the Netherlands. The Dutch government has blocked out areas on the aerial shots using polygon shaped pixels to conceal the original missile sites, air bases and royal palaces which are considered a security risk or politically sensitive. Henner reframes the context of the images, critiquing the pixelated blocks censoring the Dutch vistas.
Glitch art is re-casting a new light on digital faults and interruptions and turning them into works of beauty.
Read the entire article by Grace Wong on The Guardian.


Glitch Portraits Paintings by Andy Denzler
FUBIZ "The painter Andy Denzler paints portraits of women and men with a glitch effect which looks like a breakdown television screen or a glitch on a picture. The features of the faces appear through the glitch, with a certain sensuality. A selection of his different series is to discover in the next part of the article."
Apple Maps Madness
WEB URBANIST All of the notorious glitches on Apple's Maps app make it incredibly frustrating to use for practical purposes, but it still has value – as accidental art. When two-dimensional images are incorrectly mapped onto three-dimensional topography, the results can be fascinating, creating landscapes and architecture that look alien and futuristic.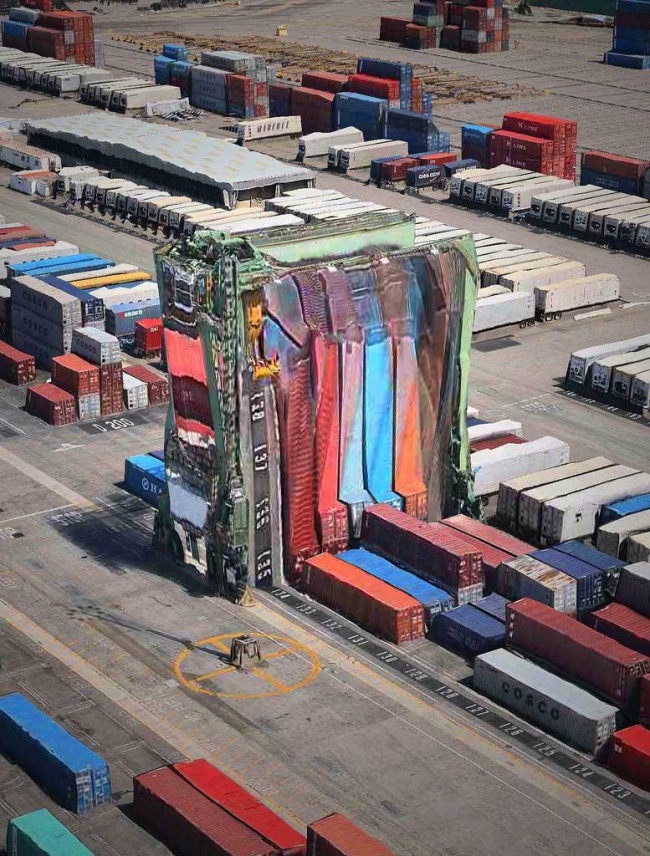 Google Gets Glitchy
WIRED "As sophisticated as it is, Google Maps is fundamentally the same type of thing cartographers have been making for centuries. It's a flat, scaled representation of our planet. That means decisions have been made about what to show and what to leave out. At any given level of zoom, you can see only a certain subset of streets, of cities, of tributaries or topography. Even today, some streets are missing or mislaid. It feels omniscient, but its omniscience is made by humans, for humans.
The places where that system breaks down have a mystery all their own.
Google Street View is something entirely different: a photographic document of world. It's more objective and indelible than even the most accurate satellite-aided map. And that's a bit unsettling. When every acre on Earth is catalogued for us to see, where will all the mysteries hide?
Thankfully, Google's nine-eyed robot cameras and their attendant code aren't quite omniscient either. And as Emilio Vavarella shows us in his screenshots, the places where that system breaks down have a mystery all their own."
Read the entire article from Kyle Vanhemert on Wired.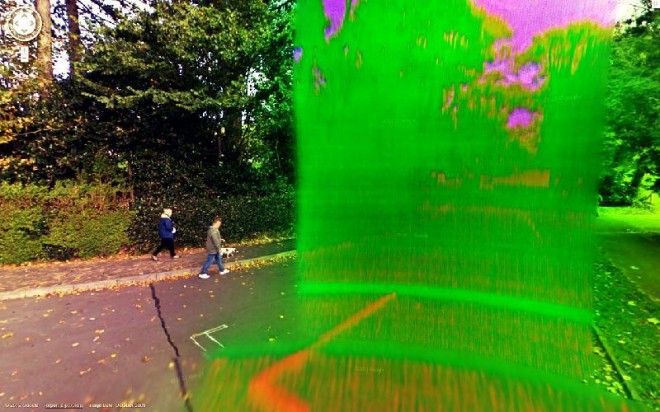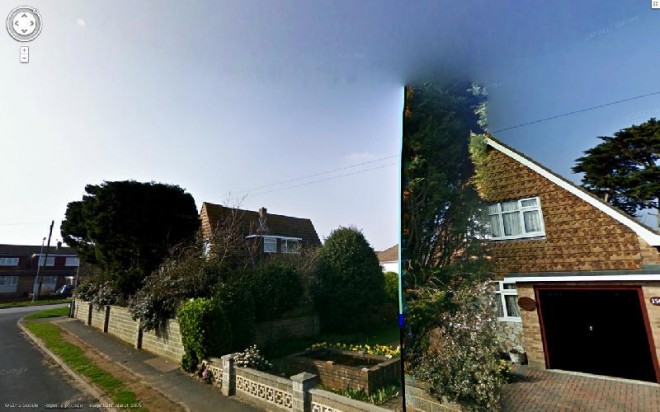 THE CREATORS PROJECT "The power of glitch art often rests in its ability to transform a familiar object or image into something surreal, challenging the idea of what that object is. The concept is most frequently applied to digital information, such as breaking GIFs or using outdated equipment for stunning effects. Artist Soleil Zumbrunn's new project, 'GLITCH' is a powerful application of this specific glitch ethos, used on a very most familiar cultural object: a standard deck of playing cards." Read the entire article on The Creators Project
One Last Glitch Hack
Here's an interesting technique to try from my creative colleague Craig Smith @wrenaismir. He's outlined the process used to create the image he calls 'Sum' so you can try it next time your waiting for the bus!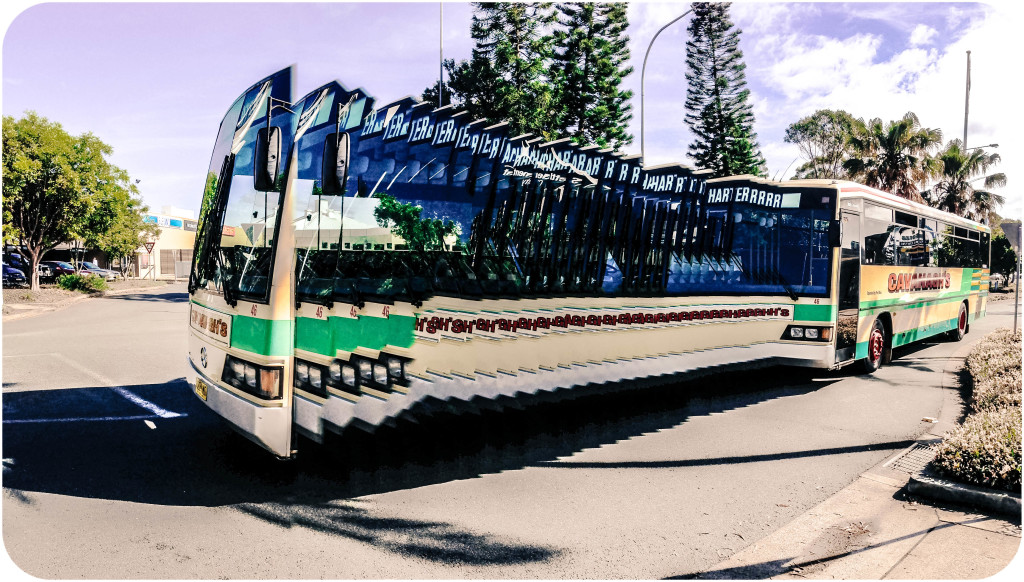 "It was taken just after the panorama feature was introduced to the camera in iOS. I began exploring different ways of using the panorama on my iPad to create glitch art, such as swooping the iPad in sudden dips or rises as I'd turn to create a panoramic shot, or to turn very fast in a circle to create a broken landscape. The bus was created using a panoramic technique where you choose a still background, but focus the iOS camera on a moving object, such as a vehicle. You start the panoramic shot when the vehicle is just at the start of your first frame, and you turn the iOS camera in the same direction and at the same speed as the vehicle. You'll know when you've got the right timing because it will stretch the vehicle right across the span of the panorama, but will maintain the background landscape untouched."


Want to read something else? Check out about the links between gaming, creativity and student learning here.
Social Share