Another thought-provoking article from Katrina Schwartz…
Some of the key ideas for me include:
* Devices used to consume art can also allow students to create, often with little or no instruction.  There is a link here to self-driven production beyond formal educational contexts, however students are often unaware they are 'doing it'.
* Art-making is a fundamentally social process.
* Real world connections add to student perception of the value of learning in the arts.
How Video Games and Social Media Fuel Students' Passion for Art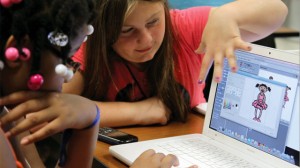 MINDSHIFT  The average teenager consumes about 10 hours of media per day according to a Kaiser Family Foundation report, and that's often through a gadget like smartphone or tablet. But depending on what we choose to focus on, that's not necessarily a bad thing. The same devices that are used to consume art have also allowed students to create on their own, often with little instruction or direction.
This trend of interest-driven art creation comes at a time when public schools are cutting art programming, and it offers a promising new way to reach and mold budding artists.
"A lot of times we think we need to have programs that cultivate learning in the art form, but what we are finding is that through the continued production of art, and reflection on it, the kids are actually improving their skills over time," said Kylie Peppler, assistant professor of learning sciences at Indiana University. She wrote a report for the Wallace Foundation called New Opportunities for Interest Driven Art in a Digital Age. The study finds that even without formal training, self-driven youth are developing the same habits of mind that they would under formal instruction — they just don't realize they're doing it. Their creation is spontaneous, self-taught and often quite good.
Peppler found that as kids are playing around on their devices, the play is transferring into real skills, in part because many devices come with easy-to-use creation tools that offer a low barrier to entry. Furthermore, informal art-based activities have been found to transfer to real skills. Kids who played the video game Rock Band, for example, could sight read and transcribe traditional notation based on their experiences. And exposure to various art forms prompted them to seek formal training.
"For the very first time, kids enrolled in free violin lessons," Peppler said. Once they got interested in music through Rock Band, they took advantage of free or low cost learning opportunities in their communities. Their video games helped them discover a new passion for music.
"Art forms are fundamentally an expression of human nature, some of them become a formalized program, but most of them emerge outside of that," Peppler said. She found that much of the interest-based art happening outside of school is rooted in community and identity. She cites the krump dance movement in Los Angeles as an example of a unique art form that emerged around the time of the Watts Riots because people wanted to congregate in a non-violent way. "It was something that just emerged out of the localized need as part of expression," Peppler said.
"Art production is fundamentally a social process, so whether it's gathering in your living room or online, that kind of production is happening," Peppler said. For lower-income students, physical space is often still important to art production because not everyone has access to the technology to participate in an online community. "It looks different in every community, but it's there," Peppler said. By being plugged into those communities youth have a chance to see what's out there and how they can participate.
Technology has vastly enhanced the kinds of communities for young people to discover. There are online communities for art producers in every field and often professionals participate by critiquing members' posts or becoming mentors to those just starting out in a discipline.
"Art production is fundamentally a social process, so whether it's gathering in your living room or online that kind of production is happening."  The internet and social media offers a live audience for work students create, motivating them to innovate, revise, and improve their skills. Peppler said while artistic communities of all types have long existed, it's only now that researchers are hearing about them through social media.
Peppler's research on the fertile artistic community that technology has helped enable has interesting implications for more formal education programs. Peppler offered some highlights:
1.  Art education should be based around the idea of the portfolio, a common evaluation tool in art fields. When students see the work they do both in and outside of class as contributing to a broader repository of work useful for demonstrating skill, assignments mean more. Students are already building up these sorts of digital portfolios and teachers should ask about seeing them and helping add to them. "Kids are shy; they aren't sure [their art] is going to be welcome," Peppler said. "They may not be forthcoming with what they are doing."
2.  Teachers can also use technology to find students interested in more formal art programs and to connect them to resources. Students are online, talking and creating and teachers need to meet them where they are.
3.  Another key way that art education could change is by providing more open studio-type space to youth. There are plenty of organizations already conducting programming in this way and they should be replicated. "Having a physical location where kids can come and hang out when they don't really have that outside of their homes is really important," Peppler said. "I just wouldn't want that to look like structured programs. Kids want to produce, but they don't want to be told what to produce or how." Allowing that freedom of expression within the formal environment could be essential to linking the knowledge a teacher offers to the passion-based approach with which students became interested in learning a skill.
4.  Teachers need to think of art and technology as a space for co-discovery, approaching a collaborative environment with students without fear. "It's a difference between seeing ourselves teaching only the things we have expertise about versus being a learner along with the kids," Peppler said. She pointed out that it's a win for teachers because they can learn new technologies in a low-stress environment, but feel secure that they will still offer important advice on the formal component of art that students can't pick up through tech tutorials.
Read the complete article from Katrina Schwartz on Mindshift.
If you liked this post, check out Teaching Creativity in the Classroom: Lessons for Teachers.
Social Share