2017 was big (I think I began my 2016 Year In Review post in the same way!).
I'm sitting here writing this post in 34 degree heat with my sunglasses on (yes, it's really hot…we're talking Celsius here 'Down Under'!), and since more than 90 per cent of my website visitors come from places around the globe other than Australia, I imagine Christmas looks a little different for many of you! Here at home on the Gold Coast there is definitely no snow, but there are barbecues, swimming pools and plenty of holiday happiness. This is the first time in many years I have had a few weeks of total relaxation and no travel, and I've got to say, I did need a bit of a break…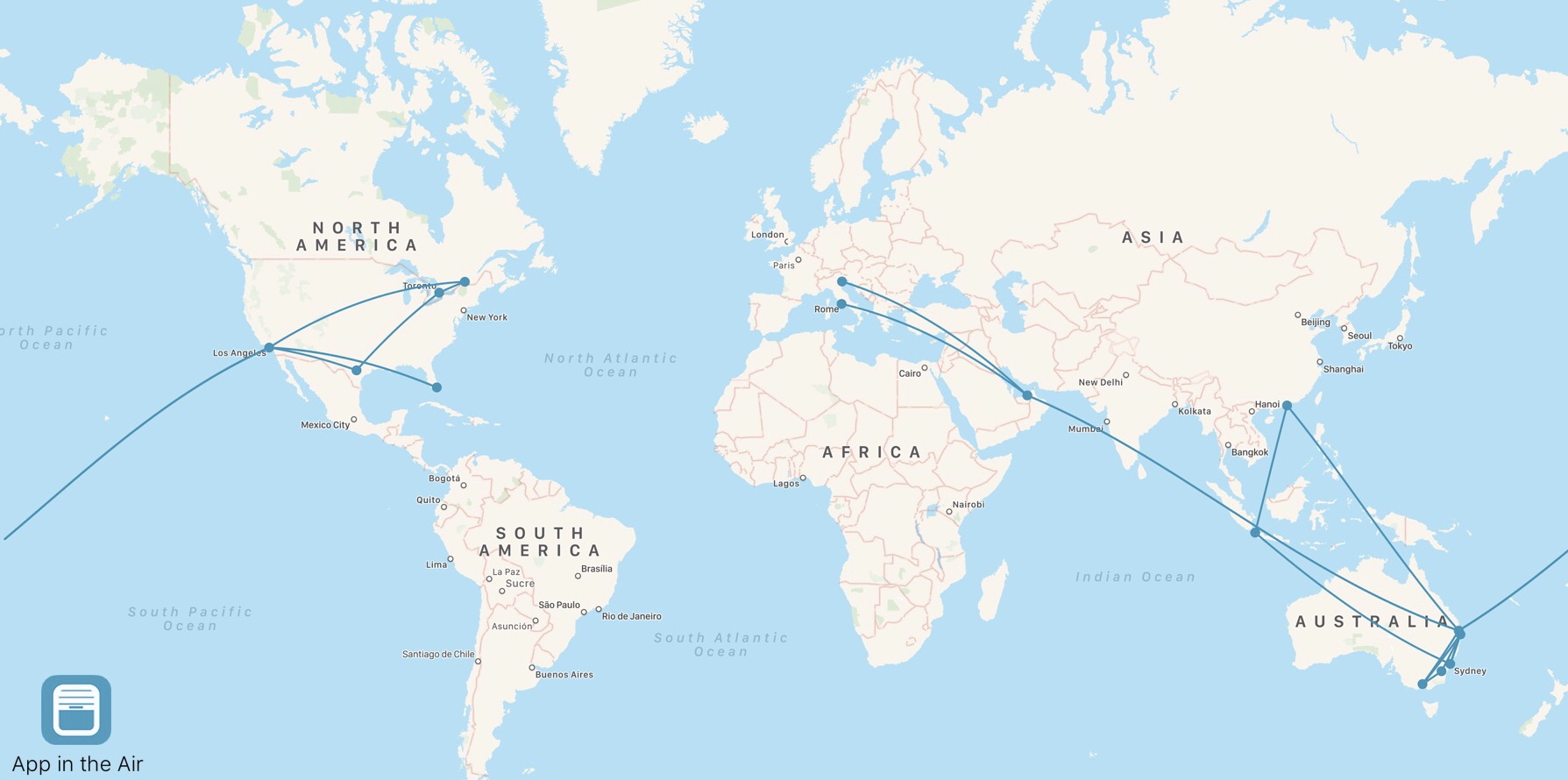 Yep, once again it seems I spent a crazy amount of time in the air; Australia is just SO far away from many other places! Those long flights included three journeys over to the USA, a fabulous voyage across Italy, and a number of adventures in Asia. 61 days away from home.
Highlights? Well, there were so many.
I wrote my first 'Year in Review' post in 2016, and really felt that it was pretty special to look at the year as a whole. I'd never done it before because I blog and write about events as they happen, but looking at the year as a whole gave me an opportunity to reflect on the impact of my work, the incredible people I am grateful to meet and learn alongside, and the places I am so fortunate to visit.
Looking back this year, it's clear that I cannot actually fit everything I'd like to do into 365 days! I've had to come to terms with the fact that I can't say yes to it all, and on a personal level, it is often really hard for me to say no because in the current educational landscape, I feel like there is so much work to be done.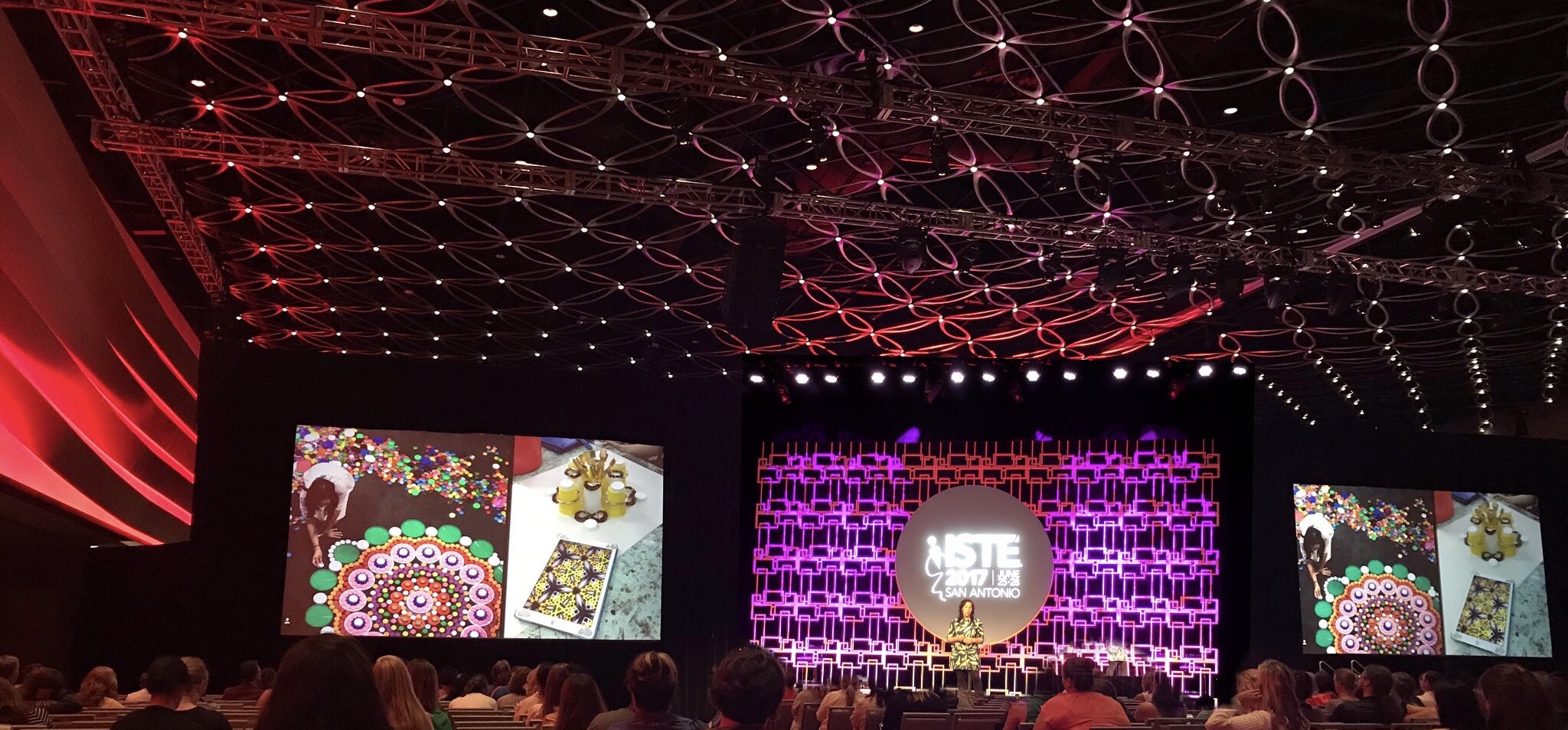 Crunching The Numbers
This year I facilitated 36 workshops designed for 15-150 participants. I am really passionate about opportunities to work closely with educators and students, and I put a significant amount of time and effort into crafting each of these 'hands-on' creative experiences. I've worked with two dual-language contexts, and a host of really interesting settings from K-12, remote locations to inner city sites, galleries and more…across continents.
I delivered 24 interactive keynotes, speeches and short talks, and these are some harder numbers to crunch due to estimating audience numbers, but I'm thinking I've been live in front of about 28,000 people in those presentations this year. ISTE in San Antonio, Texas and Cue in Palm Springs, California, were the biggies.
Working with teachers and students has presented me with some exciting challenges in some very special places, and this year I've been on site for five International Schools in Asia, writing curriculum, developing creative technology scope and sequences, and supporting creative practices and pedagogical approaches to teaching and learning with art-making and mobile devices. Sometimes the days are six or seven sessions back to back, so adding up the numbers I'm thinking I have had the privilege of working with more than 7200 children this year, some as young as three years old.
In every setting I have learned so many valuable lessons that I've shared with others, from the smallest interaction with a young learner, a classroom observation or a strategic conversation with a principal, ideas grow that are useful in my own classroom, in my wider school context, a colleague in South Africa, a university student looking for data, etc. This kind of shared experience, collaboration and community is how we will move education forward.
And I know I said it last year, but being a teacher is the Best. Job. Ever.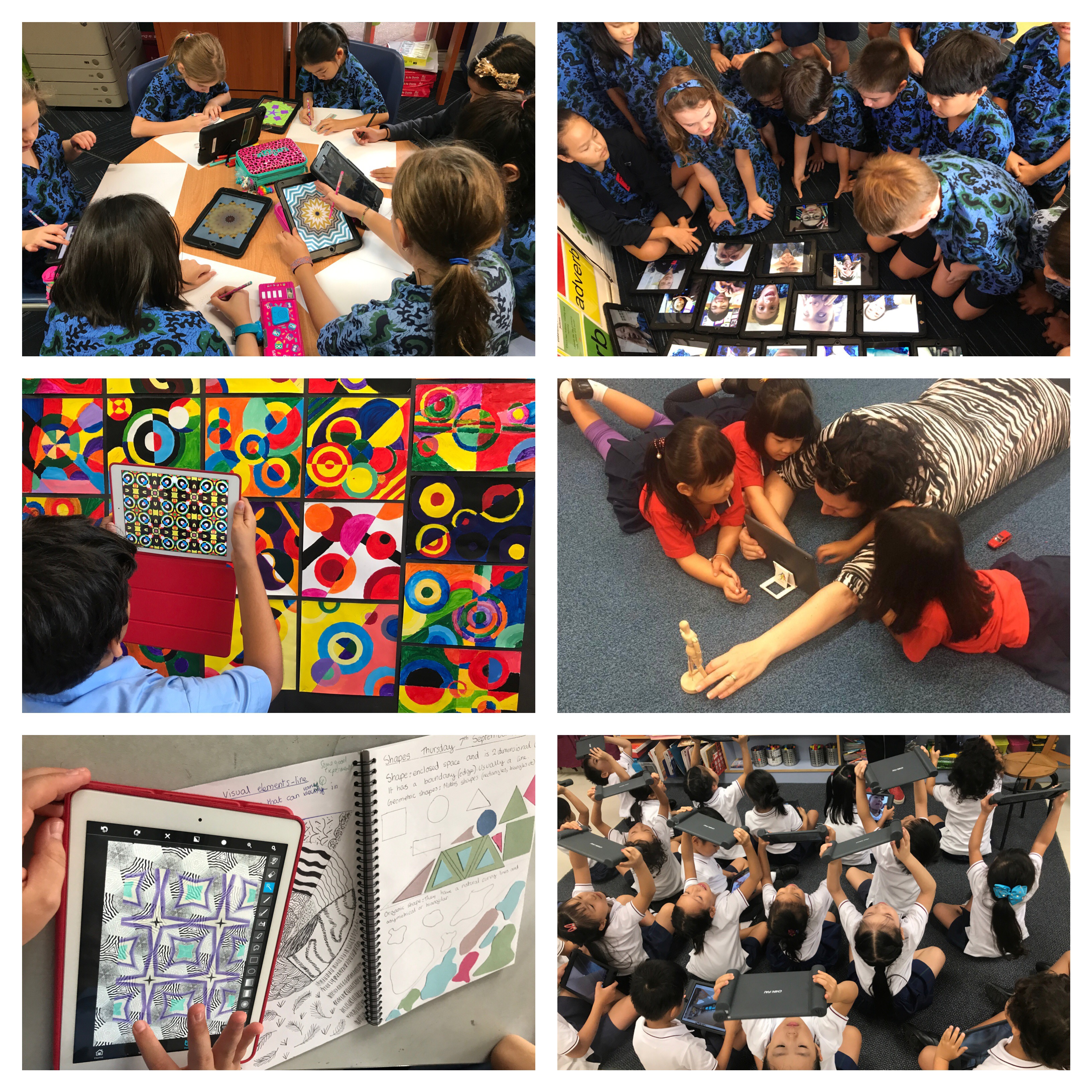 Terrific Travels
Cue
After my Ignite talk as part of the closing keynote at ISTE in Denver last year, Mike Lawrence talked to me about coming to keynote for the Cue National Conference in Palm Springs. I had always found the Cue community to be exceptionally warm and supportive, so it was wonderful to be able to say yes and contribute to their massive event. There were lasers, laughs and lessons in the largest interactive presentation I've ever contributed to an event.
It is profoundly affirming to see the work of arts educators acknowledged on the 'main stage' at events such as this, and more 'real teachers' (like me!) presenting keynotes at conferences. I am also finding myself increasingly supported to deliver opportunities to facilitate important conversations about the value of creativity, The Arts, and desperately needed plans for an educational experience for all children that responds to the needs of the whole person in diverse settings.
One of the highlights of the trip was that I got to sit on a panel and get a little 'Shark Tank' with ideas presented by teachers for funding opportunities and prizes as part of an initiative called 'LeRoy's Big Ideas'. As always, I was blown away by the commitment of teachers to their students. There were some great ideas presented, but it was the tenacity these educators displayed, their commitment to achieving the conditions they believed their students needed to learn, that was the most inspiring aspect of their presentations.
ISTE
This was my third time coming over to ISTE's National Conference, and the biggest program yet. All my creative workshops were full (actually, bursting at the seams) with 150 people and waiting lines out the door. It's always so humbling when this happens, especially after travelling so far to connect and share with these educators.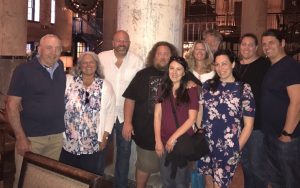 There is an obvious need for arts-based content in the edtech community and I am seeing an ever increasing interest in more authentic connections to visual art from across curriculum areas. This year, for the first time in my experience, art teachers had a real presence at ISTE. We were able to create an #artsed interest group, meet up and connect in person, and share out the artsed/edtech learning on site to other art teachers through the great work of Laura and Matt Grundler who host the #k12artchat. I think we're going to see an even bigger group represented next year.
I had a great time presenting an iTools set with 'The Dream Team' – Christine Klynen, Kurt Klynen, Micheal Hernandez, Chris Penny and Casey Cohen. Christine and Kurt have worked hard to bring a really comprehensive program to teachers using iPads in classrooms through this workshop at ISTE over the past few years, and it has become better and better. They have made all our resources available online through a hugely popular iTunes U Course you can download and share here.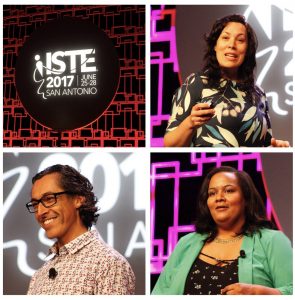 Jumping on the big stage for my EdTekTalk was pretty amazing after weeks of rehearsals! I love a twenty minute format from a story-telling perspective, and those massive screens present such a great opportunity to advocate for the value of arts education by really showing off the creativity of our kids! Rafranz Davis and Michael Hernandez followed my talk in this session, and I could not have been in better company than with these two inspirational teachers.
The more I see 'behind the scenes' at ISTE, the more I admire the volunteers who work tirelessly to transform an entire city into an edtech wonderland. It's an overwhelming atmosphere, with so many people at the conference in general, and after a few years making trips to the USA, so many friends and colleagues all in one city to learn together. It got to the point that I couldn't walk five meters without a hug, a selfie or a seriously awesome conversation! I may have posted a photo of me hiding behind a palm tree to have a moment of quiet with a coffee! Come to think of it, I hate to think how much coffee I consumed to keep up the pace for the four days…but it was worth it!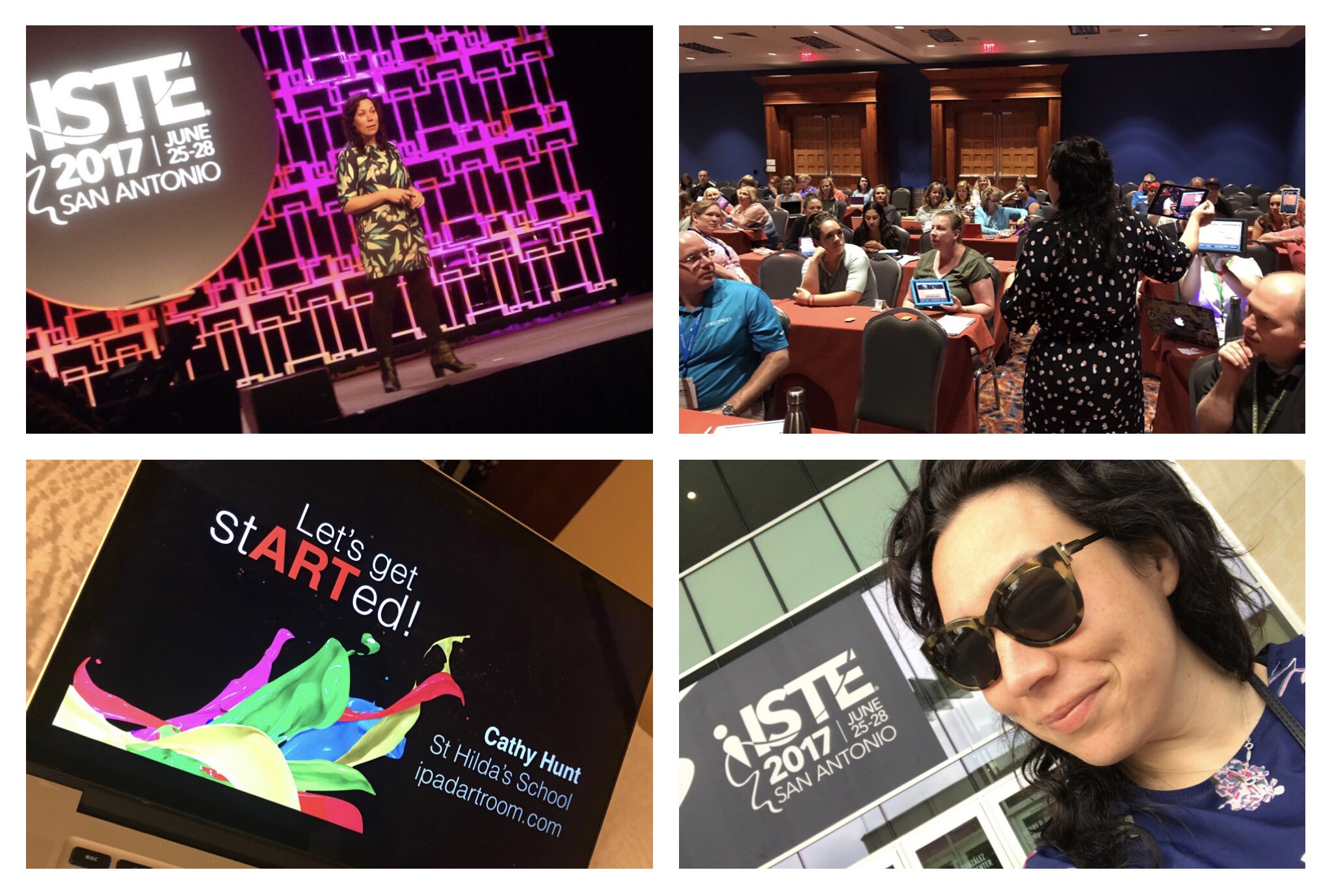 Exceptional Events
This year I've been happy to support some really great conferences. Okay, so spending more time in the air than on the ground in Miami seems a little nuts now (okay, maybe it was!), Shift in Edu is a conference run by teachers, for teachers, and it rocked! I made it over to Canada for the first time to work with teachers in Montreal, and even jumped unexpectedly into a 21st Century Learning International TeachMeet in Hong Kong. More and more I am hearing that some of the teachers in the session have driven across country to be with me, but recently I've had some participants grabbing their passport and flying in from far, far away. Seeing teachers go to this kind of effort to learn and grow is just incredible, and I love doing everything I can to support that effort. Watching the ripples expand when they travel back home and share resources with others is even better. The thing is, I know that every minute of work I put into a presentation, a resource, or an idea I share online, I get back in spades. Every lesson or presentation I build is a mash-up of principles, practices and pedagogies from countless classrooms, and change comes from the community we are building together.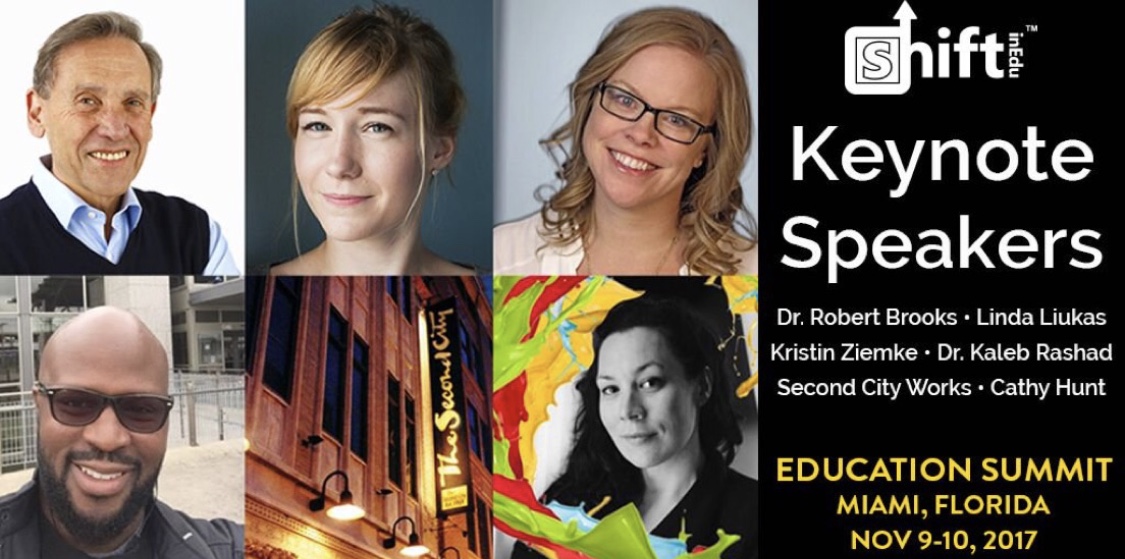 Apple Distinguished Educator Asia-Pacific Academy 2017
Over the time we shared in Melbourne for the 2017 ADE Academy, the learning just never stopped. Each day a series of showcase presentations from talented educators inspired us, and workshops, presentations and opportunities gave us some challenges to dig into. So many of these teachers are trying to make a real difference in the lives of our children, and I feel so fortunate to be able to tap into the knowledge that they give so graciously, reach out for their support when I need it most, and call so many of them true friends. This Academy was a great time to welcome new community members and share expertise, and as an ADE Board Member I loved diving into the planning for some of the events with the team, and mentoring some of the showcase presenters as they honed their presentations.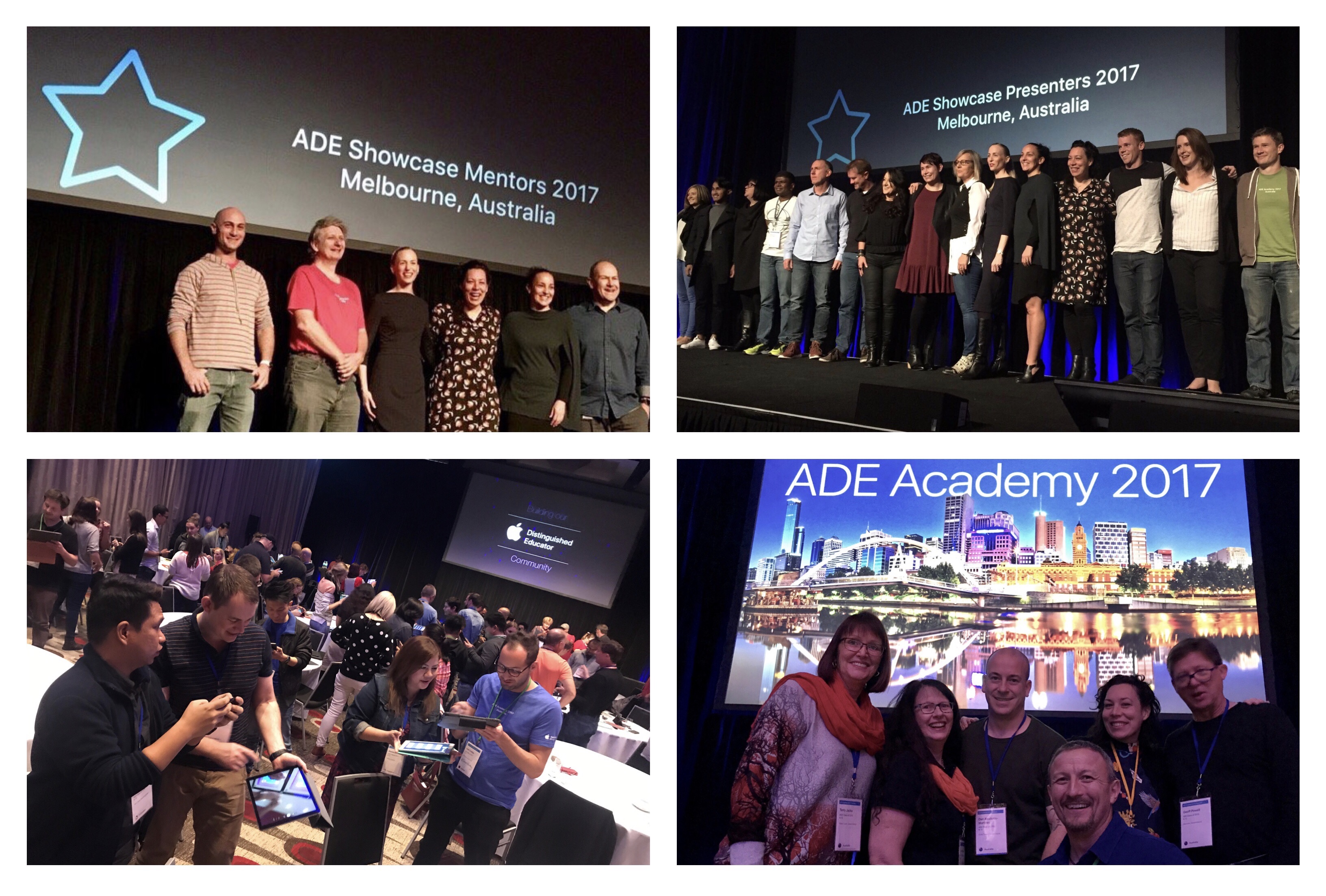 And, sharing the wonderful creative work happening globally and in my own classroom at St Hilda's with this audience was an honour.

Articles, Interviews, Podcasts and Publications!
There's only so many hours in the day, even when you sacrifice a lot of potential sleeping time to fit more in! I'm always trying to get the balance right when it comes to creative output, workshops and keynotes take days and days to shape and hone, and it's hard to know where I should invest my energy. This year I have spent more time writing for broader audiences and trying to extend the ideas I think are important. Some of the highlights in this capacity have been articles for Arts Queensland, delivering an online presentation for Education Closet's STEAM Conference, jumping on a Teach Tech Play episode, guest lecturing for three universities, consulting with a number of library creative labs and makerspaces, running workshops in galleries, judging a film festival in South Africa, recording a quick spot Celebrating Five Years of iBooks Author, a position with the Gold Coast City Art Gallery Education Reference Committee, etc, etc, etc!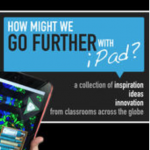 A huge highlight was leading a team through a collaboration that resulted in 'Go Further With iPad', a free resource for teachers available on the iBooks Store. I love this compilation of ideas that bring together hands-on learning experiences and mobile devices, and obviously so do a lot of other people because it's one of the most widely shared publications I've worked on.
I have also put together a couple of new, BIG, iTunes U Courses you can access. The first one is called 'Super Shapes: Apps and Ideas for Maths and Art-Making'. I think the title is pretty self-explanatory! There's also 'Kaleido-Creations', which has a cross-curricular art-making focus with projects based on tessellations, patterns and symmetry.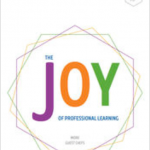 I was also pleased to be invited to contribute to the Joy of PL series of books – get your hands on these great guides to professional learning experiences created by teachers, for teachers. The edition with my 'recipe' inside is here.


Super Stuff!
This year in my own school I have been so fortunate to work with an incredible community of educators. Our Visual Arts department at St Hilda's School is a very special place, and we have moved into a new teaching studio space which will be a game changer for us in 2018. As a school we will also be running the sequel to our edtech learning festival, iPadpaloozaGC, so stay tuned for more details about that. I can't wait!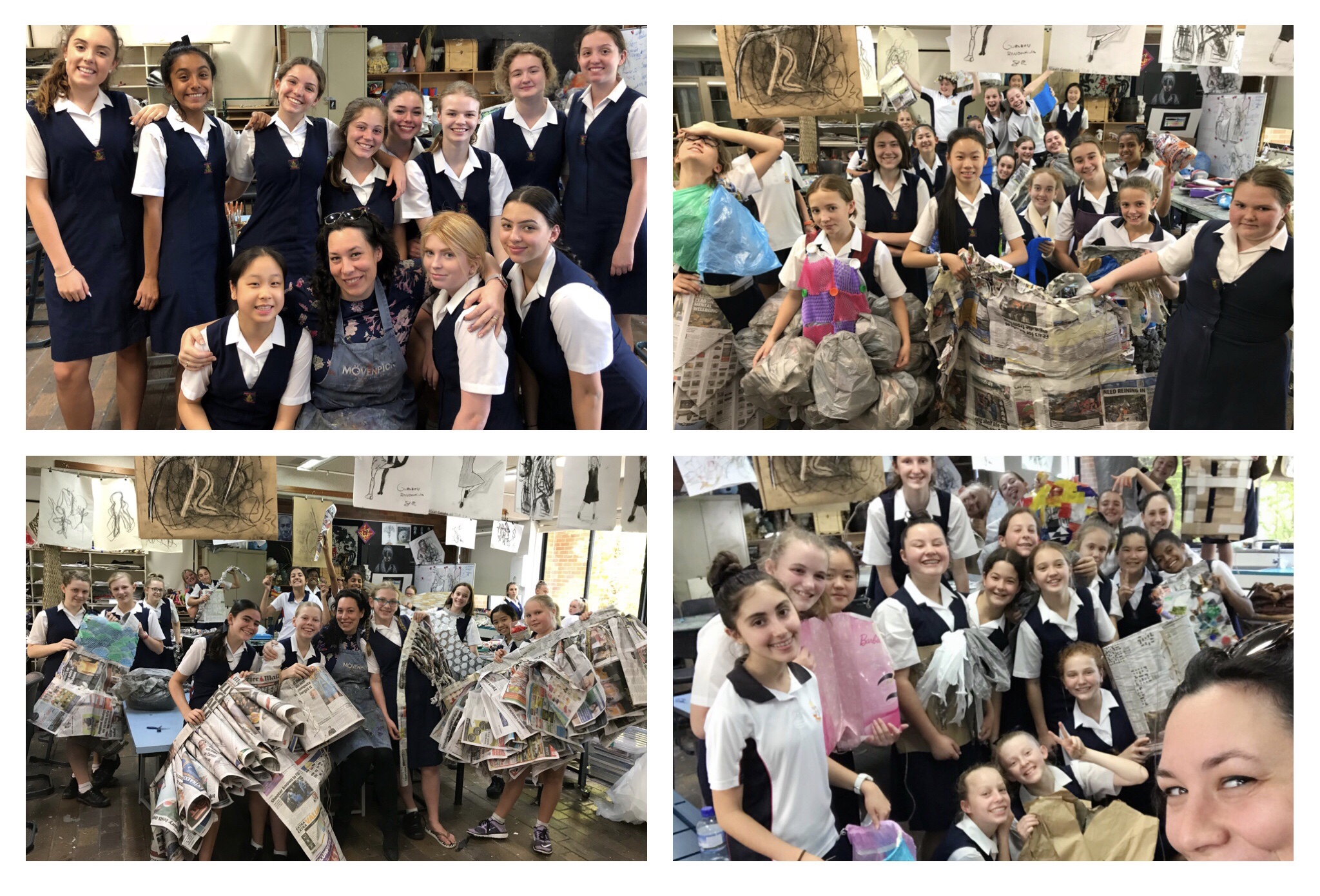 I have enjoyed some very precious time with friends and colleagues, old and new, in my travels this year, sharing ideas across continents and contexts with so many inspirational people. They're not all pictured here, but this wall of selfies captures a few of their special smiles in eight countries (I think!).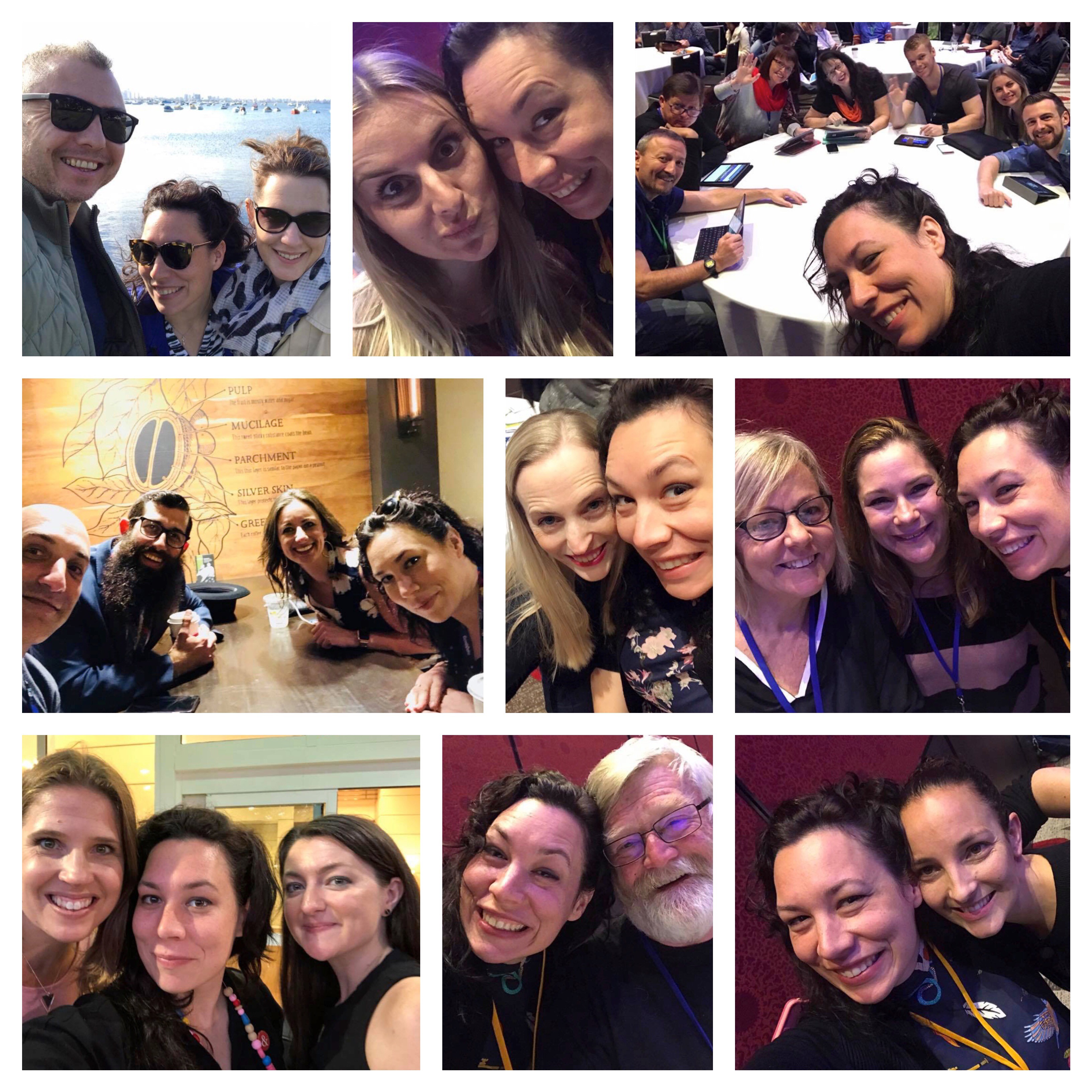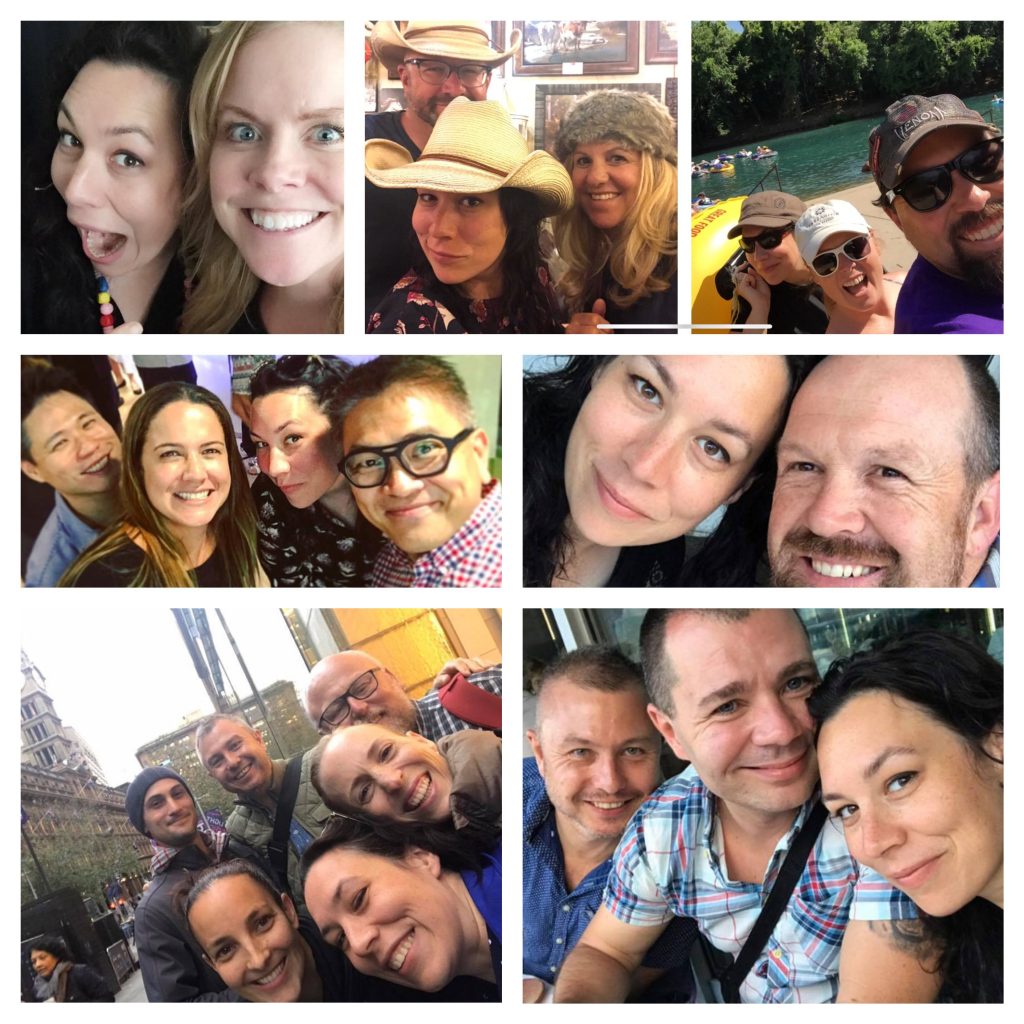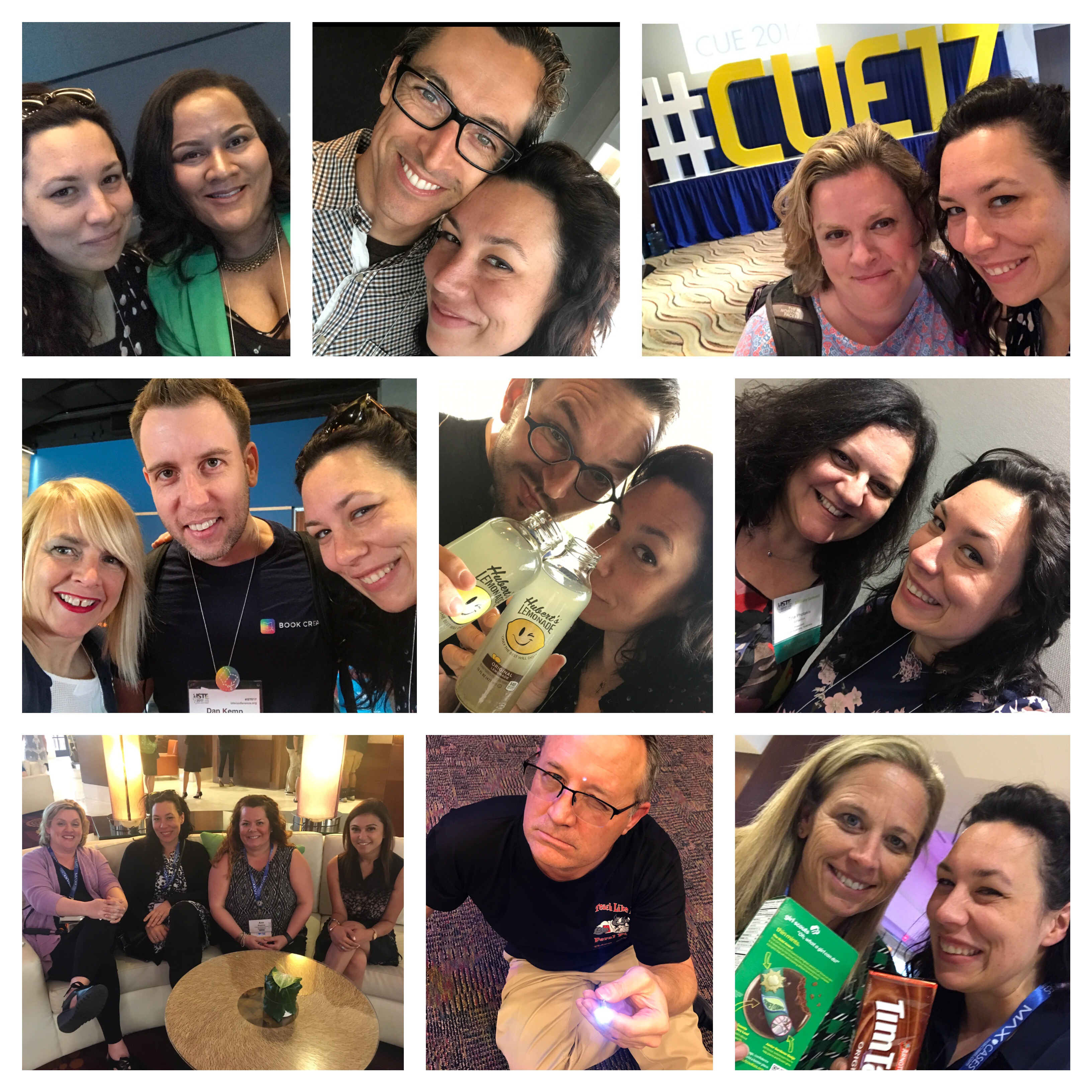 Great Galleries!
One of the perks of all this trans-continental teaching and learning is definitely the gallery-going! Some of my favourite moments included seeing the vivid frescos of Pompeii, David and Venus in Florence, the vibrant illumination of the Vivid Festival in Sydney, John Olsen at the Art Gallery of New South Wales, the Mirror House in Palm Springs (thank you Lucy Gray!), and Yayoi Kusama's Obliteration Room back home at the Gallery of Modern Art.
Filed under 'Once In A Lifetime Experiences', I was also able to visit the Vatican after hours. Yes, thanks to some 'special connections' I was able to enter the 'secret rooms', walk up and down the Bramante Staircase and marvel at the beauty in the math of this masterpiece. I spent time alone in the Raphael Rooms, and although I had seen School Of Athens before, it is completely different in silence. Nothing could prepare me for the transcendant experience of being in the Sistine Chapel with no crowds, and no noise except the rain on the rooftop. I laid down on the cold floor and stared up. How will I top that in 2018?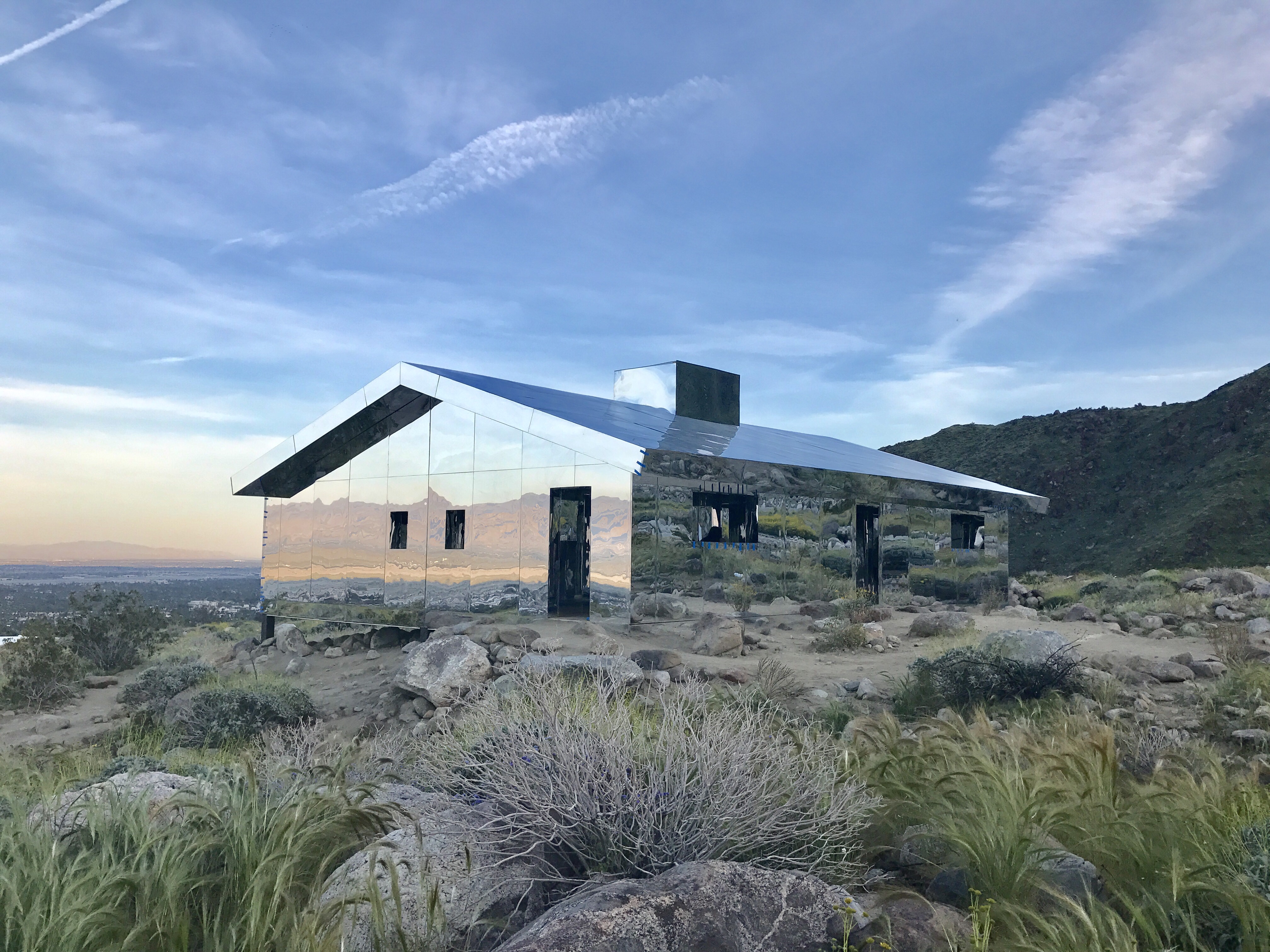 What a year it has been. How amazing to meet Brad Montague and dig into the illustration techniques that he uses to connect with the hearts of his audiences, talk poetry and politics with Taylor Mali, and get geeky over girls in coding with Linda Liukas. I discovered the joys of jazz in Montreal and was adopted by a nation on Canada Day, I was introduced to a new word in 'sharrow' (the 'share arrow' for the uninitiated!), taught the 'Book Creator app' to one of the founders of 'Book Creator app in a workshop (yes really!), and then there was that time that I declared my love for the Procreate team…
And if you're interested…
The most shared idea on my twitter was related to some art bots made from simple motors and pens. That popularity and interest surprised me because I've been making these with students for almost ten years now. I should get a blog post out on this one day… Speaking of blog posts, my most accessed post was Using the iPad Camera For More Than Photography and, the most 'remixed' idea you all shared back through my channels was once again the kaleidoscope work… I love seeing those crazy tessellations and patterns popping up across the globe!


But Finally…Your Support
This year I've been so grateful to be asked to contribute to many initiatives and events, and to share my ideas and those from other educators across the globe with you continues to inspire me. I know how much work goes into getting a professional learning day off the ground, and how many hours are spent organising a conference, so thank you to all those people behind the scenes who are making it happen. It's hard work, but it is so worth it, because together, I know we are making a difference. By sharing our knowledge and experiences, we can create change.
I am already well down the pathway for planning a very exciting 2018, so if you are keen to connect with me, let's do it soon! Apart from that, I think all that's left to do is to wish you a wonderful, creative 2018.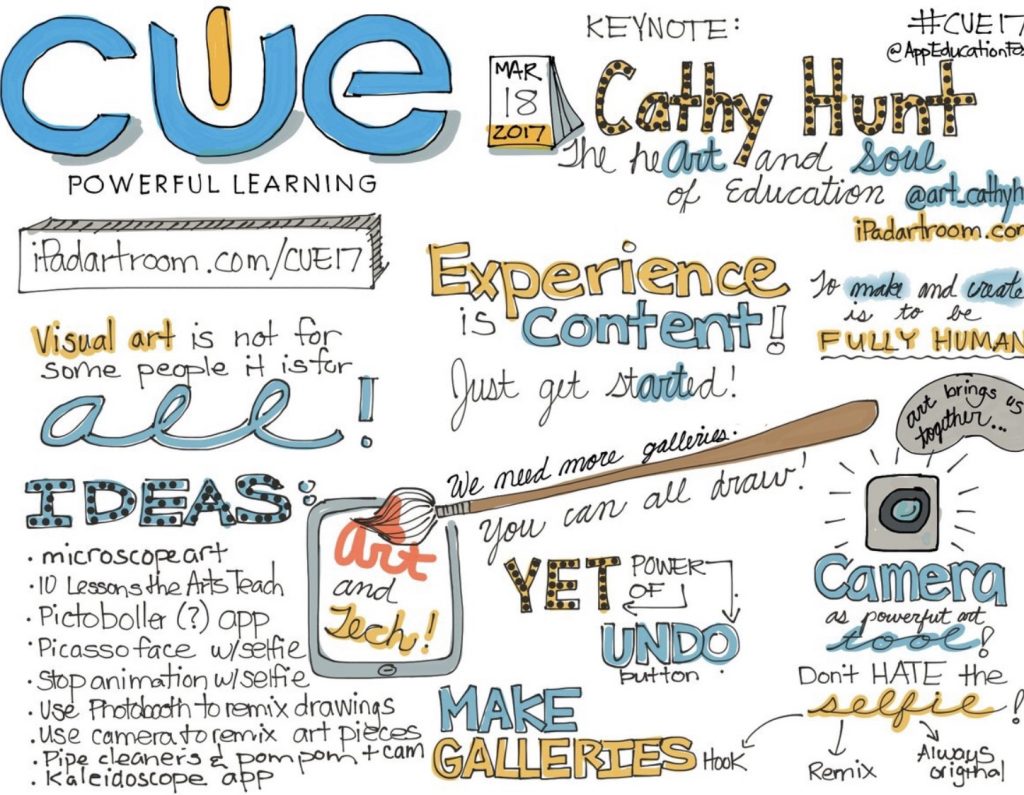 Social Share