A remix is a song that has been edited or completely recreated to sound different from the original version. For example, the pitch of the singers' voice or the tempo might be changed, it might be made shorter or longer, or it might have the voice duplicated to create a duet. (source)
This week as I kick off the first teaching day of the year for my Year 6-12 Art classes, I've been thinking a lot about the things I can do differently. Okay, I pride myself on ALWAYS doing that, but there is something about a fresh class and the excitement that comes with a new box of extra-sharp pencils to make you want to have the best year ever!
So, it's a new year, but in teaching I sometimes think it's more like a remix – an opportunity to identify and keep the best parts of 2013, the tunes that rocked, and set them to a new beat for our new students.
All these metaphors got me thinking and reminded me of Kirby Ferguson's epic TED Talk, 'Embrace the Remix'.
Jean-Luc Godard once said, "It's not where you take things from – it's where you take them to."   But perhaps it is both.
As I plan for that 'best year ever', I know I am fortunate to engage with, and 'take things from', inspired educators via a learning network that extends across the globe.  I'm proud to acknowledge that the influence of the work of so many teachers and students permeate the lessons I teach – you're all a part of the remix in my classroom, helping my teaching and learning to stay fresh, relevant and engaging.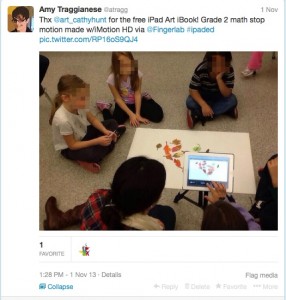 It's also really exciting when you see your own ideas remixed in other classrooms.  Almost daily I share in the remixes of others via twitter, my workshops, emails and comments on this site.  It's an amazing community.
Here's a beautiful remix in a tweet from Amy Traggianese, who has also reflected on the fantastic professional development offered by her PLN on her blog.
As one of my Grade 6 students told me, sharing is caring.
So here's to 2014, and the best year, or remix, ever.
We'd love to hear how your year has started… leave a comment to share!
If you liked this post, you might also enjoy Don't Hate the Selfie, and this incredible film from Kirby Ferguson which dives deeper into the concept of the remix.
Social Share