"Peter Belanger is on top of his game. With one of the most sought after gigs in the industry as his account, he certainly has distinguished himself amongst a sea of gifted photographers. Apple is just one of Belanger's clients. Based in San Francisco, the top notch product photographer has many other A-list brands under his belt, including eBay, Nike, Pixar and Square."
Michael Shane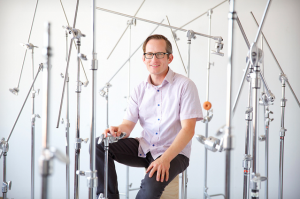 In a great interview 'The Illusion of Simplicity' from Michael Shane at The Verge, Peter Belanger gives some fascinating insight into the exhaustive process behind every Apple product shot.
On inspiration and influences
"There isn't any one source that stands out, but I do like looking at current magazines to see creative images and new styles…Movies and television shows are also strong influences…."
On camera vs. post-production
"I try to do as much in camera as possible. Even shots that are achieved in camera need some post production. This is because no matter how well a product is made, when you magnify it at 100 percent, you see more than the human eye can see. Something that looks smooth as you hold it will have scratches, chips and other imperfections once magnified. However, there are times when I shoot in what I like to call "Frankenstein photography." I shoot various parts and combine everything later in Photoshop."
On the creative process
"We start by getting the position of the product and then move forward on lighting. Because Apple products have such carefully selected materials it is incredibly important to light the product in a way that will showcase the various materials accurately. I pick an area to start with and think about how that material needs to be described. Once that section is done I move on to the next. This is how my sets get so complicated! I need to have control over each and every surface so when the client asks for a highlight to be elongated, I can do that. It's similar to working on a file in Photoshop: you don't do all your work on one layer. I think of my lights as layers that I can adjust individually to get the desired results."
Check out this fantastic clip which takes you on a high speed ride through the production of a MacWorld cover.

if you liked this post, you might like to read more about iPhone photography in journalism here, or check out these amazing 3D renderings of DSLR cameras…it's hard to believe there is no photography involved in these computer generated images.
Social Share