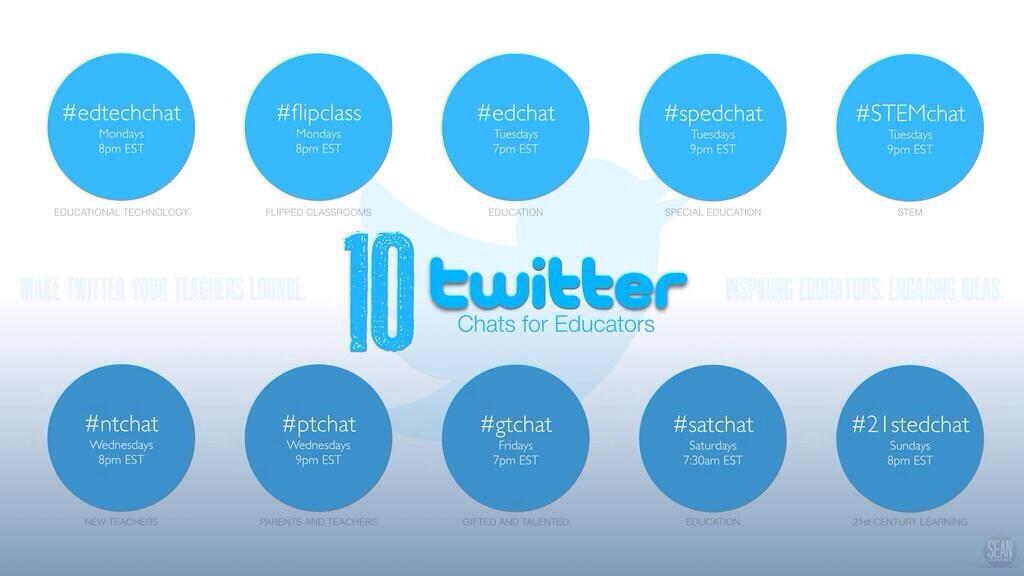 New to twitter?  Use this great page to find out how you can use social media to make the most of your contacts, find information, share content and connect with collaborative communities.  This hashtag list for educators is a wonderful resource.  Get tweeting!
This Google Doc also has a great list of twitter hashtags for education, as well as meeting times for online communities. In Australia, like me?  Check out this very useful collection of Australian Teach Meets and hashtags to follow.  Accessing these groups can provide teachers with a wealth of resources and support.  Why not join in for chat time?
"Education has always been an isolated profession that called out for collaboration, but it did not have an effective way to collaborate. Department meetings and faculty meetings potentially provided limited collaboration. Education conferences were slightly more collaborative, but educators really had to put themselves out there to find ways to collaborate with other educators in an effective way. Collaboration is a very personal way for an individual to learn. It requires trusting other individuals, which is not easy for many, but it is also, for many people, the best way to learn.
Social Media is simply a conduit for connections. These connections then lead to collaboration. It enables connections to be made globally with ease and in numbers never before possible. It is this ease and quantity of connectedness that fosters collaborative learning on subjects that interest the connected participants. When educators are connected to other educators the natural discussion is education."  Tom Whitby

Created with Haiku Deck, the free presentation app for iPad
If you'd like to create a PDF, book or diary of your tweets, with just a few clicks you can! Check out www.twitario.com.
This great article on Edudemic has some excellent 'little known twitter tools' for tweeters. You can access sites that tell you about your top tweets, who is following or unfollowing you and lots more.
Check out this excellent Prezi from Simon Crook to learn more about Twitter in Education.

And finally, read more from Tom Whitby is his interesting post 'If twitter is not PD, then what is?', to explore this valuable tool for collaboration in education.
Social Share