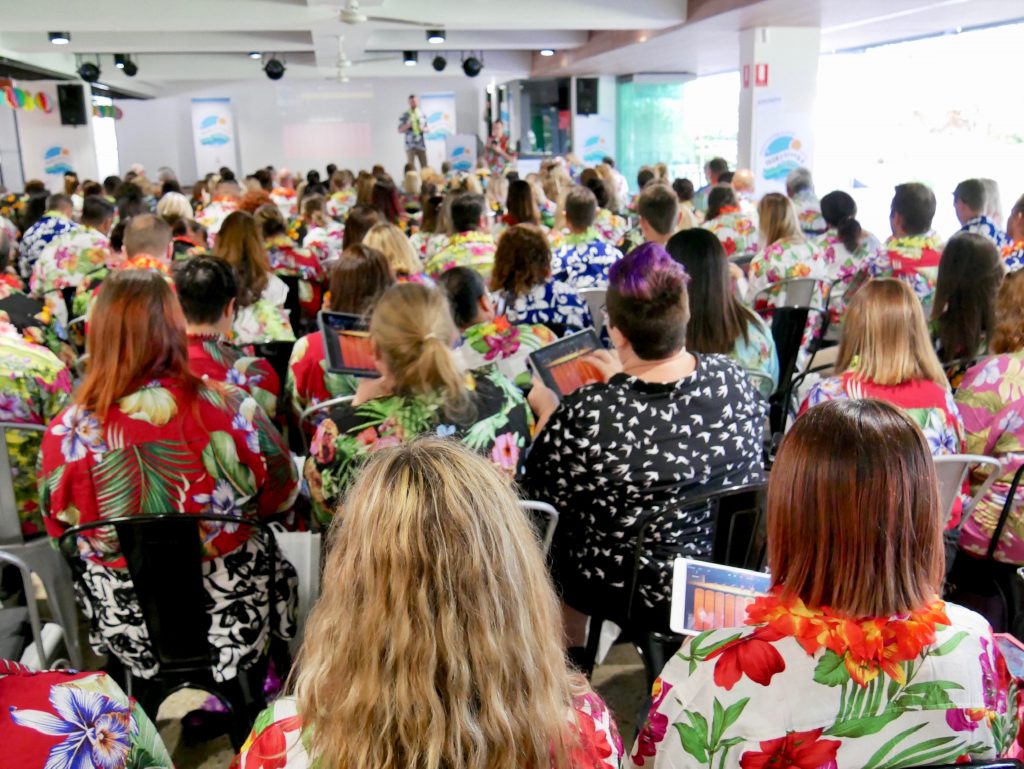 And that's a wrap…
TECHpalooza 2018 has just finished up, and as I sit here, exhausted, it's time to reflect. This conference has been two years in the making, and as I look back over countless hours of work I am filled with pride for the team behind this incredible event, and a goal achieved – to produce a learning festival,focused on creativity, innovative pedagogies and inclusivity.
This was the second time we've hosted a sold out event in this format; an event run by teachers, for teachers, at St Hilda's School. All our decisions were focused on the idea that we work in support of our students, and that educators come to this profession out of a desire to make a difference.
Once again we asked great people to present for us, and so many of them said yes, generously giving us their time and expertise. Our team looked to create a schedule that honoured diversity and presented opportunities across the curriculum, school contexts, and pitched to a variety of levels of expertise/confidence/experience. We don't micro-manage presenters on topics, and instead asked them to deliver on their passions. We said 'yes' to their ideas as often as we could, and as such, we had that spark of excitement and innovation for our audiences. We are so grateful to all our presenters for sharing their knowledge so willingly.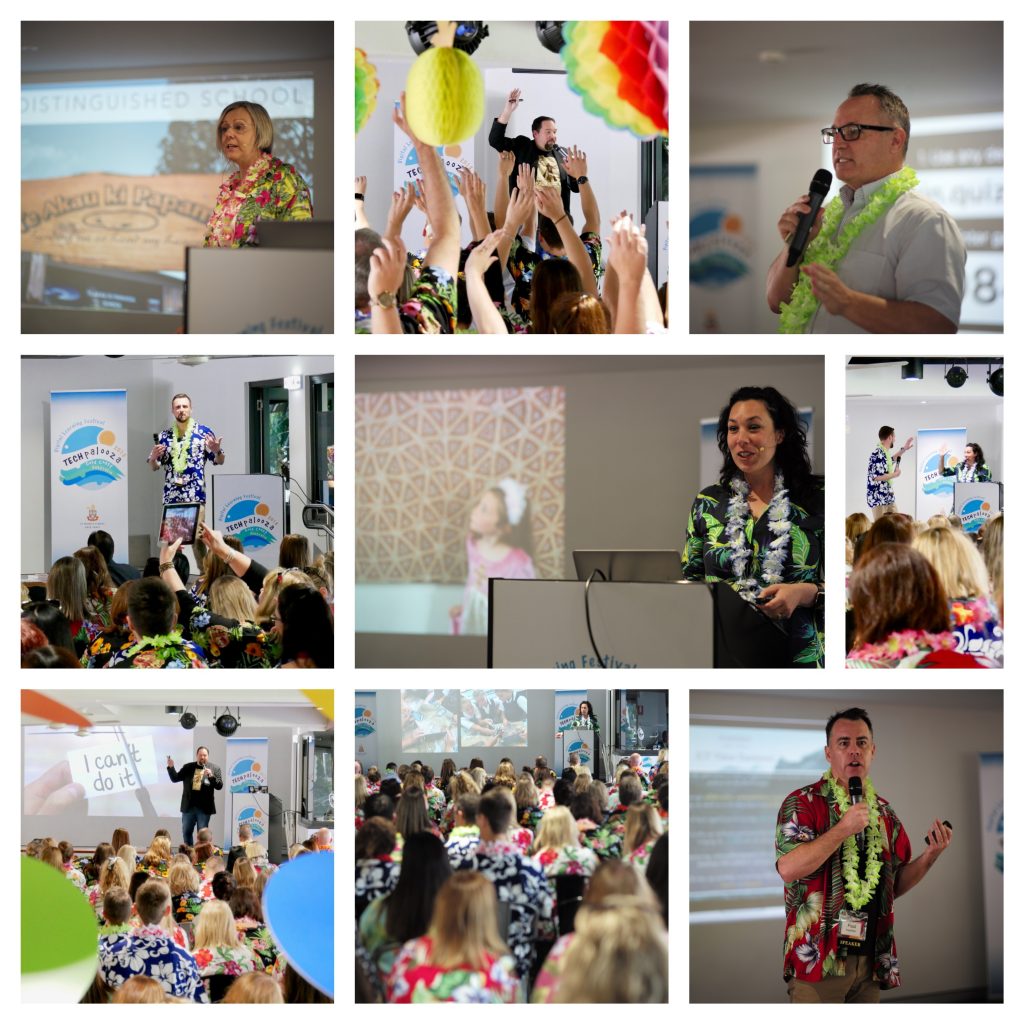 We know that there are so many great educators who don't always feel confident enough to put up their hand to share, but who do have so much to contribute. So, we actively worked to encourage teachers in our own school, and beyond, to step up. We supported them to develop great workshops to share their story because we know that for some of these teachers, the personal professional growth can be extraordinarily rewarding, and that the results of their risk taking may have far-reaching benefits for students.
Importantly, we also created a program that represented gender equity. This is the first conference I've ever attended in the edtech world with this balance, and doing so, I think we've proved to other conference organisers that it can be done. I can tell you, the team was really proud of this outcome.


Creating Culture
This is a learning 'festival' by design, full of what Seymour Papert might have called 'hard fun'. From the beginning, our environment was one of energy, participation and risk-taking. We really launched into the idea that what we created together would be the result of our combined effort. Even our crazy shirts are an important signal to participants that we are all in for something different, something joyous, together! AND IT WORKED. This audience jumped into interactive keynotes, jumped into new ideas and shared out so many resources that we were trending number one on twitter from the start of Day One.
In his post on TECHpalooza, Jason Milner talks about the themes he felt developed throughout the two days, and I'd have to say the concepts he identified resonated for our organising team too. This event was always about putting students first, and empowering teachers to explore new ways of working in the classroom (while having a whole lot of fun).
"If you ever want to attend a conference where every piece of learning is relevant, every single presenter and attendee was there to learn, to share and to be the best them this is it! The focus of the event was not only on teachers but the students we teach as well. This conference not only concentrated on the effective use of technology in the classroom but also went unplugged! The environment was warm, relaxing friendly and inviting. What more could you ask for? If you were to attend a conference and you had a choice this one far out ways others I've been to before!" Thanks, Jason!


On Stage
Of course, it's impossible to capture the detail of a two day conference in a blog post, but the pictures do give you some insight into the feel of the festival. Carl Hooker and Jon Corippo made the trip from the United States, kicking off Day One with Matt Heinrich and I. Matt helped our participants create a 'theme song' for the conference, getting the creative juices flowing and technology tapping! Carl then gave us a great 'fly over' view of the purpose of professional learning, and took us through some engaging initiatives that work. Jon then dug into ideas about student learning, and used examples of tasks that highlighted the idea that lesson design should be driven by a commitment to the success of all students. This set the scene for my presentation that drew on creative approaches to student learning, and asked teachers to consider their own creativity as an asset to their classroom practice.
Mini-keynotes later in the day from Carl Hooker, Paul Hamilton, Jon Corippo and Paula Jamieson allowed our audience to dig into some powerful ideas, but the real highlight for me was a spontaneous song that erupted from the kiwi contingent. I've heard Paula talk about the incredible learning culture at the Te Akau ki Papamoa School in New Zealand before, and I never get sick of the message, 'know me before you teach me'.
Oh my heart. ❤️ #Techplza pic.twitter.com/4VFHXpjZYs

— Cathy Hunt 🎨 iPadArtRoom (@art_cathyhunt) October 3, 2018
Troy Hunt delivered our Day Two keynote, moving between 'inspiring and scary' for many participants, highlighting the need for all teachers to understand online behaviour and basic security risks for young learners. This presentation was particularly interesting for our audience given that Troy often deals with data breaches that reveal both a lack of understanding in the education community about how to protect personal information, passwords and hackers themselves, who are usually young people.



Some other very inspiring presenters took to the main stage throughout an action-packed schedule of micro-keynotes. Dr Kelly Grogan discussed strategic pathways to empower students to solve real-world challenges, and Greg Alchin guided us through some accessibility challenges that reaffirmed the positive impact that technology can have towards inclusivity through the idea, 'solve for one, extend to many'. Brett Salakas created a powerful metaphor for the value of diversity in edu-settings, Paul Hamilton took us on a magical (and musical!) journey with his 'If I were a wizard' children's coding picture book, and Dr Jessica Hale shared insights from the incredible process of building an international school from the ground up in Malaysia.
We were also able to go on a space walk with Dr Rebecca Allen through the magic of AR. Check out the expeience in a snippet below. AusTechVR provided our google glasses, and they were pretty excited about the whole conference. Here is their blog, reflecting on their take-ways as 'non-educator' participants. It's really interesting to explore their perspective on what they were seeing.

So proud of this program… we went to space with Dr Rebecca Allen at TECHpalooza!#TECHplza pic.twitter.com/0ydXwVzXzG

— Cathy Hunt 🎨 iPadArtRoom (@art_cathyhunt) October 4, 2018

I could go on and on.
In our workshops, robots wreaked havoc, books were created, augmented reality sprang into action and there was some serious stop motion madness! Our participants were ready to share their learning and twitter was a buzz with early exploration, hot tips for teachers and light bulb moments.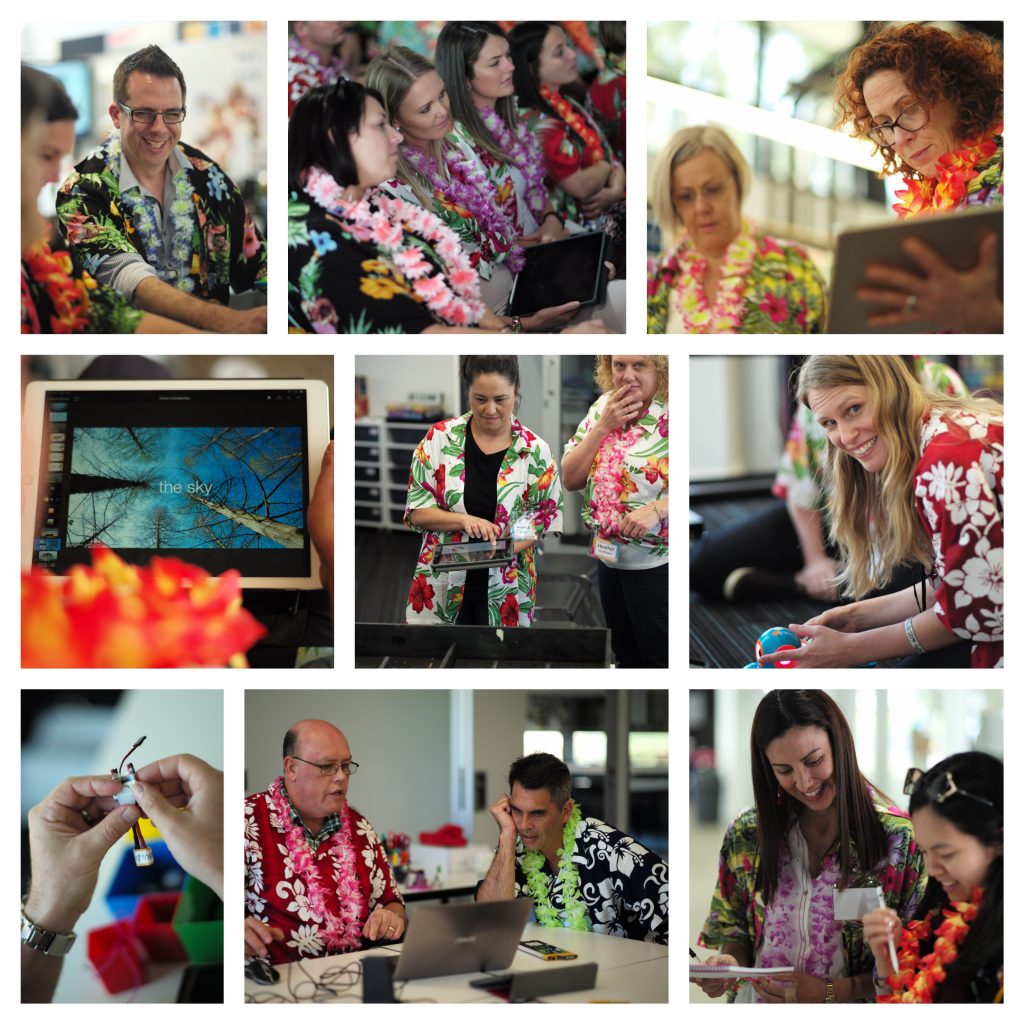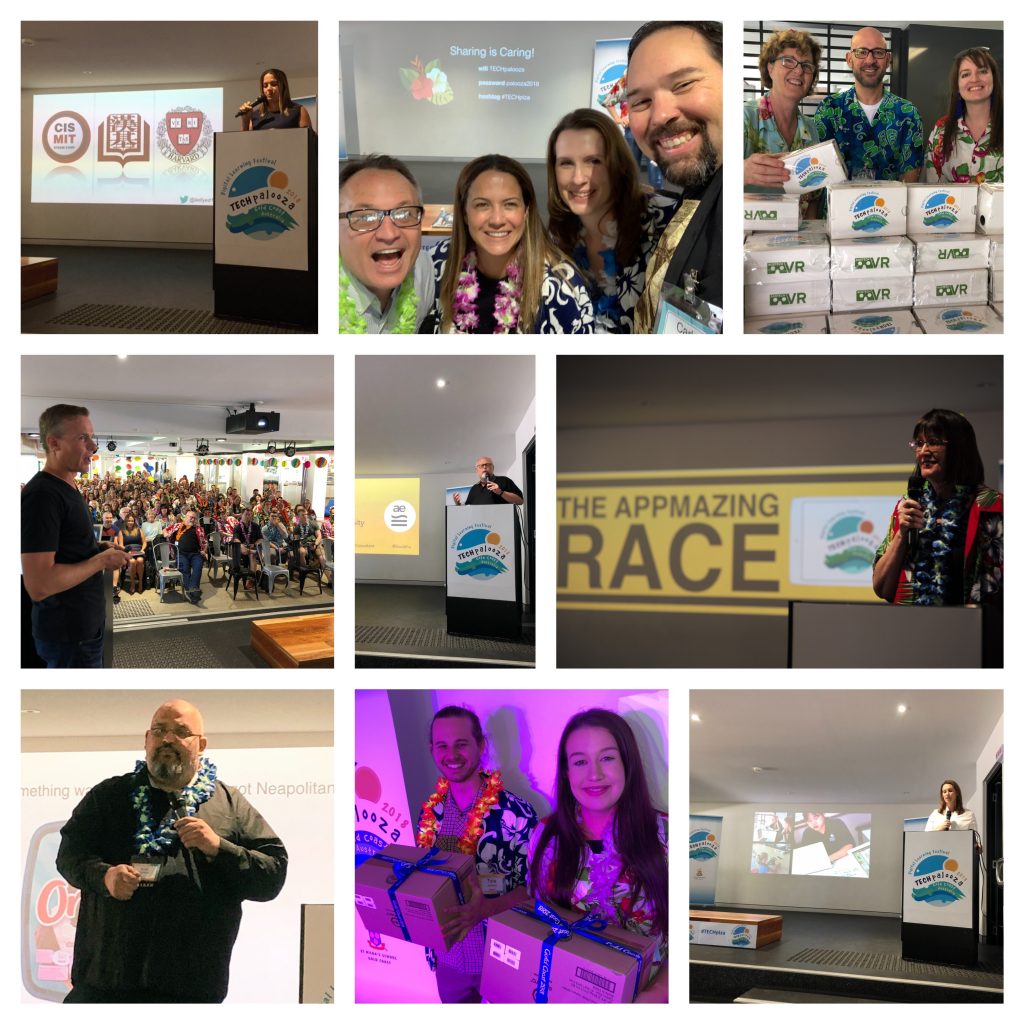 Team St Hilda's
An event like this takes some serious work, and it was successful because of an awesome team effort.
The incredible Terry Jacka, Janelle Maurer and Dan Martinez have simply 'lived and breathed' this event. They made all the details happen, and they inspired me over and over again with their 'can do' attitude and never-ending positivity. No job was too big or too small for the wonderful people on our St Hilda's staff, our friends and colleagues. They stuffed bags, printed posters, handed out lanyards and asked us, 'how can I help?'. There are so many teacher, events, services, IT and maintenance teammates we need to thank again, and maybe hug, over the next few days (or forever!).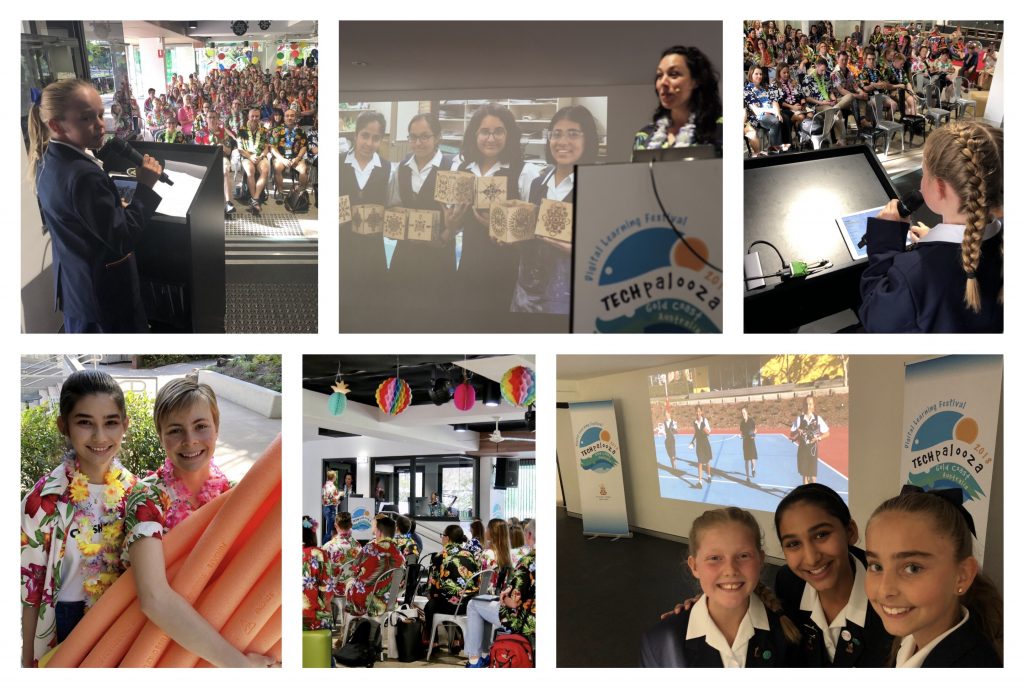 Our St Hilda's girls shared some of their stories, and their set was a real highlight of the day. These girls may be young, but they're climbed mountains, they build drones and have hits on iTunes. This audience visiting our campus for the conference was just as inspired by the incredible energy and capacities of these students as we are working with them every day.
It was great to have the support of Carl Hooker, the Godfather of 'iPadpalooza'. Carl was pivitol in filling the room with fun, music and mayhem. With Jon Corippo, Dr Kelly Grogan and Dr Jessica Hale on site, I also felt that they embodied the idea that through building our edu-networks online, though twitter, FB etc, we can develop powerful and supportive professional communities. We were so excited to host attendees from many countries and every state in Australia, as well as a big contingent of Kiwis. Two schools brought their entire staff!
We really did appreciate all the efforts of our incredible presenters who prepared exceptional learning experiences for our participants. Some of these superstars travelled a long way, and at personal expense, to share their ideas with our wider education community.


Learning & Laughing!
So, that's a bit of a summary, but really, I've struggled to capture in words the 'feel' of this event, the excitement throughout the spaces and the incredible potential within the enthusiasm of educators learning and laughing together. Take a look at this collection of images from our photographer Rick Connors, and this one from Jona Nalder and you'll see all the smiles.
And, if you really want to experience our TECHpalooza learning festival, you'll just have to wait until we do this all over again.
Team Worker – Secret Skills at play- so much encouragement and fun! A new take on an old game. Wish you were here Sebby! This rocks! 👊🏼 #pardonthepun #TECHplza #secretskills #mrhookerrocks @mrhooker @innov8iveEd pic.twitter.com/KRpZVSZaPi

— Shannon Martinez (@shanleigh_teach) October 3, 2018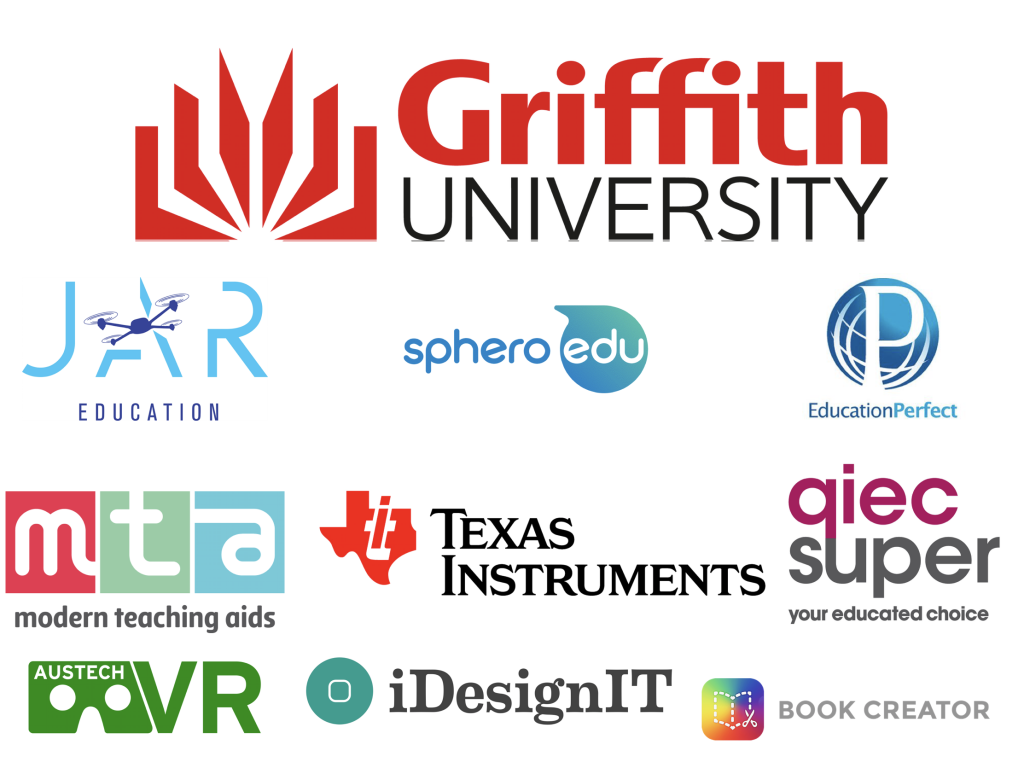 Social Share