This post is my second instalment for arts educators this Christmas season, a collection of ideas and resources inspired by ice and snow!
HUFFINGTON POST: "An artist by the name of Lita Albuquerque has christened Antarctica's barren lands the best way she knows how — by creating the continent's first and largest temporary art installation. This image of "Stellar Axis," captured by photographer Jean de Pomereu, is one of many snapshots taken during Albuquerque's expedition to Antarctica. The work is part of the "Vanishing Ice" exhibition at Washington's Whatcom Museum, a show dedicated to our planet's "frozen frontiers."
"Vanishing Ice offers another perspective on 'why ice matters,'" Whatcom Museum writes on its website. "By highlighting the importance of alpine and polar landscapes in Western art, it aspires to kindle a personal connection to these regions along with an active commitment to their preservation." Click here to see the entire article, complete with a visual feast of frozen imagery.
Trampled Snow Art from Simon Beck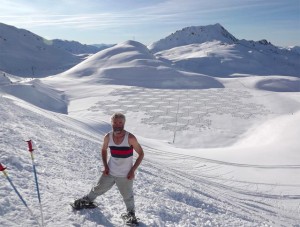 COLOSSAL  "Since 2004 England-based Simon Beck has strapped on a pair of snowshoes and lumbered out into the the freshly fallen snow at the Les Arcs ski resort in France to trample out his distinctly geometric patterns, footprint by footprint. Each work takes the 54-year-old artist anywhere between 6 hours and two days to complete, an impressive physical feat aided from years of competitive orienteering. The orienteering also helps him in the precise mapping process which often begins on a computer before he's able to mark landmarks in the snow that guide his precise walking patterns." Christopeher Jobson on Colossal
Here's a few images to inspire you. See more on This Is Colossal.
Gorgeous Macro Photographs of Snowflakes
German photographer Matthias Lenke captured these wonderful macro shots of individual snowflakes. See more over on Flickr.
Remarkable Macro Photographs of Ice Structures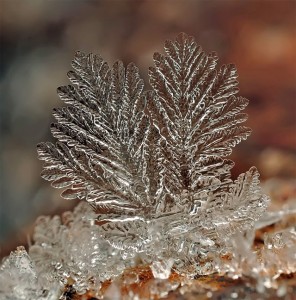 COLOSSAL "We're all familiar with the most common shapes of ice: snow flakes, icicles, snowmen, cookie dough ice cream. But break out the macro lens and suddenly we're in unfamiliar territory as ice branches out, curls in on itself, and grows in shapes that look more like the delicate leaves of ferns than solid cold water.
Russian photographer Andrew Osokin has done a phenomenal job of capturing such bizarre ice formations, you can explore hundreds more photos over in his LensArt profile."
See the entire collection in an article from Christoher Jobson on This is Colossus.
More Macro Snowflakes
TRULY MADLY DEEPLY: "File this under 'D.I.Y.' and also 'awesome'. Photographer Alexey Kljatov took an old lens from a Russian Zenit camera, flipped it around backwards, and taped it to a crappy point and shoot camera. Based on that description you would expect some pretty mediocre results, but his macro images of these snowflakes speak for themselves."  See the whole collection at Truly Madly Deeply.
Resources to connect art and science
Snowflakes 101 Information on snowflake formation – great STEAM information
SnowCrystals.com Expert information and insight into snowflake photography and science from Ken Libbrecht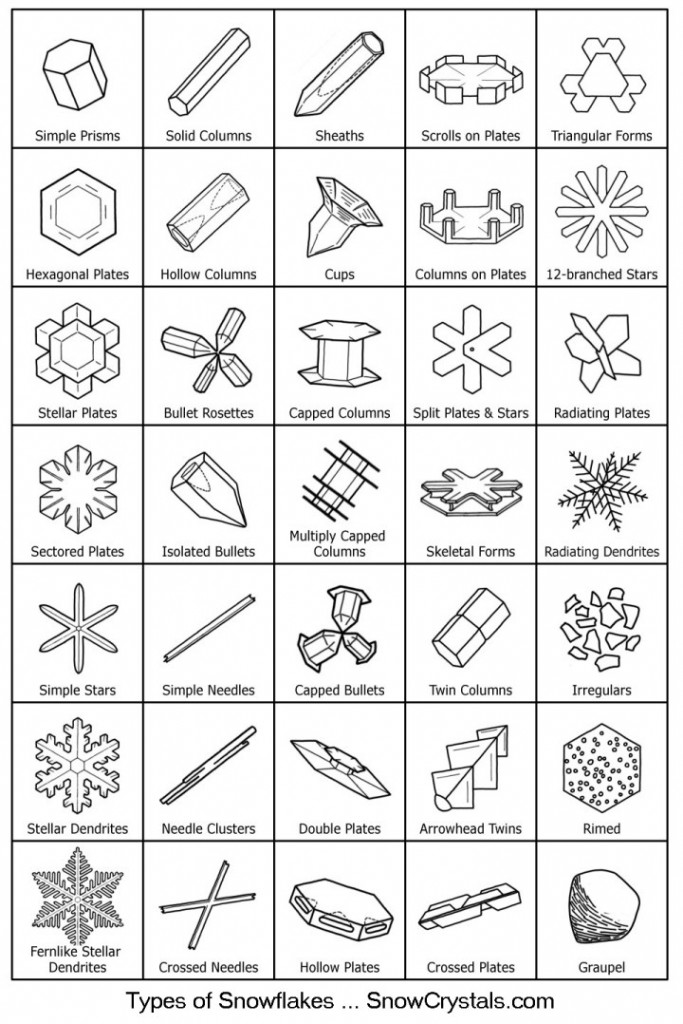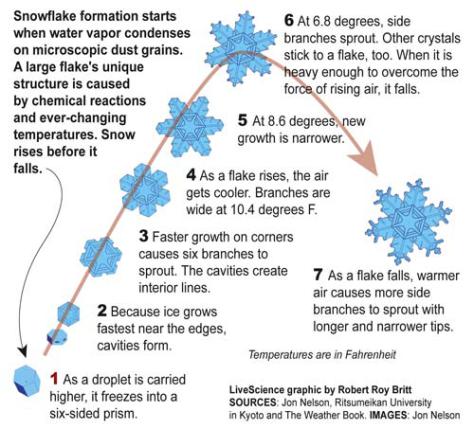 My Flake
After something different?  This app isn't exactly for creating mandalas, but we love the way students produce these gorgeous snowflakes – cut away the negative space with swipes along the 'folded paper 'and watch the effect of these decisions on the unfolded snowflake.  This is a great activity to allow students to grapple with  skills associated with predicting outcomes and abstract spacial modelling as they visualise evolving shapes and patterns.  Get app-ing with these snowflakes in workflows for exciting results.
Or…on the App Store there's more to explore, including Snowflake Station, and you can try out this online snowflake maker.
Still want more?
Snow themed activities for kids
Amazing Pinterest Board – this is a treasure trove of paper craft, intricate projects and simple activities to try
And my Pinterest collection for snowflake ideas
Lastly, lesson inspiration…
"Yesterday after the upper school concert students gathered together across divisions to celebrate the winter break. We made 3D snowflakes using copy paper, scissors, stapler, and tape."
Check out all the exciting learning in this post from ArtWithOliveri.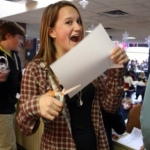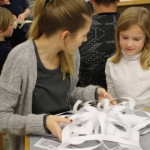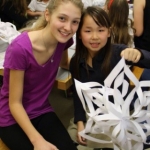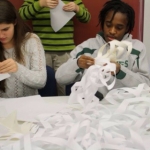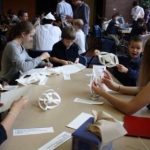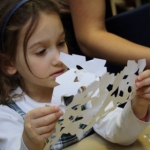 Social Share