I am so fortunate to jump in and out of connected classrooms across the globe, and I'm happy to work with whatever tools are in place to support learning. However, I am always excited to see an Apple TV in place that allows me to be mobile and responsive, using my iPad to share what I see on my screen with the students.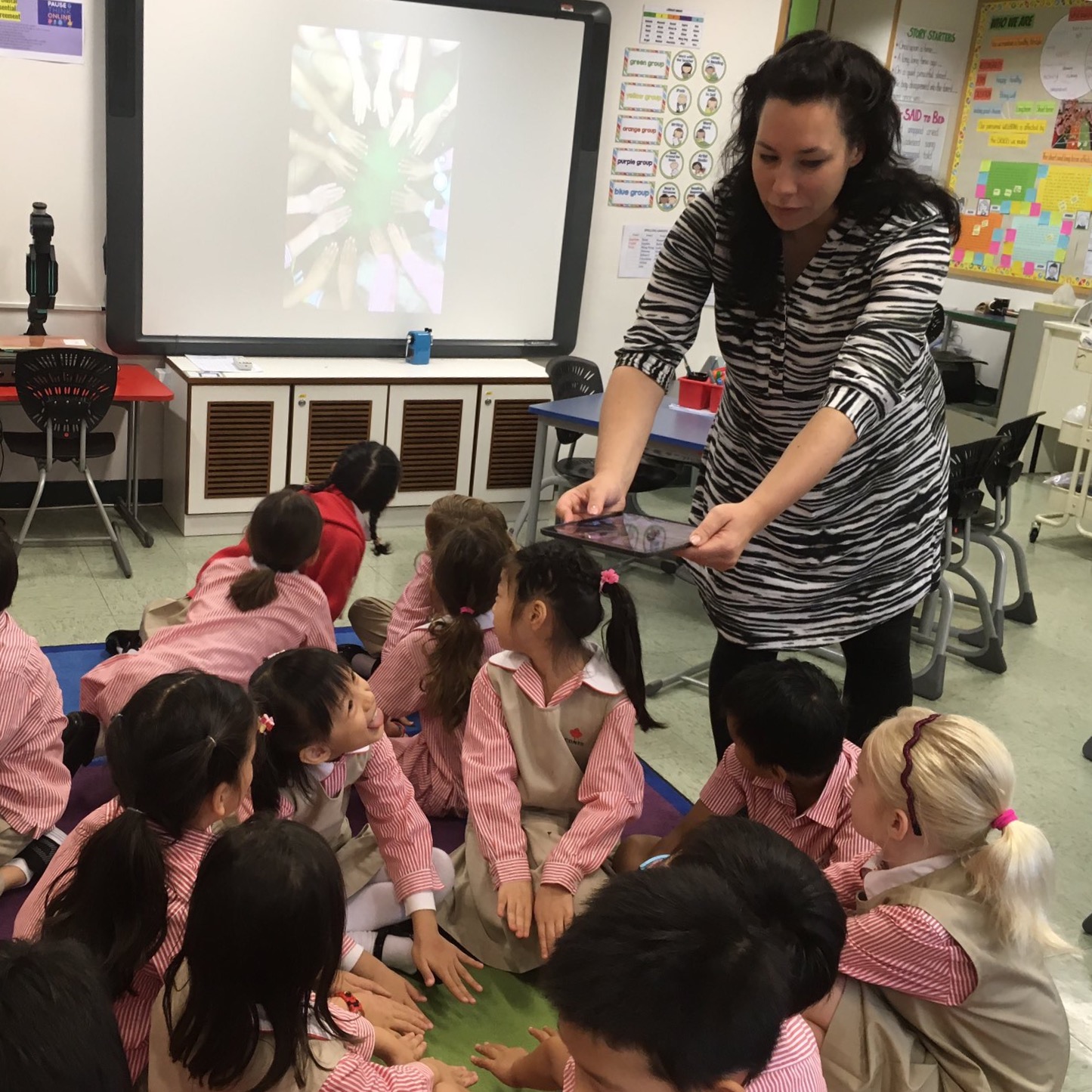 Sharing Student Screens
There are many options if you'd like to share your own iPad to a projector, but no matter which method suits your context and resources, once your device is connected, obviously your students can be guided through a viewing experience that you direct for the group.
This is so simple, and so useful.
Simply jump into the iOS camera app, and you have a live feed you can leverage in some profoundly useful ways.
If you point the camera at your students and you'll see them on the big screen. They'll probably wave! Sure that's fun for a moment, but have you considered that as students create work in your classroom, you can walk around their space, untethered if you have AirPlay or another cordless solution, and share their screens by hovering your camera over their work?
I love to highlight progress or valuable responses at key times during the creative process to cross-polinate ideas. Students might be working in groups, at their desks, or in breakout spaces across the room. It's so easy to share their work, and/or screen, just by directing my camera over their work.
I know, it's so simple! No switching cords, no asking students to share the screen – immediacy. The funny thing is that although this technique is obvious once you've seen it in action, it is terribly under-utilised and often undiscovered. I've even seen very complicated technological solutions for screen sharing that provide very few benefits over this low-friction alternative. It's one of those easy and reliable solutions, and this practicality means that this has become an everyday tool for me.
In the images I collected up from twitter you'll see I am modelling this method with the wonderful students and teachers at the Canadian International School in Hong Kong. In a few lessons I was in close so all the students could see a small detail, I raced over to a student who had something valuable to share with others, and I gave a shout-out to an individual who was excited to see their work in an meaningful affirmation that was simply 'what you've done needs to be seen on the big-screen!'.
I also find at the end of tasks, digital products can be viewed quickly and easily while still on-screen. Asking young students to sit in front of me, I may ask them to hold their iPads up in the air and I will step in to create a close-up shot, and that's being broadcast to the whole group in real time.
Sure, it's not the greatest quality, but does it matter? Sometimes the ease of use and the immediacy of this 'time and place' share is the more powerful and important element in the lesson.
It's also nice and easy to collect up all their screens as a 'floor gallery' like the one you see below. I hover my camera over the top and we can zoom in and out of the individual images and take a good look.
I also like to pass my iPad to students and ask them to share what they see, highlight a work that demonstrates a concept really effectively, or to guide the class through their own ideas or perspectives on a task, visually.
And the BEST TIP…
Any time I decide I'd like to keep a record of the learning, I simply switch to the video function in the camera. I can then record anything I am seeing through the screen by simply using the video mode. What you see is what you can keep.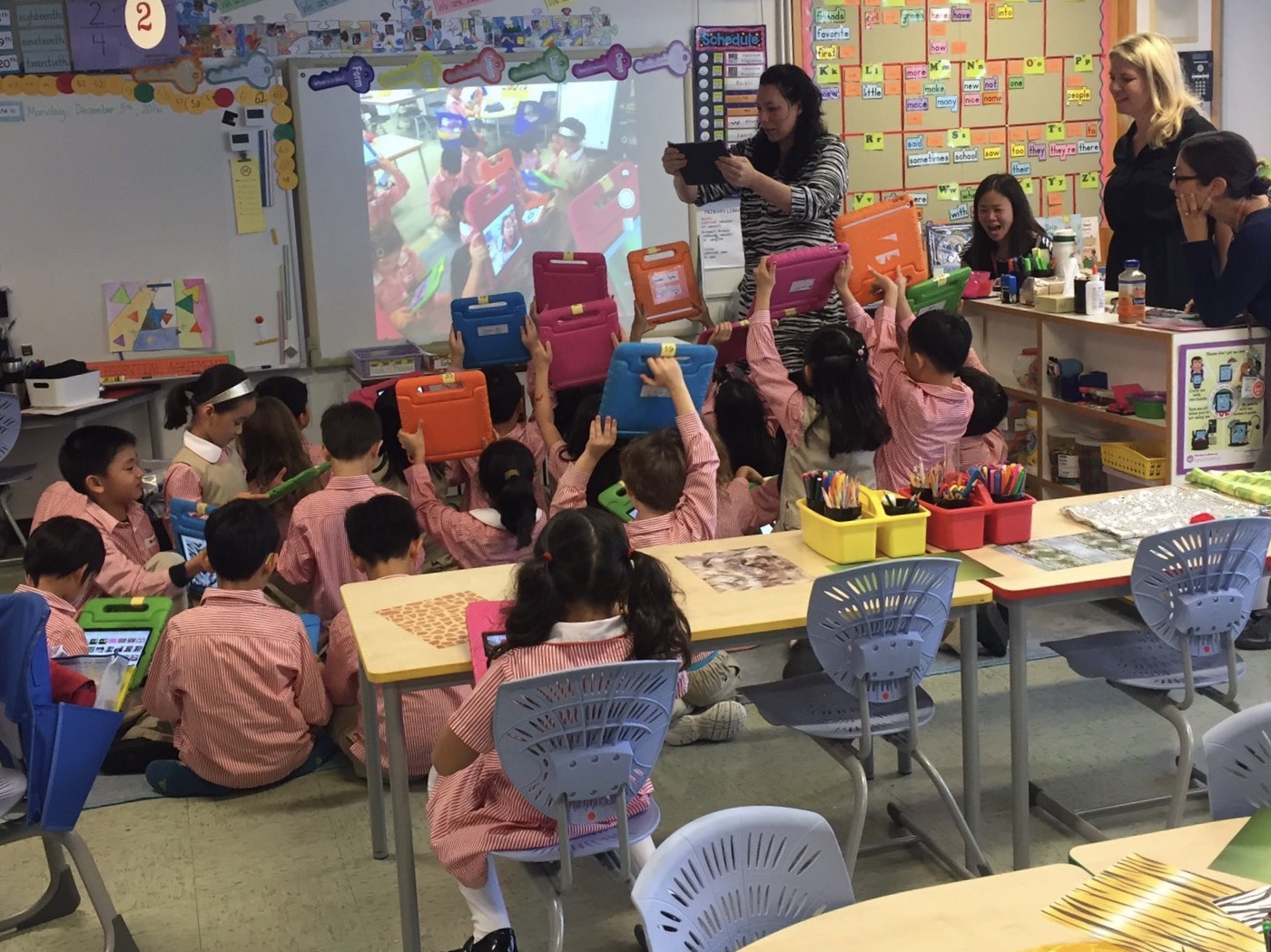 As an important side note, I constantly ask the teachers I work with to audit their strategies for filing digital artefacts. The responses I get to the question, 'do you really need to keep, save or file all the videos and images your students create?' Sometimes, it is vital (or a requirement) that work is preserved as evidence of outcomes. However, the selection process, and the method, needs to be examined.
I have detailed my thoughts about this further and provide some useful ideas and resources in another post, 'Do you really need to keep all those images?'.


Social Share