Welcome to Christmas and my collection of some of my favourite festive posts, resources and ideas for the season!
In Australia it's 40 degrees outside, so there's nothing like an open fire in the air-conditioned studio to really get into the spirit of the season! This year I saw a few other teachers getting in on the act – some even had marshmallows!
Here's What Christmas Morning Would Look Like Through the Lens of Your Favorite Directors
Featuring a quirky Wes Anderson Christmas and even a complain-y Woody Allen Christmas, this short film could be a great start for some fun festive, but insightful, film studies in the classroom.
TIME: "Ever wondered what a Christmas movie directed by Wes Anderson, Martin Scorsese or Baz Luhrmann would look like? So have the folks who work at the production company Fourgrounds Media. They envisioned how all their favorite auteurs would film Christmas morning, and compiled a series of vignettes into one clever mash-up. Each scene captures the aesthetics of some of the world's most iconic directors, from Woody Allen to Stanley Kubrick to Lars von Trier. There's even a nod to Michael Moore, who we see flinging muckraking questions at Santa Claus." Samatha Grossman on TIME
Winter Wonderland
Enjoy some beautiful images inspired by winter in '15 of the best snowscenes in art'.  How many of these classic images do you know?

An Andy Warhol Christmas
HUFFINGTON POST "We never really took Andy Warhol for much of a Christmas spirit kind of guy. But this holiday season Christie's "A Christmas Thing" holiday auction is proving us very wrong. The holiday-centric selection of 99 original Warhol works proves the bleach blonde oddball knew a thing or two about festive trimmings, particularly when they are drenched in his signature off-kilter, and always enchanting, style." Read the whole article and see all the images in Arts & Culture on HuffPost.  Here's a sneak peek…
Presence Over Presents
THRIVE  "One mild day in early December, I came home from school to find my mother in the backyard, assembling an impromptu crafts station on the picnic table. "We lost our Christmas ornaments," she proclaimed, "so we're going to make our own this year." Mom had spray paint, sequins, and glitter all ready to adorn the unlikeliest of decorations: soup can lids. She'd spent the morning removing the lids, and waited for us kids to arrive before cutting them with tin snips into stars, bells, angels, and trees.
My brothers and I got to choose our shapes and decorate them as we laughed, sang carols, told tales about our teachers and classmates, and basked in Mom's renewed cheer. That December afternoon at the picnic table was more memorable than most Christmas mornings.
To this day, my brothers and I speak fondly of our "tin can Christmas" as we point out the few surviving ornaments on our parents' tree. Primitive, yet crafted with love and hope, they are more precious than some of the shiny new ones.
I recall that ornament-making party as a glowing example of my mother's creativity, resilience, and ability to bring love and light to our days no matter how dark her own were. Struggling with three kids, persistent migraines, various part-time jobs, and a business to co-manage, Mom didn't have space to explore her passions during my childhood. But she was usually up for fun, and she could turn soup cans into angels and stars."
Read the entire inspiring article from Kim Childs here. It's a post that really resonates with me as a powerful affirmation of the power of the arts. Making 'things and making memories – what a great Christmas message for art teachers.
Bumbleville
Here's a great interdisciplinary Christmas lesson ideas for young students.  I came across 'Welcome to Bumbleville!' and saw Terri Eicholtz's blog post detailing her use of this clever animation, with a surprise ending, as a hook for some critical thinking.
Some questions from Bumbleville for student discussion…
What if our world is a BumbleVille? How would we know if it is or isn't?
Would you want to live in BumbleVille?
How is BumbleVille different than your own community?
How would someone go about leaving BumbleVille?
What would you do if you discovered a BumbleVille?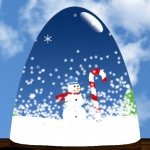 And now, to make your own snow dome…
Use this free app, "iSnowdome" to place a photo of your own inside a snow globe, then e-mail the video of your creation.  You could send a Christmas message with a difference, but there are some great ways to incorporate art making with this app.  For example, students could use their artwork, such an animated drawing of their house during the festive season (even more interesting if you live in the December heat of Australia!) to create a personalised snow dome.  We'd love to see what you come up with!
Other resources:
Make your own snow dome instructions and projects here
Create snow domes from paper plates – a great idea from Lessons With Laughter
Animation Idea
My favourite animation idea of the season.  The Animation Chefs ran a competition via twitter that attracted entrants from far and wide, but you could facilitate something similar in your class.


Disturbingly Creative Snowmen
Want to see some snowmen…with a difference? Check out this great collection from Huffington Post.
Santas Invading Classic Works of Art
And for more giggles this Christmas, check out My Modern Met's collection of 'Christmas-ified' works from Monet, Degas and more.
And another great gallery is on Worth100, with a few samples below…
Last word…
For a fun finish to this post, I couldn't help but include these next clips.
This Christmas message was created using the Elf Yourself app – they're quick and easy to create…go on, have some festive fun with this one!

My four year-old daughter Zoe and I enjoyed making a gingerbread house with a little mini-Zoe inside!

Merry Christmas to all my visitors and followers!

Social Share