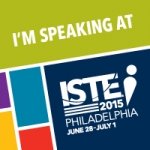 I've decided to post the 'presenter's feedback' from my sessions at ISTE so you can see the way your comments are delivered to us. I was really pleased to see the positive rating of these workshops, especially having come from the iPadpalooza Learning Festival in Texas where my sessions rated the highest at the event – humbling, especially considering the number and extraordinary quality if my colleagues work through those three days.
As I often joke, at times the PlayDoh, pom poms and pipe cleaners do half my job for me – if there is an educator who doesn't get excited about using PlayDoh in a technology conference I haven't met them yet! But there is a serious lesson to be learned from my workshop style – you can make change, empower and connect with teachers from all around the world, many of them teaching in a variety of contexts and subject areas, through 'making'. A valuable point to consider as educators, right? 🙂
As an important side, if I get the chance to work with you at a conference or similar, please know that your comments are really important to me, as my workshops are always constructed in support of meaningful teaching and learning experiences in the classroom. To be effective in achieving this goal, I need to know when I am hitting the mark and modelling these practices and pedagogies effectively. I really believe that attendees in my sessions deserve to be a part of quality professional learning opportunity, so I am very pleased that once again this dialogue and demonstrations in support of creative edtech resonated.
Lastly, while there are some lovely comments here, compared to the large numbers in these sessions, there are very few responses – so don't be shy, iPad-Art-ers!



Social Share