Here's a great idea… Take your students to a gallery and let them interact with the sculptures like never before.  We took a group of Year 10s on a walk through a sculpture garden and asked them to use their iPads to photograph the work.  Using their iPads they created abstract images by using apps in workflows to manipulate the photos on the spot.  The results were amazing.  Rather than producing one picture, most students created a very diverse folio of work.
Some teaching tips and ideas;
* Use apps that record the process so that changes to images can be reflected upon.  Alternatively, import images into an app for producing animated gifs or short animations to produce a video of the work being created.  These videos are exciting for students – they can see the effect of their decisions on the work and watch them evolve.  Not only are they great tools for reflection, critique and assessment, students enjoy watching and sharing them.
* Set a time limit.  Creating an image, with a ten minute time frame for example, can change he mindset of some students as they swipe and click more spontaneously.  Of course, deep engagement and understanding of these kinds of processes also takes time, so providing a diversity of experiences is best practice.
* Ask students to create a folio of five completely different works from one sculpture.  This will not only ensure that they engage with a variety of apps and techniques, but they will see the unlimited possibilities of their tools, ideas and image making.
* Use the elements of art as a starting point.  Design a task that involves students creating a work that highlights one element of art, for example line, colour or texture.  By manipulating their photos to bring this device to the fore, students can demonstrate their understanding of image construction.
* Encourage students to use at least three apps in the construction of their image.  Workflows allow students to engage with the creative process, moving in and out of tools that provide diverse experimental techniques and effects mirrors 'hand's on' art-making and models the inquiry process on the iPad.  The other big plus?  Every student will produce an incredibly unique image…guaranteed!


Image Creation Using Filter Apps
Orange Camera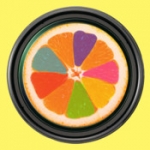 Powerful image manipulation – take a photo looking at more than 100 effects live on the iPad screen or use photos from the camera roll.  Add layer upon layer of filters to create extraordinary imagery.


Mega Photo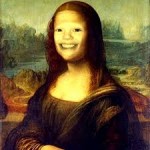 Transform your photos with more than 100 effects. The best features of the app are interactive – students can distort, pinch, and change colors of photos, artwork and videos with just a tap or swipe.  Import or use the live camera to begin and see your creativity come to life in real time on the iPad screen.


To see more abstract images, check out iPad art apps used in abstraction here.
Social Share