Artist Turns Google Maps Into Floor Throws
TECHNABOB "The rug in the photo is actually four Google Maps prints arranged to meet up perfectly. At first glance, it looks like a strange carpet until you realize that you are seeing houses, stores, and streets, not just lines and random shapes. The idea behind the art project was to take the art of tapestry and bring a modern twist to it by using Google Maps as the design."
Read more at Technabob.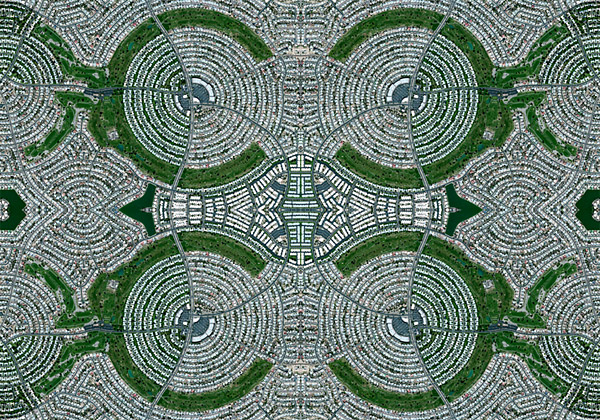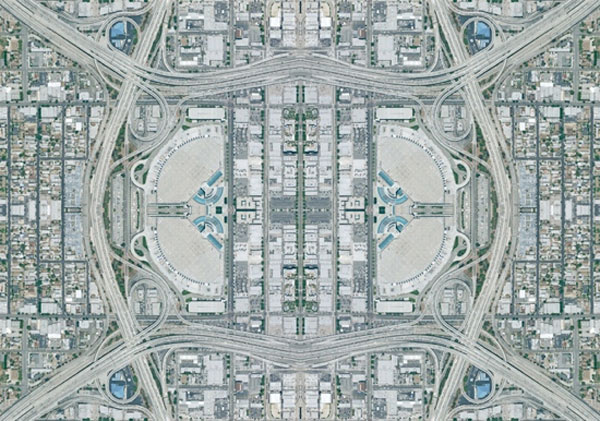 Iconic Album Covers Superimposed on Real World Locations Found in Google Street View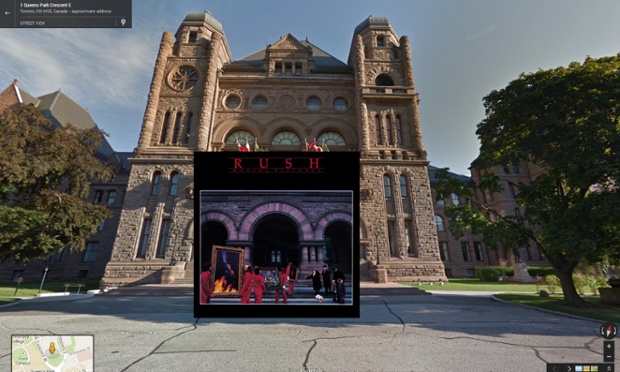 LAUGHING SQUID "The Guardian has harnessed the imagery of Google Maps Street View functionality to offer up a little modern day context to classic album covers from the likes of The Beatles, Bob Dylan and Led Zeppelin. The project, which features a dozen LP covers superimposed on Street View locations, shows just how much each locale has changed in the years or decades since the iconic art was originally photographed."
Read more from Brian Heater here.
Art Imitates Life: Real Life Google Map Pins
WEST URBANIST "When you look up a city on Google Maps, a little red icon shows you exactly where the center of that city is – and it even casts a shadow, making it seem as if it's a part of the cities itself. Noticing that little detail, artist Aram Bartholl decided to bring these digital elements into the real, three-dimensional world. His 'Map' installation series takes 20-foot-tall Google Maps icons into Taipei, Berlin and Szczecin, Poland."
Read more at West Urbanist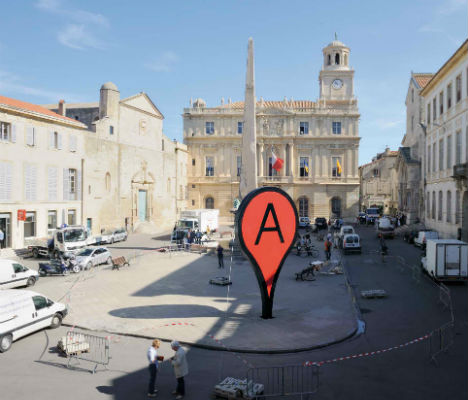 Google street view goes time travelling
LARRY FERLAZZO "There are a number of sites out there that let you click on a location in Google Street View and then show you historical images of that same site going back many, many years.
And you can access the best of them at The Best Historical Photo + Video Map-Based Sites.
Today, Google has announced their own somewhat similar (though far more limited) "Go Back In Time" feature – they've put photos from when they began taking them back in 2007 online so, at least in many places:
If you see a clock icon in the upper left-hand portion of a Street View image, click on it and move the slider through time and select a thumbnail to see that same place in previous years or seasons."


And if you still want more…apparently there are 'strangely human faces' hidden in Google's images…
Google Faces – searching for faces on Google Maps using face recognition from onformative on Vimeo.
Social Share