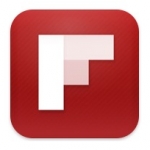 This is one of the key apps that helps me deliver information to my students.  In seconds you can create an beautiful, glossy magazine of images, articles, websites, photos, documents, resources, etc.  Using a tweet, the app displays the content I want to students in a way that is highly engaging and easy to access.
Here's how it works.  There are a number of different ways to use Flipboard and they are all easy.  You can easily create a flip button (see flipboard.com) and send any information from the web to your magazines (boards).  I like to tweet to boards, so I have created a hash tag for my classes, which the app uses to produce a 'magazine' on flipboard.  All the content I tweet using this hashtag arrive in the magazine and can be accessed on any iPad.  I can send very subject specific information to classes tailor feeds to year levels.  The hashtag must be very unique, or you will also collect the tweets of others in the magazine.  This can be a good thing if you'd like your students to gather knowledge from a variety of sources, but if you want to keep the collection 'yours', keep the hashtag really unique – a random series of numbers will do the job.
Students can keep a collection of magazines on Flipboard, so they can be encouraged to follow relevant hashtags, tweeters and publications that have excellent curated content.  Lots of great publications can be read on Flipboard and you can also access my feeds of current events, art news and exhibitions and become part of a global audience.  The collections available in app are so extensive that Flipboard is the primary outlet for some curators and publications.  We love Art World, Cool Hunter, Art Space, Get Addicted to, and of course…@art_cathyhunt!
There are a number of ways to view tweets and news feeds, so why use Flipboard?  The visual beauty of this format really allows students to appreciate the aesthetics of the work and make the most of the quality and size of the iPad screen.  The slick look of the app makes artwork pop  and the iPad display adds some real magic to the viewing experience.

iPad Art Room Best Idea
Students photos of work, or work in progress, can be tweeted to Flipboard.  This allows them to produce online folios, and classes and schools can create collaborative spaces for viewing.  One student commented that it was 'great to show Mum my painting while it was still actually drying on the rack!'.  It is exciting for students to be able to involve their parents in the curriculum so meaningfully when they ask 'What did you do at school today?'
A final note.  One drawback of this app is that the magazines are not permanent.  I don't find this to be too limiting in the context of delivering current events or 'here and now' material, but it is important to be aware that permanent resource archives and student folios can't be stored here.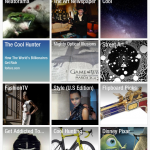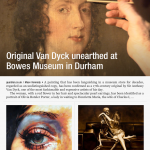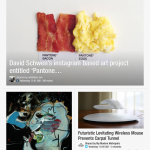 Social Share