In my workshops, or the classroom, we often explore new tools and make short experimental clips with video. It's important work because of the process, but the finished products are often small or 'informal', like the wonderful wave rider below.



At times we want to keep these clips as a record of our learning. While they may only be a few seconds in length, a first-time stop-motion could be a miniature masterpiece to the maker who is keen to share it around. There's plenty of apps that allow you to broadcast a short clip, like snapchat or instagram, but if you're working with a whole class of creatives, here's an idea… combine the clips!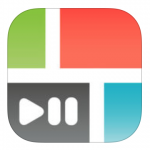 Use PicPlayPost, or another video collage app, to combine short clips. Within these 'compilation' apps you'll discover a number of templates to choose from that give you options, from the number of videos you want to see on the screen at once, to the order they play in. You can keep it really simple by just dropping in your clips and pressing play to see them all at once, or you can get very creative and change the layout, select coloured backgrounds and play with visual effects.
Collecting up student videos can be managed effectively with a little thought around the organisation. There are apps your school may be using for students to submit work, but I find using a shared iCloud album or AirDrop, works very well. Consider the organisation of this so you don't waste time. Particularly with young learners, a little structure around this can help – I like to get them to send as they go to put their device away or pack up. I receive the 'accept' message and we're done. My iPad is filled with the clips and again it is a simple process of selecting them and dropping them into the PicPLayPost template.


In the clip above you're seeing a number of short, experimental animations arranged in a simple grid. They are all playing at once thanks to a few taps in PicPlayPost. I love the dynamic presentation that the moving combination of these clips has created (especially compared to watching each in turn in a sequential movie). Some snippets were much longer in duration than others, so I have looped some of the videos, while others play through one time; an easy adjustment in the app.
It's also really valuable to note that the varying levels of success experienced by the students across this task are not the focus of the clip. These artefacts represent a number of students at quite different places on their learning journey, but displayed together in this way we can experience the diversity of the work in a really inclusive way.


Going a little further, here's a clip that has been put together by making number of PicPlayPost videos and then dropping each of those into iMovie one after the other. The students have added some sounds have been added on top to create a 'spooky soundscape'. You can also see how they have used a still image in a number of the clips, which gives the frame a title.


Of course they sky is the limit with this tool…
You might be thinking about creating a title sequence for a movie ('The Brady Bunch'?), using the grid spaces to show before and after clips side-by-side, putting different angles of view on the screen at the same time, or creating a question and answer segment where you talk to yourself!
I'd love to see what you come up with from here.


Social Share