Okay, so the cats are cute.  I'll let you decide whether or not this is art, because this clip brings me to another point…
As a Visual Arts educator using technology in the art room, I spend a lot of time prattling on about how iPad art is a lot more than simply taking a photo and adding a yellow filter.  And yes, creating art on the iPad is a lot of fun, but that's not why it has value for our learners.
To make 'work that matters', students should be deeply engaged with the creative process, the inquiry model, higher order thinking, visual literacy…it's a long list, and to tap into these areas in a meaningful way requires considered instructional design and significant pedagogical knowledge. Teachers shouldn't generally need training to use these devices, but they do need device pedagogies that require professional development.
Learning by creating in Visual Art is a lot more complicated, exciting and valuable than an activity that is simply finger painting on an iPad… Because even cats can do that.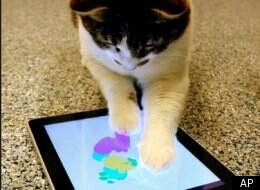 HUFFINGTON POST "A Los Angeles animal shelter that lets its cats chase toys on top of iPads hope the digital art created by the movement will encourage donations of money and tablet computers.
An Animal Planet crew visited the Society for the Prevention of Cruelty to Animals Los Angeles for the April 14 episode of "Must Love Cats," where they documented how four cats used an app called Paint for Cats.
The results were so compelling that the shelter turned them into notecards. The cards with drawings named "Study in Feather Toys" and "Movement in Catnip" are being sold online for $5.99 a pack. Shelter president Madeline Bernstein says the cats had so much fun, they put used iPads on their wish list so other cats can paint, too. "
Check out the whole article from The Huffington Post here.
And if you'd like to see more iPad art, created by students, check out the best of our iPad art galleries by clicking here…it's a whole lot better than what those cats can do!
Social Share