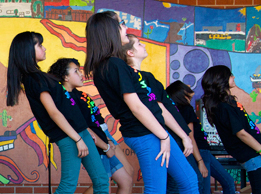 In this increasingly data-driven and often budget-concious educational context it's inspiring to hear about the schools that are actively transforming their practice and pedagogy through arts integration.  In this article, Patti Hartigan explores the success of innovative arts programs that use technology to expand access to the arts.
HARVARD EDUCATION LETTER  Monika Aldarondo is sitting in an office at the Boston Arts Academy (BAA) untangling scraps of brilliantly colored fabric that her students dyed to make banners for the school's annual Africa Lives! exhibition. "I love old media,'' the visual arts teacher says, snipping stray threads as she unravels the cloth.
But even as she revels in age-old techniques like fabric dying, Aldarondo and her colleagues at Boston's only public high school for the visual and performing arts are contemplating how new media is changing the field as well as their profession. What does it mean to be an arts specialist in the digital age? How and when should new media be used? Are the old disciplines blurring?
This kind of soul-searching is commonplace at BAA, an innovative urban high school founded in 1998 that integrates the arts throughout the entire academic curriculum. Indeed, BAA seems like an anomaly at a time when arts education is rapidly diminishing in the nation's public schools. A study published by the National Endowment for the Arts in February reported a steady decline in arts education in public schools since 1982, with the decline more substantial among African American and Hispanic populations. In 1982, nearly two-thirds of 18-year-olds reported taking art classes in their childhood; in 2008, that number dropped to 49.5 percent, a decline of 23 percent.
This decline comes at a time when arts instruction is often relegated to the margins as schools focus on improving math and reading scores on standardized tests and as districts continue to trim their arts programs in response to budget shortfalls. And yet some educators are finding that the same technology that allows for learning core subjects can also be used for artistic exploration. Some arts educators and researchers are even advocating that an A be added to STEM (science, technology, engineering, and mathematics) education, to include arts as part of a well-rounded education.
Here are some examples of how new technologies are being used in schools to bring art into—or back into—school, whether by expanding access to new forms of digital arts, combining new media with traditional arts, or integrating the arts with other disciplines.
ACCESS Distance Learning in Alabama
All high school students in Alabama are required to take an arts survey course before they graduate. The course must cover dance, music, visual arts, and theater. The problem is that many rural schools don't have enough students to justify specialists in all four disciplines—or, in some cases, even one.
But Alabama is a leader in distance learning. Through its ACCESS program, launched in 2004, every school in the state is equipped with interactive videoconferencing equipment to support instruction in foreign languages and advanced subjects. Now the same equipment is being used to expand arts education. In 2009, the state developed an online arts survey course, an innovative program of study that not only enables students to complete the graduation requirement but also introduces the arts in interactive, creative ways. The course launched in September 2010, and some 725 students in 85 of Alabama's public high schools have already enrolled in it.
The interactive course incorporates Jeopardy-style games to teach basic concepts. "It's not rote, where there is a lecture and students memorize facts and take tests,'' says Diana F. Green, arts in education program manager for the Alabama State Council on the Arts. "It gets the kids engaged and involved in what they are doing." Technology is also used to create and document original art using new and old media.
The course includes work by such Alabama artists as metalworker Charlie Lucas, also known as "the Tin Man." At the end of the course, students are required to create their own works of art and upload their projects. Some students make digital collages in the style of visual artist Romare Bearden. Others create dance videos or use voice and recording tools to make their own music compositions.
The popularity of the survey course has generated ideas about how to further arts education via technology. Rachel Walker, manager of curriculum development and teacher management at the University of Alabama, who helped design the survey course, ticks off a list of ideas to expand arts education using technology. "You can have virtual field trips to museums,'' Walker suggests. "You can bring in artists to talk to all the students through interactive videoconferencing. You can have a virtual statewide arts fair. There are so many possibilities."
READ Patti Hartigan's full article on the Harvard Graduate School of Education site.
Social Share