Augmented Reality (AR) is becoming more useful and accessible for classroom learning experiences all the time. This week, I used a really simple AR app, Quiver, in a Year 1 classroom at the Chinese International School.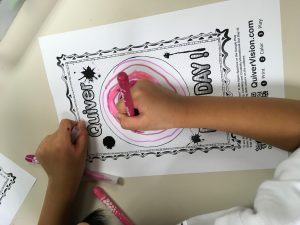 Students explored the concept of radial symmetry and analogous colour schemes to design a 'dot'. The circle they worked into was given to them on paper, a print out, accessed online and designed to work with the Quiver app. It's a simple process – the students filled the circle with their design, then activate the app and hover their iPad over the print out. This is where the magic happens, as the circle transforms from two-dimensional shape into a virtual sphere.

As you can imagine, it's pretty darn exciting for the students. When the sphere appears, some children literally scream (!), others call their friemds over to look, and many wave their hands under the camera to try to work out where the image is coming from. The 'reveal' is the best part, and a key idea here – I structured my pedagogical approach to ensure that the students were able to discover this independently. Teaching the app, and/or revealing the sphere to them would represent a massive missed opportunity.
At this age group, my learning goals were focused on exposure to a variety of concepts. This was an introduction to the colour wheel, some very basic colour theory, radial symmetry and patterns, etc. The idea that AR can help us to understand the difference between 2D shapes and 3D form is powerful, and the AR experience itself generates curiosity, and a useful 'hook'.

Some of the ideas the students began to consider as their resulted in questions such as;
"Is this real?"
"How is this happening?"
"How does this work?"
These are really big questions, and it's going to be a fantastic journey for them as we work to find the answers!


Go further…
This AR project was developed to support 'International Dot Day', a creative opportunity you might like to explore through Peter H Reynold's books for children, this lesson idea, or the resources at this link.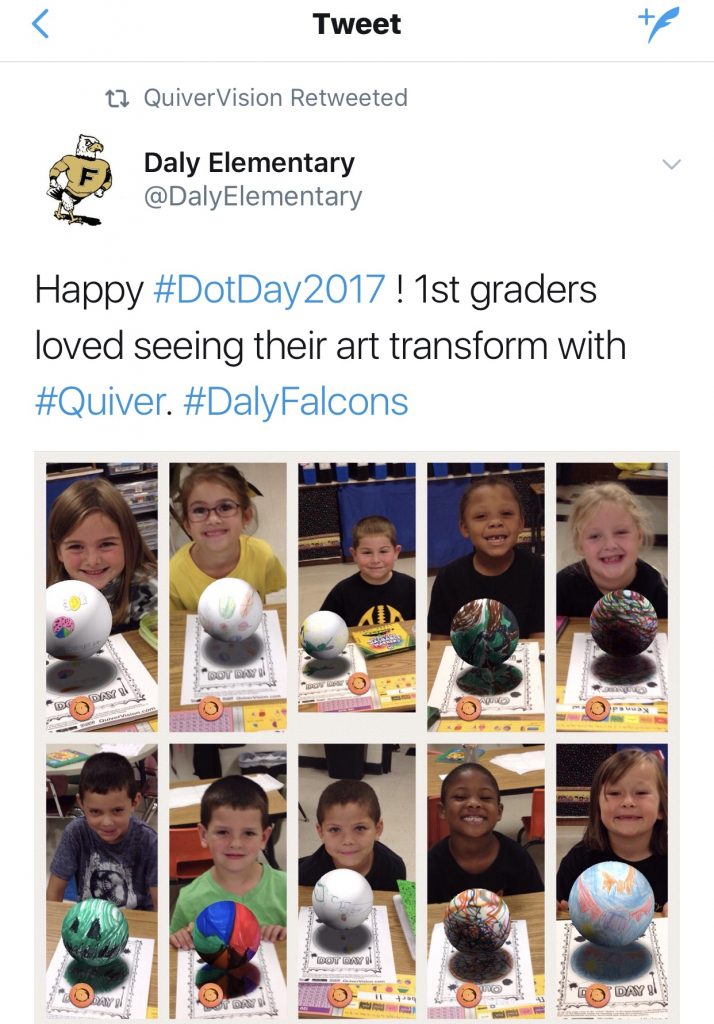 You might also like to explore the other AR 'triggers' that are available through Quiver, such as geometric forms, maps, etc.
There are other AR apps to explore such as Zookazam, which I used recently in Year 1 at the Kellett School in Hong Kong to explore photography techniques with virtual animals. Check out the video below to see it in action; students created close up shots, collecting images of creature features, and then used those to work with the principles of scientific animal classification.




Social Share