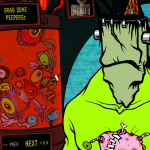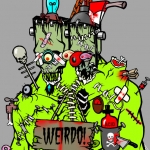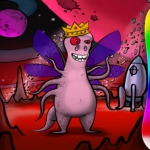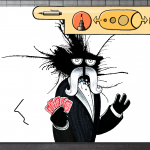 Year 6 Mythical Monsters
Unit – Art & Apps in Action!
iPad apps are so valuable in a diverse course that aims to introduce students to as many making processes as possible.  In this unit, monsters from a wide variety of cultures and eras are the stimulus for paintings, drawings, animations and sculptures.  Here are some of the bits and pieces from the unit to fuel your creative fire!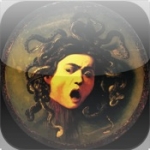 Begin by researching mythical monsters from around the world with the 'Creatures' app.  It is a huge resource with creatures listed by name or sorted into places of origin or time periods.  Detailed background information and images are displayed on scrolls that can be collected and added to a favourites section.
Activity 1.
MonsterKit and Monstrpieces
One of the first drawing activities of this unit takes students through portraiture.  After producing a 'realistic' self-portrait in pencil, student works are photocopied, with multiple copies made.  The pieces are cut up and given back to the students to 'monsterfy' themselves by combining pieces of their original work with additional sketches. They may suddenly have three noses, their eyes may now be on stalks, and as other features such as horns are added, they begin to look very scary!
APP IT!  In the next work, created using the iPad, cutting, pasting and colouring are replaced by a virtual world.  Students use MonsterKit and Monsterpieces to piece together their own monsters.  They can control the position and size of all the elements, as well as create an environment for them to complete the composition which can be shared and exhibited.
App extension ideas:
Use 'Puppet Pals' to animate the monster characters in a 'stage' performance to incorporate storytelling.
Use 'Sprite Cutter' to cut out the monster characters and add them to photos of the students taken to look as if they are 'interacting' with the monsters (eg: sitting next to them in class, playing football with them, etc).
Use 'Morfo Booth' to create talking monster to reflect on the learning in the unit.
Activity 2.
Students use ink on paper to create abstract shapes by blowing the liquid around with straws.  These shapes are then turned into monsters with google eyes.  Pen drawings used to add features and environmental elements to tell a story (eg: monsters in space, dancing, at the cineama, etc).
APP IT!  Using 'Daily Monster', students can recreate the random ink blot process virtually.  The abstract shapes then come alive with body parts, clothing and additional objects.  Captions, drawings and text can be added to create a cartoon of the monster's adventures or students can create a monster version of themselves.
App Extension idea:
Use the monsters in 'Comic Book' to create a longer adventure in sophisticated comic book style easily.
Activity 3.
Students investigate ink brush painting and calligraphy.  Using Chinese brushes, dragons are created on fans in the style of ancient scrolls.
APP IT! Using 'Zen Brush' students can trial the ink and brush process virtually before beginning.  This develops their confidence in what is a deceptively simple technique.  The creative process is enhanced as mistakes are impermanent,  unlike painting with the real ink! These trials can become small works in themselves – using research, students choose a Chinese Symbol to represent themselves, and produce a calligraphic icon to print and display as part of a class display to hang across the room like flags.
ONE LAST LESSON SEED:
From Tricia Fuglestad a great activity to inspire you – what about using monsters created by students, animated and layered onto photos of your classroom to create an 'Alien Invasion'?  See the results in this group vimeo.
And just for fun, explore the genius of Pixar in the animation from Monsters Inc.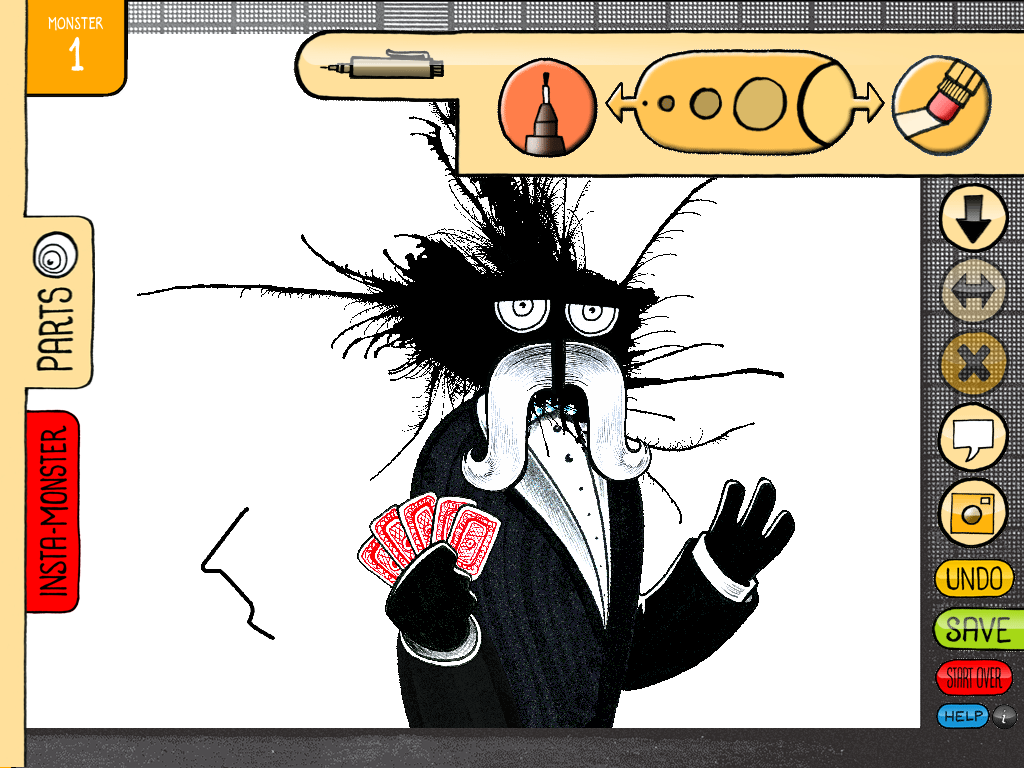 Social Share