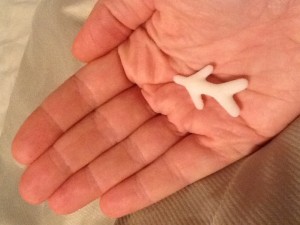 The 4th Teacher Professional Development Day at the Queensland College of Art (Gold Coast) was my first real introduction to 3D printing. We had the opportunity to explore some software for creating and rendering images and then the big moment…making a 'real' 3D model. As it turns out, my BIG moment was actually a very small moment – check out my teeny figure! How was it made? I was introduced to Autodesk's '123D Creatures' on the iPad and then sent the test figure to Mesh Lab and on to the 3D printer…this is what I got (well, it's only a first try!).
I created this iMovie as a lasting record of the excitement…my first time in a 'Fab Lab' – note the use of cool techno jargon!

But seriously, here is the really useful stuff. This Prezi, created by Daniel Della-Bosca (lecturer at QCA and one of our trusty guides for the fantastic day we spent in the third dimension), is a great overview for newbies. And check out his links to clips that really show the power of this exciting technology.
Other resources:
Check out this brief review of the 123D Creatures app from MacLife here, and a quick clip below will show you a little snippet about what it can do. There are other apps in the 123D series from Autodesk too – well worth a look.
If you liked this article, check out our teaching and technology posts.
And a little peek into the future…

Social Share