A tessellation is created when a shape is repeated over and over again.  The collection of figures on the plane have no gaps and no overlaps.  Patterns created this way have an incredible mathematical rhythm.  Not only are tessellations fun to create, they can teach students about the function, and relationship between, the elements of art (line, shape, colour, etc).  They can also be used to make strong links to other subjects, particularly maths (incremental increases, angles, space, golden ratio, etc).
If you want some great lesson ideas, information and activities that bring maths and art together, check out this site.  It also has some excellent background on the 'King of Tessellations', MC Escher.  Sarah Jones has also created an excellent Escher resource – check out her Learnist Board with links to explore the relationship between his art and mathematical principles.
Here are some great apps to get you started…including a few that aren't strictly about tessellation, but are useful for concepts such as symmetry, repletion, glance, etc. – super 'STEAM' stuff!
iOrnament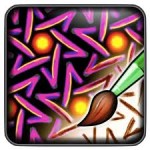 This app is a great way to create digital patterns and to start investigating tessellations.
Use swipes to draw without limitations, adding color, changing the expressive qualities of the lines and manipulating shapes.  iOrnament allows students to lay down sensitive digital marks and produce painterly effects, glowing imagery, etc.  Choose from a great variety of tools and build up layers to produce complex compositions.  Use templates to experiment and see how changes in repeating structures effect imagery.
iOrnament also contains some valuable resources for investigating patterns.  You can use the app's interactive teaching tools to explain:
* Elementary symmetries
Translations
Rotations
Reflections
Glide reflections
* Tiles, wallpapers and reflection groups
* Shears and squeezes
* The mathematical theories behind ornaments, patterns, tessellations and symmetries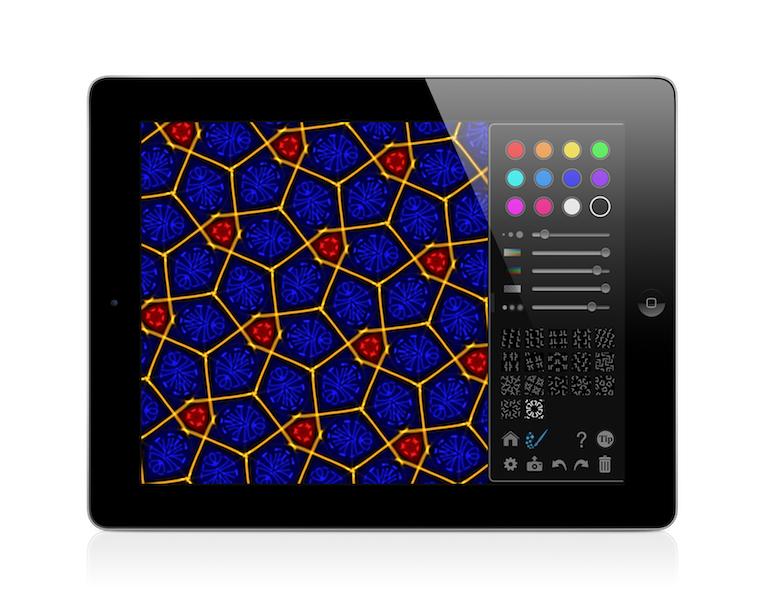 Amaziograph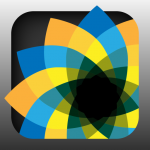 Students can create incredible images using tessellations and kaleidoscope effects.  Using one of the huge choices of grid templates in this app, students can experiment, watching every stroke to see the affect on the design. Mirrors and powerful tools for manipulating patterns and creating symmetry allow students to explore repetition and discover how shapes can change with just a swipe.
It's quick and easy to start creating images, change colors and play with style but this app really comes alive when layers deepen and complexity increases.
* Use Amaziograph during a study of the work of MC Escher, a Master of tessellations.
* Create representational or abstract images.
* Use workflows to add creative after effects to tessellations created in Amaziograph.


Here's a great tutorial from Tricia Fuglestad to get you started…
More Resources
UberDoodle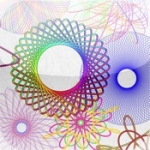 Remember those spirograph sets?  This is a virtual set of cogs and wheels.  Start twirling and spiralling again.  Overlap shapes, change colours and get creative.







Wonderful Workflows
These apps are at their best as part of a workflow. Here's some ideas for using these tools in combination to create…

Other apps worth a mention…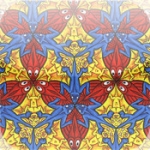 Check out Escher Mobile to see a huge variety of crystallography and pattern-making ideas made explicit.  You can drag imagery or use app functions to auto-create.  The patterns can be repeated in interesting 'draw' effects.  This site has a good overview for you.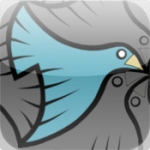 Circull is a game-based app that creates challenges using creatures inspired by Escher's world.



Shape Designer can be used to create figures and patterns with a Tangram style.  Children can explore basic geometric forms like squares, circles and triangles, using them in combination to produce imagery.  It's a stimulating way to support the development of their understanding of space and composition.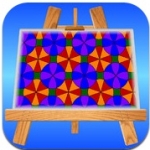 Pattern Artist is a great tool for producing simple through complex repeating patterns and abstract art on the iPad. This template-based approach to creating designs that foster an understanding of composition, repetition, symmetry, etc, but also the freedom to explore creative design.  Students can look up close as they arrange elements for a pattern, then explained and see the effect of multiplication on their work.  The possibilities are endless for this tool, with obvious, and powerful, links to tessellations, maths, science, fabric design, etc.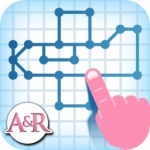 Using Grid Drawing for Kids, young students can copy templates, exercising observation, exploring the concept of symmetry.  5 game modes and two levels of difficulty combine with a free play option that gives students expressive control.  You can even print all templates and drawings easily to use the work in other creative ways in the art room.




Further Resources
How to make a tessellation inspired by the work of MC Escher

A short animation using the work of MC Escher…some good ideas here if you are interested in animation as one of your media areas.

Watch images repeat, change and morph.

And lastly, animal tessellations…

Quick and quirky…
"In the Boing Boing Flickr Pool the fractal-obsessed Fdecomite posts the latest iteration in a series of experiments with tessellated, Escher cookie-cutters. Bake-time expansion creates irregularities that lead to a chewy (literally) series of interlock-imperfections, which give old MC's classic a bio-organic air that rather invigorates it.
You can 3D print interlocking lizard cutters with a free model from Thingiverse. Fdecomite, if you're reading this, please post in the comments with a link to the cookie cutters you used here!
Update: From the comments, Fdecomite writes, "Hi, those are cookie cutters I made from aluminium foil.I also made some 3D printed Escher cookie cutters you can find in my Shapeways shop."   SOURCE
Fractals
Fractals aren't exactly the same think as tessellations…but I couldn't resist putting in a few images from an artist who deals with these gorgeous, repeating shapes and forms…welcome to the beautiful world of Tom Beddard.
Want to see more amazing
abstract art from the iPad
art room?  Click here!
And just as a side… check out this exploration of symmetry using dance…
Social Share